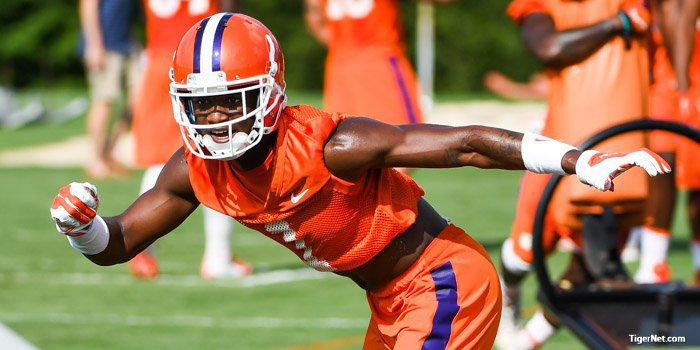 | | |
| --- | --- |
| Trayvon Mullen, Dexter Lawrence among early standouts | |
---
| | | |
| --- | --- | --- |
| Tuesday, August 9, 2016, 4:56 PM | | |
CLEMSON – Fall camp is just a week old, but head coach Dabo Swinney has seen enough of certain players to name standouts. Those names include Trayvon Mullen and Dexter Lawrence.
The Tigers have entered the full pads, two-a-day portion of August practice and some players are catching the eye of their head coach. That includes massive freshman defensive tackle Dexter Lawrence, but Lawrence is just one of the freshman class that stands out.
"Dexter stands out. He stands out big time," Swinney said Tuesday. "I'm excited about him. I think we've got some good young kids on this team that are going to have bright futures. I'm not disappointed with any of those freshmen. Sometimes you get a class in here and you go, "Eh, maybe. We'll see." This class, top to bottom, I think we hit on every one of them, and I think all of these guys are going to be good players."
That includes Amir Trapp.
"One kid that jumped out at me today was Amir Trapp," Swinney said. "He's a redshirt freshman, and he's probably got as good of feet as anybody in our secondary, technique, he had a good day. He's a young guy who's still developing physically, but he's one of those guys that when it's all said and done around here, he's going to be a really good player. I'm really pleased with what I saw out of him today."
Swinney then detailed which linebackers are standing out, and his list included freshmen Tre Lamar and Shaq Smith.
"Our backers are a solid group top to bottom," he said. "I think we've got a bunch of guys that can play - a bunch of guys that are ready to go play. The improvement of Kendall Joseph, J.D. Davis, Judah Davis and Tre Lamar is off the charts. I'm proud of them. Shaq Smith is making some strides. Chad Smith, same thing. It's a really good group."
Even the offense – where most of the positions already have starters – has had its share of players that stand out to Swinney. That includes center – starter Jay Guillermo is out indefinitely with a concussion and Justin Falcinelli has gained valuable snaps.
"Without Jay out there, we've had to push Justin Falcinelli a little bit. I thought he had a little bit better day today than he did yesterday when he got thrown in there," he said. "Our backs are all competing. Ray-Ray (McCloud), I can't say enough how he's improved from last year to this year. He looks like a guy. Last year he looked like a talented kid running around that maybe one day would be the guy. This year he looks like a guy who's ready to take a big step forward. I'm really proud of him and the way he's practicing. Same thing with Deon Cain. He doesn't even look the same. It's night and day coaching those two guys. It's completely different than it was last year."
On defense, freshman sensation Trayvon Mullen has earned first-team reps.
"Mark Fields and Cordrea Tankersley have been in there with the one's. We've rolled Trayvon Mullen in there some," Swinney said. "Ryan Carter has played a lot. It's kinda of the same crowd. We've worked K'Von Wallace mostly at safety. We've worked him a little at corner. The other day Amir hurt his elbow, Edmond is out and Baker is out, so we got a little thin and K'Von got some work at corner. He can do it. He's what we thought he would be - that dynamic guy like Marcus Gilchrist who played corner, nickel, both safeties. That's really what he is. He's as advertised. We got some good work with all of those guys. Mark is doing a good job with the one's. He's a really talented young guy who's still maturing a little bit as an every down player."

Tags: Clemson Football
,
Marcus Gilchrist
,
Jay Guillermo
,
Cordrea Tankersley
,
Ryan Carter
,
Justin Falcinelli
,
Kendall Joseph
,
Judah Davis
,
J.D. Davis
,
Mark Fields
,
Deon Cain
,
Chad Smith
,
Amir Trapp
,
Dexter Lawrence
,
Tre Lamar
,
Trayvon Mullen
,
Shaq Smith
,
K'Von Wallace