| | |
| --- | --- |
| Top Ten Storylines of 2014 include Chad Kelly, Deshaun Watson and the FFRF | |
---
| | |
| --- | --- |
| Thursday, January 1, 2015 11:30 AM | |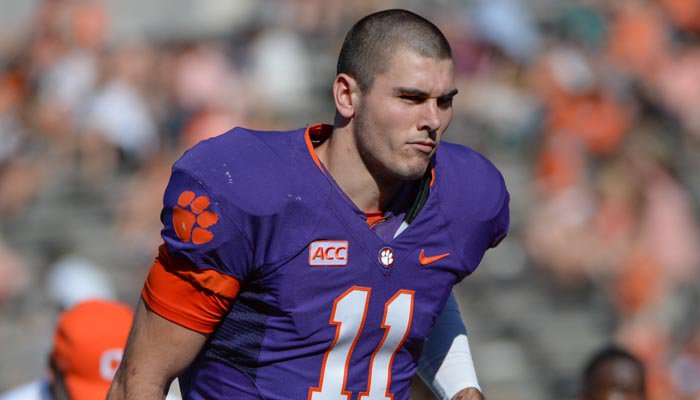 Happy New Year!
The 2014 football season was a good one – not great – for the Clemson football team and there were plenty of storylines to go around. The year itself started with Clemson's thrilling win over Ohio St. in the Orange Bowl as Tiger fans said goodbye to Spencer Shuey

Spencer Shuey
Linebacker (2009 - 2013)
#33 6-3, 230
Charlotte, NC
View Full Profile , Tajh Boyd

Tajh Boyd
Quarterback (2009 - 2013)
#10 6-1, 225
Hampton, VA
View Full Profile , Sammy Watkins

Sammy Watkins
Wide Receiver (2011 - 2013)
#2 6-1, 205
Fort Myers, FL
View Full Profile and more and ended with the Tigers' dismantling of Oklahoma in the Russell Athletic Bowl.
From a TigerNet perspective, however, there were certain stories that captivated the attention of readers more than others and as a new year begins we take a look at the top stories – from the perspective of the numbers of readers – that appeared on our website this season.
1. Chad Kelly

Chad Kelly
RS Fr. Quarterback
#11 6-2, 210
Buffalo, NY
View Full Profile dismissed from Clemson football team
Kelly was thought by many to be the heir apparent to Boyd, but a pattern of destructive behavior came to a head following the spring game and Kelly was dismissed. Kelly, the nephew of Hall of Fame quarterback Jim Kelly, was in a three-way competition for the starting job in the spring but did not play well in the spring game.
Kelly threw two interceptions in the first half of the game and later made matters worse after getting into a verbal altercation with coaches at halftime over a decision to punt on fourth-and-short. Kelly was benched for the rest of the game. Afterward, Swinney said, "You're not going to have guys crossing a line with the coaches just because they're frustrated with whatever. He got frustrated and reacted the way your leader can't react. It's just that simple."
Rumors began to leak out about another altercation and a car accident, and Kelly was dismissed from the team that Monday. He played this last season at a junior college in Mississippi, won a national championship, signed with Ole Miss, and promptly was arrested after an incident outside of a nightclub in his home state of New York.
2. National Signing Day
Clemson's highly-regarded recruiting class was highlighted by the additions of Deshaun Watson

Deshaun Watson
Fr. Quarterback
#4 6-3, 204
Gainesville, GA
View Full Profile and Artavis Scott

Artavis Scott
Fr. Wide Receiver
#3 5-11, 190
Oldsmar, FL
View Full Profile . Watson thrilled Clemson fans – when healthy – and Scott gave a glimpse of his promise with a strong final two months.
3. No ACL tear for Watson, could return this season
Watson suffered a knee injury during the Tigers' loss at Georgia Tech, and it was originally feared he had torn his ACL. Late the next say, Swinney announced that Watson suffered an injury to LCL and could return for the game against South Carolina. He would – but would play that game with a torn ACL he suffered in practice a week later.
4. Faith and Football: Former Clemson players speak out
A group called the Freedom From Religion Foundation attacked Swinney and his religious roots, saying that Clemson's head coach uses religion to sway his players. In a statement the FRFF said it was against the constitution. In an article, former Clemson players spoke out against the FRFF and defended Swinney. The school sent a legal response and nothing has been heard from the group since May.
5. Swinney Names Co-Offensive Coordinators
Offensive coordinator Chad Morris

Chad Morris
Offensive Coordinator / QBs
View Full Profile left Clemson shortly after Clemson's win over South Carolina in late November to become the head coach at SMU. All eyes were on Swinney to announce a big name hire, but he chose to promote from within when he said that wide receivers coach Jeff Scott

Jeff Scott
Asst. Coach (WR) / Recruiting Coord.
View Full Profile and running backs coach Tony Elliott

Tony Elliott
Assistant Coach / Running Backs
View Full Profile would share the duties.
"I am very excited to announce that Tony Elliott and Jeff Scott will serve as co-offensive coordinators," said Swinney, who became Clemson's head coach in October 2008. "These are two of the brightest young coaches in the business. They have had a huge impact on our offense when it comes to the overall gameplan, gameday decisions, coaching their positions and have also been big reasons for our recruiting success.
"One of my overall philosophies is to promote from within when it is feasible. Both of these coaches are highly qualified and ready for this opportunity. We have been prepared to make this staff move for some time.
"Tony and Jeff were teammates at Clemson at the same position for three years and have worked together as coaches for four. They have a great relationship."
6. Are the Tigers going to Disney World?
The week after the final regular season game is always filled with anticipation of a bowl trip, and this past season was no different. The expectation was that the Tigers would wind up in Orlando and play in the Buffalo Wild Wings Citrus Bowl.
They wound up in Orlando, but some last minute shuffling by the College Football Playoff Committee sent Michigan St. to the Cotton Bowl and Clemson wound up in the Russell Athletic Bowl against Orlando.
7. Recruits react to the departure of Chad Morris
Morris' departure left many fans wondering whether the Tigers would be able to hold onto several big-name offensive recruits for the 2015 recruiting cycle, including several top offensive linemen and playmakers like Ray Ray McCloud and Deon Cain.
They needn't have worried – Scott and Elliott are Clemson's main recruiters and the class has a chance to end up as a top five class nationally.
8. Swinney calls out Clemson fans who would boo Cole Stoudt

Cole Stoudt
Sr. Quarterback
#18 6-4, 231
Dublin, OH
View Full Profile
Cole Stoudt ended his Clemson career with a solid showing against Oklahoma, but much of the fan base wasn't happy with the senior's play as the Tigers made a late-season run. During one of his weekly press conferences, Swinney defended Stoudt.
"Why would we react negatively to Cole Stoudt? Because he had a bad game. This kid has given four years of his life to Clemson University. He was always ready whenever we needed him," Swinney said. "He lost some confidence this year. Difficult situation? Probably. For our fans to not embrace him? At the end of the day we're supposed to be family and we have each others' back. This guy has done nothing but represent this university with class. He's not the reason we lost the Georgia game. He played pretty good against UGA. He's not why we lost to FSU. Young people today are surrounded by negativity. It's difficult. I think it's a shame that this question is even asked. What has he done to even warrant someone booing a guy. That would be an absolute embarrassment. Cole Stoudt could have left here. He was the best backup he could be three years. He did everything he could to help us win. He represented this program the right way.
"People need to get a life if they're going to boo a guy like Cole. He's a class act and deserves to be treated with class. It's my hope that Cole will finish out this thing great. We have won six out of the last seven. We had a bad day. A bad, bad day offensively. We played well enough on defense and special teams to win. We all have adversity and make mistakes and make bad decisions. What I try to instill in my players here is that when adversity comes, you have a choice. You can let that define you, let it destroy you, which a lot of people do, or you can let it develop you. I try to teach our guys that to allow good and bad things to develop them into the person God has created them to be. Winners in this world are the ones who don't get discouraged by defeats. The greatest winners in this world all had massive defeats but they didn't get discouraged by those defeats. They learned and grew from those experiences."
9. Morris says meeting with Watson was "emotional" but also left him with peace
In an interview after he departed for SMU, Morris said he spoke with Watson and the meeting left him with peace regarding his decision to leave the Clemson program.
"It was emotional. I had talked to him in-depth prior to talking to anybody," Morris said. "He kind of knew - I knew deep down he knew - and he is a part of my family and has been. I spent so much time recruiting that young man, and building a relationship with him. For him to handle it the way he did, and to just say, 'Coach, I respect it. I obviously wanted you to coach me but I understand.' And then he told me he loved me. But knowing he is left in great hands in a system that I feel like is the best in the country he isn't going to have to learn anything new. I am stepping out of my comfort zone, but as long as he doesn't have to step out of his comfort zone then I have peace with it and so does he. It was tough."
10. Son of NFL standout breaks down "amazing" trip to Clemson
Keyshawn Johnson, Jr. made a trip to Clemson for the final home game, and brought along his famous father.
Keyshawn Johnson, Sr., who caught 814 passes during an 11-year NFL career – tweeted out a picture of his son talking with Swinney following Clemson's win over the Gamecocks, and Johnson, Jr., said Swinney told him to take his time in making a decision.
"Basically he told me to visit other schools. Don't make Clemson your only visit. He encouraged me to visit other schools but give him a chance and I'll know that there's something different between all of the other schools and Clemson," Johnson said. "He was telling me that he encourages everyone to look at other schools but to make sure to give Clemson a chance and if Clemson is the school for you then you should come to school there. Talking to Coach Swinney one-on-one was probably the highlight for me."
The Class of 2017 standout said another highlight was seeing the Tigers run down the hill before the game.
"Like they say, it's the most exciting 25 seconds in college football. It was really cool," he said. "The fans were crazy. I was watching from the sideline and behind us was the student section and it was crazy. I really like how crazy the students were. It was all in all a good feeling."
POSTSCRIPT STORYLINE
It wasn't an actual story on TigerNet - it was an update as head coach Dabo Swinney took a not so subtle jab at Steve Spurrier and South Carolina following Clemson's won over Ohio St. in the Orange Bowl. Never one to hold back his emotions, Swinney grabbed the mic and let everyone know that Clemson had just won a BCS game.
After the Capital One Bowl victory over Wisconsin, Spurrier made sure the Tigers knew who the Carolina state champs really were.
"Hey, these two Capital One Bowls in a row are pretty nice, but that state championship ain't bad either."
Swinney responded.
"We're the first team from South Carolina to ever win a BCS bowl."
That response drew huge cheers from the players, coaches and families still on the field and big smiles from the Clemson fan base.