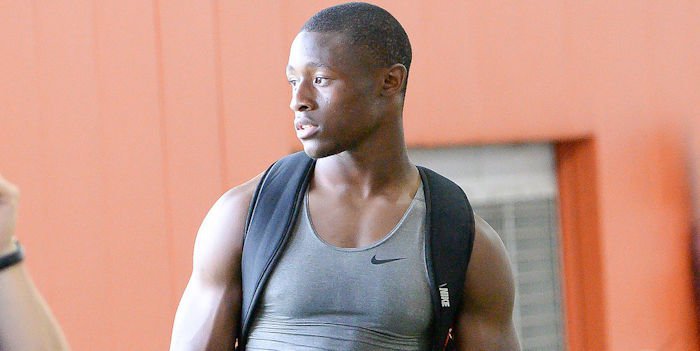 | | |
| --- | --- |
| Top 2019 linebacker details why Clemson is in his top group | |
---
| | | |
| --- | --- | --- |
| Sunday, May 14, 2017, 9:53 AM | | |
CHARLOTTE, NC – Owen Pappoe received his first offer as an eighth grader and received a Clemson offer as a freshman in high school. Three years into the process and he's ready to trim his list and focus on 10 schools.
The 2019 Loganville (GA) Grayson linebacker competed at last week's The Opening Regional in Charlotte and said he will be releasing a top 10 on Sunday, a list that will include the Clemson Tigers.
"I'm going to go ahead and spoil it and tell you Clemson is in my top 10," Pappoe told TigerNet last Sunday. "It's just the family environment. My old head coach is over there now so I know I'll always have people over there that care about me."
The Tigers have been recruiting Pappoe since early in 2016, but with former Grayson head coach Mickey Conn on staff now, there's a certain comfort level Pappoe feels with the Tigers.
"He's a really cool dude. He doesn't just care about you on the field," Pappoe said. "He makes sure you're good off the field, too. I like how he coaches too. I'm really happy for him. Coach Conn was actually at the school yesterday with the o-line coach (Robbie Caldwell), so I'm trying to schedule a visit up there soon."
However, his relationship with defensive coordinator and linebacker coach Brent Venables is still a work in progress.
"Coach Venables, it's good. We talk every now and then," he said. "I'm trying to build that relationship even more since I haven't gotten to go up there that much this year. Our relationship isn't as strong as it is between me and other schools, but I'm trying to get up there more so I can build that relationship with him. He's a good dude. He just tells me that they produce linebackers and he wants me to be a part of it."
With quarterback Chase Brice heading to Clemson in June, Pappoe has made several trips to campus with his former signal caller and said the game day atmosphere is second to none.
"I last visited for the game against Louisville," he said. "The fans are what stood out. All of the love they were showing to the players. The atmosphere was crazy."
Pappoe said he's been able to take some advice from South Carolina signee Jamyest Williams and Brice.
"They just tell me to make the decision for me and to take my time because you'll have coaches, boosters, and fans sending you messages on Twitter to try and sway you toward their school," he said. "They tell me to make the best decision for me and my family."
With over 30 offers, Pappoe said Clemson, Florida State, Georgia, Alabama and Florida are recruiting him the hardest and as eyes a summer of 2018 decision, he said he's looking at several characteristics in a dream school.
"I know all of the schools that are in my top 10 will make sure academically, I will be set for life after football," he said. "It's just all about fits for football now. Am I going to be successful in the defensive scheme?"