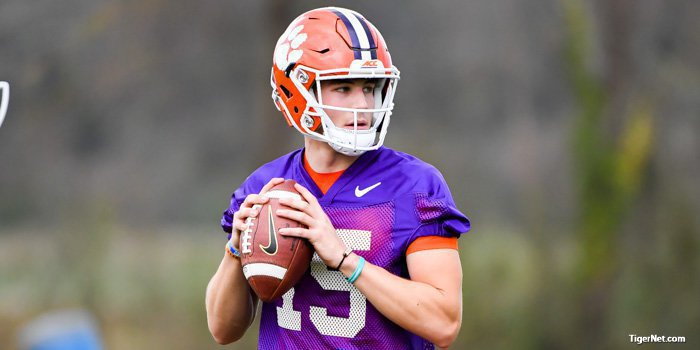 | | |
| --- | --- |
| Tony Elliott after scrimmage: "We've got work to do" | |
---
| | | |
| --- | --- | --- |
| Saturday, March 18, 2017, 9:01 AM | | |
CLEMSON – Clemson's offense is making strides this spring, but there is still a lot of work to do.
With a new quarterback, center, starting running back and starting wide receivers, the first true scrimmage of spring practice was a mixed bag for the offense.
Add in the fact that a bunch of young players are going against arguably the best defense in college football, and co-offensive coordinator Tony Elliott said his unit isn't game ready.
"We've got work to do. Obviously, a lot of new faces and their first time in the action going against a very, very good and experienced defensive front," Elliott told the media Wednesday evening. "Some guys got some opportunities. We got the coaches off the field and went live they did some good things. Procedurally, we were good and better than I anticipated with young quarterbacks and a new center. We didn't have the issues from a procedure standpoint. We did put together some drives, but overall not as consistent as we need to be."
There were a few players that jumped out at Elliott during the scrimmage.
"I thought Ray-Ray (McCloud) made a couple of positive plays," he said. "I know that (C.J.) Fuller consistently caught my attention, stepping up in pass protection and breaking a couple of runs."
With eight practices and one scrimmage under their belts, the Tigers will take the next 10 days off for spring break, but Elliott said when they resume, he'll be looking for improvement in several areas.
"One is leadership. We had a lot of leadership, not just great players, walk out the door. There were some times during the scrimmage where you wanted some of the guys to be a little bit more vocal," Elliott said. "They competed hard and gave great effort, but taking that next step with some of the guys, just encouraging. When the energy was back up, and guys were locked in, we went right down the field, but then there were some times that the defense put some pressure on them and there was some confusion, so we weren't communicating the way we needed to. I also think just the consistency. There were some opportunities to finish some plays, and we didn't finish those plays. Then, just continuing to develop those quarterbacks and their knowledge and ability to command the offense and control the offense."
Elliott spent several minutes breaking down several position groups and the quarterbacks.
"Overall, I thought it was a positive day for him (Bryant). I know there are some plays he'd like to get back, but procedurally he ran the system. It looked like his decisions were pretty good from the sideline. There are probably a couple of plays and a couple of throws he wants to get back and make a little bit better. From what I saw today, he's making the right decisions, he just has to consistently continue to do that."
"He extended several plays out there today. We're trying to get him reps with all of the teams. When you're in there with the third unit, you're talking about some potential walk-ons up front, and things might not be blocked as clean. You saw him escape the pocket and not just escape the pocket but extend some plays and convert some third-and-longs with his legs - so much of what Deshaun (Watson) did in the first championship game. I definitely believe he has the athleticism, but we have to get him to a point where the game slows down.
"From a skill standpoint, he's every bit as good as advertised. He has an unbelievable arm, very, very quick release. You can tell he's got a quarterback mind and quarterback pedigree. The biggest thing is being comfortable to command and slowing the game down. We require the quarterback to do a lot because we're a fast-paced team. He's got to know basically what the coach knows to be able to get us into good situations. Over time, with a little bit more experience we're going to definitely have a special player there."
Running back
"We had some opportunities in short yardage and we did some good things. They all ran hard at times. I'd say today C.J. Fuller and Adam Choice took a little bit of a step out ahead. I think Tavien (Feaster), even though he's making progress, things started moving fast for him today. You saw a couple of flashes but you'd still like to see him be more consistent. A couple of the older guys made some big runs and did some good things stepping up in pass protection. It's a long way to go, but I thought Fuller and Choice did some decent things."
"Snaps were good. So far, so good with Falcinelli. His velocity has increased. That was one thing we said he needed to do. I'm just really, really pleased with his development and his progress."
"Zerrick, he's a cool customer under pressure. He's got a demeanor about himself where he doesn't look rattled. The game is still moving fast, but you're just starting to see a calmness in the pocket, a better understanding of where to go with the football, arm talent is through the roof. He's got one of the best arm talents that's been around here in a long time. He can make every throw. He's more athletic than a lot of people give him credit for. He's deceptively got good speed. It's not going to look like Kelly. It's not going to look like Deshaun, but he's got an instinct about him. He's got a lot of natural skills that we've just got to build his knowledge base to where everything slows down so that he can let his talent take over."