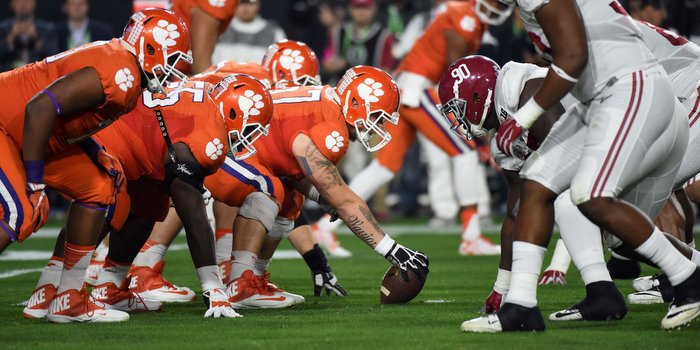 | | |
| --- | --- |
| Tighten the chinstrap, cause Bama and Clemson will be a slobber-knocker | |
---
| | | |
| --- | --- | --- |
| Tuesday, January 3, 2017, 7:01 AM | | |
Tighten up the chinstrap, fellas, because this one is going to be good.
I loved watching games where legendary coach and broadcaster John Madden was in the booth, simply because you never knew what he was going to say next. One of my favorite words Madden used was the term "slobber-knocker."
The term originally meant a violent hit, but over time Madden began to use the phrase to describe certain games that included especially physical or tough play.
Monday night's National Championship Game is going to be a slobber-knocker. It features the nation's two best teams – I don't think that really can be argued at this point – and there will be a wealth of future NFL talent all over the field.
Both teams are big, and both teams are fast, and they have players that like to hit people. From Alabama's Jonathan Allen to Clemson's Ben Boulware, this game is going to be a hard-hitting contest from the opening kick and it's going to be fun.
It also features a couple of coaches who, while they differ in styles, don't differ in the excellence that they demand from their players. Saban is perpetually grumpy, and while Swinney puts on a smiling and aw-shucks front for the media (sometimes) and the fans, there is a hard edge to Clemson's head coach that only a few get to see.
Following the 31-0 dismantling of Ohio St. in the Fiesta Bowl, Swinney said all he wanted was another opportunity to win a title.
"I just wanted to have an opportunity to go, whoever gets there, gets there. I mean, that's the way it ought to be. Again, Alabama has been the standard. There's really no argument to that," he said. "So sooner or later if you're going to be the best, you've got to beat them. So we get an opportunity to do that and if we're good enough we'll get it done. But we know it's going to be a tough battle."
Clemson battled back-and-forth with Alabama last season before losing 45-40, and while many in the national media will point out that Alabama is better defensively, the Crimson Tide aren't as good on offense this season.
Meanwhile, Clemson's Deshaun Watson is a year older and he has top targets in Mike Williams and Deon Cain available after that duo missed last year's game. Defensively, the Tigers are also playing better than they were at this time a year ago and Swinney likes the depth he has all over the field.
"The other thing is we're a better team than we were this time last year because we have more competitive depth. We have more guys that can go play winning football," Swinney said. "Last year we were very top heavy. We had a very good first group but we were a lot of freshmen behind them. And now we're just more experienced, more guys that can go play and play good, functional, winning football. That's the biggest difference.
"And I think they had the opportunity to draw on last years' experience. I think all those things have been factors."
The Tigers went 34 years between title game appearances – 1981 to 2015 – and Swinney promised after the loss to Alabama last season that it wouldn't be another 34 years before they'd be back.
He was right. It was just a year.
"I knew it wouldn't be 34 years. I didn't know if we'd get back here this year," Swinney said. "But with the type of foundation that we have in place with our program, the type of young men that we have, the commitment, we have a culture and a winning foundation that breeds consistency.
"So it's pretty special. 28 years since we have had back-to-back ACC titles. So it's pretty special. And we know what's in front of us, but we're going to do everything we can to try to finish this year."
Alabama's defense is special, and they are already playing the disrespect card because little old Clemson scored 40 last season. Saban is already showing signs of panic after the dismal offensive showing last week, taking the opportunity to push Lane Kiffin out the door a week early and promote Steve Sarkisian to the offensive coordinator position. Alabama is confident and they are talented and they have a great coaching staff.
Heading into last week's Fiesta Bowl, I wondered during the week if Clemson would be up to the challenge….I thought Ohio St. had a certain focus that seemed to be lacking in Clemson. But as the week went on I noticed that both Urban Meyer and his players were almost too focused, too tight. Meanwhile Swinney was laughing and smiling and making faces for the cameras and his team was having fun at practice.
That looseness showed in the win over the Buckeyes, and now the Tigers take that swagger and quiet confidence into the title game showdown.
It's Clemson. It's Alabama. It's the two best teams in the country and it's a clash of coaching styles. It's going to be hard-hitting and physical and it should be fun.
Tighten up that chinstrap, boys, this one is going to be a slobber-knocker.