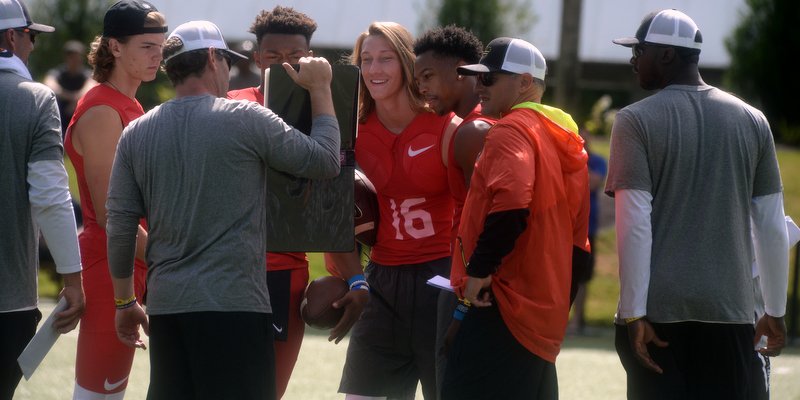 | | |
| --- | --- |
| The Opening Insider: Ross and Lawrence steal the show in morning practice | |
---
| | | |
| --- | --- | --- |
| Friday, June 30, 2017, 5:12 PM | | |
BEAVERTON, OR – The Opening is heating up, and we have plenty of nuggets and information to pass along after the second morning session of the competition.
Like yesterday, the session featured quarterbacks, tight ends and wide receivers, so we spent the entire practice watching Clemson quarterback commit Trevor Lawrence and wide receiver targets Justyn Ross, Jordyn Adams, and Brennan Eagles.
We'll dive right in.
*Lawrence was once again on top of his game. Working in a group that included Ross, Lawrence was on target as the group worked on back shoulder throws and throws into the corner of the endzone. Standing on about the 20-yard line, he lofted one throw into the far corner of the endzone and it was on the money, drawing cheers from everyone on the field.
Lawrence and Ross almost, almost, connected on the play of the day. Ross ran a route across the back of the endzone and Lawrence threw a frozen rope that just missed Ross' fingers. We showed Ross the video as soon as the practice was over, and he broke into a huge grin when asked about working with Lawrence.
"He's one of the best quarterbacks I've ever played ball with," Ross said. "Every ball he throws is perfect and right where the receiver wants it."
*During the session, I was standing next to three national scouting guys, and they all agreed that Lawrence is special. One of them said, "If Clemson keeps adding talent like they are, Lawrence could take them to two or three championship games. He's the kind of player you can build around, but if you already have talent the sky is the limit."
One of the writers was from the Los Angeles area, and he said that Ross is, hands down, the best wide receiver in the country.
*Regarding Clemson's class – one of the national guys thinks that Clemson is a long shot to land offensive lineman Jackson Carman. However, he mentioned to me that out of the three top targets – Carman, Jamaree Salyer and Trey Hill – he thinks the Tigers need to land one of those. The thought process is that the coaches need to grab at least one of those guys this cycle and work on a few more tackles in the next cycle with Lawrence in mind.
I was told – and we already knew – that Salyer is under tremendous pressure to choose Georgia. However, there is something about Clemson that keeps the Tigers in the hunt. Salyer arrives tomorrow for the Showcase, and we will have more on him later, as well as Carman and Hill.
*Wide receiver target Brennan Eagles has declined interview requests, which is his right, but I did spend a few minutes talking with him and his mother following the session. He told me that he thinks doing the interviews won't accomplish anything, and he just wants to focus on football and becoming a better player. Can't fault the young man for that, and in my conversation with him he reminded me a lot of former Clemson receiver Artavis Scott – he doesn't want to say a lot or talk about himself, he just wants to concentrate on the game and getting better.
He takes coaching very well, and I said yesterday that he doesn't need a whole lot of work before being ready to step in and be a day one starter for someone.
I also heard that Clemson might be in better shape with Eagles than a lot of people think, but that watching how Clemson does with Ross might affect Eagles' decision.
*Ross is another one I've gotten to know a little better the last few days. He's quick to smile and doesn't mind being in the middle of everything. Some of the one-handed catches he makes are ridiculous. He's on Lawrence's team when the 7-on-7 matchups begin, and it's going to be fun watching those two work together.
I spoke with Ross at length about his mother return's from overseas duty – which we will have in a later story – but he did tell that on their visit to Clemson his mom's favorite part of the visit was the academic side of things.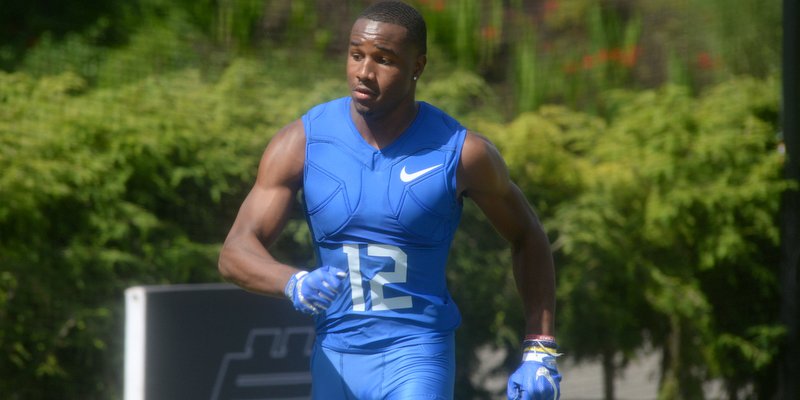 *Spent a few minutes with Jeremy and Amanda Lawrence, Trevor's parents, who are watching him compete. Jeremy relayed a story about new Clemson commit Darnell Jefferies. It turns out that Jefferies and Lawrence played together on an all-star team a few years ago, and Jefferies was quite the star. He played a little running back but also played a lot of tight end. According to Lawrence, Jefferies was so good at tight end they could have just thrown the ball to him on every play and would have won every game. He said Jefferies is hard to tackle.
That brought current Clemson defensive tackle Christian Wilkins to mind – Wilkins already has a touchdown catch and two fourth-down conversions to his credit, but he might be gone after this season if the NFL comes calling. Could Jefferies be the new Slash?
*Finally – it's interesting walking around and meeting folks that cover recruiting from around the country. One of the first questions asked whenever you meet someone new is, who do you work for or who do you cover.
Whenever Nikki or I answer Clemson, the response is universally the same………Clemson should have beaten Alabama in the first title game and should be gunning for their third consecutive title. They also talk about Clemson's recruiting – Clemson isn't offering just anyone, and there are kids from all over the country (and some of them are here) who covet a Clemson offer and don't get a look.
You know recruiting is going well when we have parents from Pennsylvania and Louisiana and other states telling us they know all about the paw, Clemson and would not only love to visit, would love for their son to play for head coach Dabo Swinney.