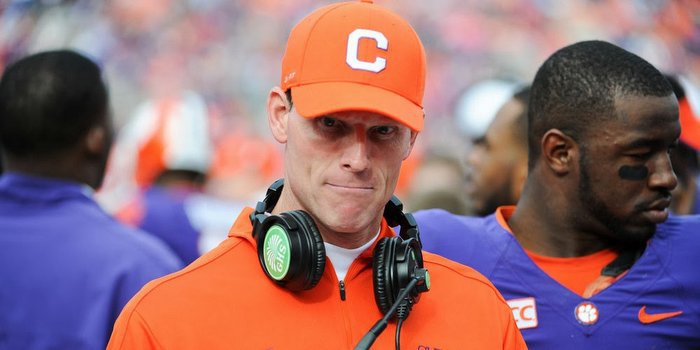 | | |
| --- | --- |
| The Legend of Jimmy Greenbeans: Busted nose adds to scout team QB's lore | |
---
| | | |
| --- | --- | --- |
| Monday, November 21, 2016, 5:01 PM | | |
CLEMSON – A bloody nose, nearly fainting, and possible broken bones.
The legend of Jimmy Greenbeans continues to grow.
It's been well-documented throughout the season that defensive coordinator Brent Venables – aka Jimmy Greenbeans – likes to run the scout team and play quarterback throughout the week, so with every highlight moment, hit or bloody encounter the legend continues to grow.
After Clemson's win over Wake Forest to clinch the ACC Atlantic, Venables was sporting a nice sized gash across the bridge of his nose and when asked about it he immediately blamed sophomore defensive lineman Christian Wilkins.
Wilkins, however, wasn't so quick to take the blame, but he did tell the story as it really happened.
"He (Venables) is always putting the blame on me for stuff like that, but it wasn't even my fault," Wilkins said Tuesday in the WestZone. "It was all Clelin Ferrell. You know how Coach V is our scout team quarterback, so Clelin was coming off the edge, and I was coming off the other edge in practice, and Coach V got in the way. Cle couldn't stop his momentum, so he pushed Coach V into me, and I tried to move out of the way, but it was already too late. Coach V was already going down, and he hit his face on me on the way, and that's how he got the gash."
Despite blood pouring from his wound, Wilkins said Venables didn't miss a beat, but he did notice a change in Venables' demeanor following the collision.
"He had blood dripping down his face and he was still taking snaps. He was pretty quiet after that," Wilkins said. "I don't think he's ever been hit like that in a practice. He was a little quiet. We always give him a little rough up but nothing ever that bad. It was pretty funny. The whole time, I was like, 'Oh man, he's still doing it.' He was still just as intense and didn't take a break or anything. It was just funny."
Senior linebacker Ben Boulware didn't see the collision, but he said the sight of Venables running around with a bloody nose is just par for the course and that his position coach will do anything and everything to get the most out of his players, even if it means nearly passing out on the sideline.
"It was funny. I saw him, and I was like, 'What happened to your nose?' Then after the game, he was wearing a cast on his wrist," Boulware said. "He almost fainted or had a stroke on the field from getting too excited. We showed it to him and he didn't know it was blowing up on social media. He's just an intense guy. He wants the best out of us and he will do anything in his power to get that, whether it's breaking his nose or busting his nose open or breaking his wrist or having a heart attack on the field. He's going to exhaust every amount of energy he has into this program and into this defense to play at a high level. I think those are pure examples of his intensity."
Boulware isn't sure what life will hold for him after Clemson, but he knows that if he ever becomes a coach, he'll probably be very similar to Venables.
"I don't know. That's in the future, and I'm living in the moment and making out the most of the situation I'm in now," Boulware said. "Our coaching styles would definitely probably resemble each other, but I don't know what the future holds for me."