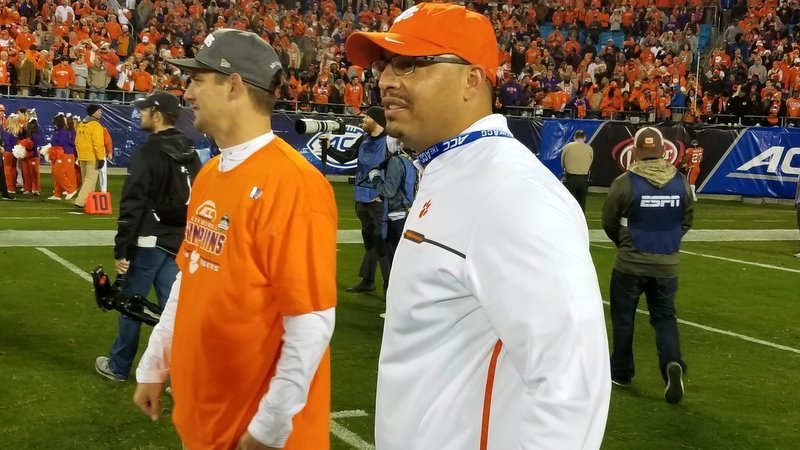 | | |
| --- | --- |
| The Best is Yet to Come: Clemson assistants stay home, building model program | |
---
| | | |
| --- | --- | --- |
| Friday, December 15, 2017, 11:01 AM | | |
CLEMSON – The coaching carousel can be scary and daunting for many programs as coordinators and assistants try to balance their current coaching duties, recruiting and interviewing for various jobs.
While most head coaches may worry about their assistants constantly looking for greener pastures and better opportunities, Clemson head coach Dabo Swinney has created a culture where coaches don't want to leave.
That is why when Swinney says "the best is yet to come" at Clemson, he isn't kidding. His coaches believe that the Tigers are just scratching the surface of their potential.
All three coordinators – Jeff Scott, Tony Elliott and Brent Venables – have had opportunities to go elsewhere (even this season) but loyalty and a culture that most other schools can't offer have kept them in Clemson, South Carolina.
Speaking to the media Thursday night, Elliott said that while he's honored to be considered for head coaching positions, the time for him to leave Clemson isn't now.
"I think anytime you're in this position you want to aspire to reach the highest level, so it was a tremendous honor to even be considered," Elliott said. "I'm still trying to be the best offensive coordinator I can be. Clemson is home. Coach (Dabo) Swinney's been unbelievable to me and my family. The timing wasn't right. But it was an honor to have my name in consideration."
Elliott said he still has a lot more to learn before taking the reins of any program.
"It just illustrated to me that opportunities may be available to me in the future and that I've got to prepare myself," Elliott said. "It did open my eyes at some point in time down the road, if that is an aspiration I have, to ready myself because I'm not prepared to go in and interview as a head coach because I still don't know enough as a head coach about that process and what they do on a daily basis."
Scott has been with Swinney every step of the way from being named interim through winning a national championship, and he couldn't ask for a better situation than the one he has at Clemson.
"First of all, I'm a man of faith, so I've been able to look at my entire life and not just my career and been able to see how the Lord has a plan. He'll speak and let me know when the right time," Scott said. "The best part is that I'm at a great place around great people and learning. I enjoy coming to work every day. It's an unbelievable culture that we have here at Clemson. When you're coaching at your alma mater, especially at a place like Clemson for a man like Coach Swinney, you're not in a hurry to leave. That's where I am as a coach. Every day I'm just continuing to try to learn from all of the coaches around me and Coach Swinney, from our players and taking all of this in. If it's in the Lord's plan to be a head coach one day, then that's going to happen on its own."
However, if Scott is to become a head coach one day, he'll know when the time is right, but in the meantime the best is still yet to come in Clemson.
"One of the best pieces of advice I've been given was from Coach Swinney and that's, be great where your feet are and bloom where you're planted. You see a lot of people in the coaching profession that kind of their eyes outside looking for that next opportunity and trying to make things happen, but I've learned from coach," Scott said. "He was here trying to be the best wide receivers coach he could and one day he got the opportunity to be the head coach. When that day comes, I'll know when that is but I really enjoy what I'm doing right now. To be honest, I feel like we're just getting started. We always talk about the best is yet to come and there are a lot of us that are still young. I'm still looking forward to more good years here at Clemson. I truly feel like because of the recruiting that we're only going to get better each year, so that's an exciting thought and feeling."

Upgrade Your Account
Unlock premium boards and exclusive features (e.g. ad-free) by upgrading your account today.
Upgrade Now