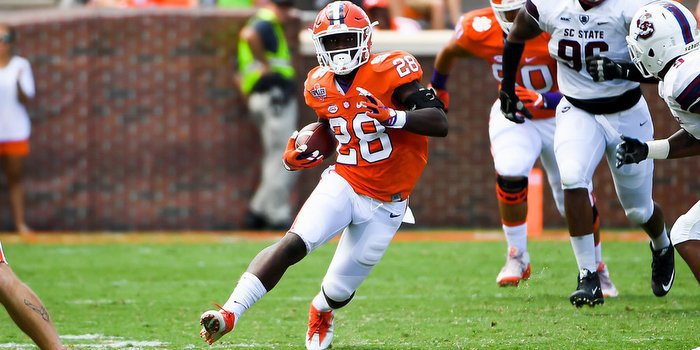 | | |
| --- | --- |
| Tavien Feaster: "They brought me in here to be special" | |
---
| | | |
| --- | --- | --- |
| Saturday, October 22, 2016, 8:01 AM | | |
CLEMSON – During the overtime win over North Carolina St., freshman running back Tavien Feaster paced the sidelines, waiting and hoping that his number would be called.
It wasn't, and at one point Feaster retreated to the bench and put his head in his hands, leaving one to wonder what was going through the Spartanburg native's mind. Feaster didn't stay in that position long, however, and popped up after a few seconds and resumed cheering on his teammates.
The former 5-star has the right attitude, and he hopes he can take that attitude to the field sooner rather than later. Until then, he is patient, knowing his time will come.
"Coming in a five-star, now I'm fifth-string," Feaster told the media recently in the WestZone. "All I've got to do is keep my head up and keep working. My time is going to come, and when it does, I think I'm going to be ready. They brought me in here to be special and that's what I need to do."
Feaster has played sparingly, but is third on the team in rushing yards – he's recorded 16 carries for 139 yards, an impressive average of 8.7 yards per carry. However, 12 of those carries came in the blowout win over South Carolina St.
He broke off a 45-yard touchdown run at Boston College in early October, but didn't see the field against the Wolfpack, even after starter Wayne Gallman went out in the first quarter and his replacements struggled to find running room.
"I know it's going to take time for me to get on the field," Feaster said. "I know you're going to have days when you're up and days when you're down. If you stay humble to yourself and put your best foot forward, you'll be successful. I know if I come off a great day I'm giving these coaches a look at the future of the program," Feaster said. "I know they expect a lot from me, and if I work hard enough, I know I'll get an opportunity like I did at Boston College."
Co-offensive coordinator Jeff Scott said recently that just because Feaster didn't see action against Wolfpack doesn't mean he won't get a shot later on.
"There have been conversations with who we want to go with and we worked our way down and gave Adam Choice an opportunity and then Tyshon (Dye) and then C.J. Fuller," Scott said. "Then, C.J. got hot and was running the ball really well. We were moving the ball and so if C.J. wouldn't have done as well there would have been opportunities for Feaster to go in. Those last few drives we got into a rhythm and C.J. was running the ball well. We trust him enough as the fifth guy; that would've been the situation to go in there, and now that these other guys have had an opportunity that could change what order they go in the next game
"That doesn't mean that Tavien won't get his opportunity. That's coming, but he has pecking order that he has to work through. As coaches, you have to go with your gut feeling, and that's of 80 hours a week for however many weeks these guys have been here, you have to go with your gut feeling based on what you've seen in practice and all of the different memories that you have of practice and other games. The biggest issue came after the game when everybody started asking the question. It was not an issue on the headsets. It wasn't a major deal at all to us or to the team because everybody knows where everybody is and they have to earn their stripes. He'll get other opportunities just like the young wideouts."
The coaches had hoped that Feaster would be a force on special teams, but replaced him with Artavis Scott against Louisville. Now he's looking for another opportunity.
"I barely played special teams in high school. I was back there a few plays and they wouldn't kick the ball as deep. In college, they don't respect me because I'm a freshman and they want to see what I can do," Feaster said. "When I go out there and get my shot I have to just go and not think. When I do that I will get a big return. I just have to go play."
That's all he's looking for. A chance.
"You have to earn your right to play," he said. "That is what I am trying to do."