| | |
| --- | --- |
| Talent flow continues: Surprise visitors and other stars highlight evening session | |
---
| | | |
| --- | --- | --- |
| Tuesday, June 12, 2018, 9:11 PM | | |
Photo Gallery: Dabo Swinney Camp VII
CLEMSON – The flow of talent at Dabo Swinney's high school camp didn't stop following the afternoon session as more prospects showed up for the evening session.
We will jump right into it with the news that 3-star defensive back Shyheim Battle out of Rocky Mount (NC) showed up for the evening session with his dad and teammate Gabe Bynum. He didn't work out Tuesday evening but is now scheduled to work out Wednesday.
Battle is set to begin a string of summer visits, but as the spring comes to a close and summer begins Clemson holds a slight edge for his services. He was offered by Clemson in late February. Battle made two visits to the Clemson campus in short order - including the spring game - and has been in constant contact with the Clemson coaches.
*One of my favorite parts of camp is watching the current Clemson players interact with the high school kids and this year was no different. Christian Wilkins watched each drill intently and took one defensive tackle aside to give him some one-on-one coaching.
Freshman defensive end K.J. Henry was working with the same group as the lead instructor, if you will, explaining the drill and critiquing the players' technique. You can tell that Henry hails from a family of coaches – his dad is a college football coach and his mom is a basketball coach – because he was able to explain the drills and the reasoning behind the drills on a level that everyone could understand.
Linebackers Shaq Smith and Chad Smith were working with defensive coordinator Brent Venables. Those two have come such a long way with their knowledge. Their leadership skills are evident and it's only a matter of time before they break out on the field.
*5-star Oxford (AL) center Clay Webb was on hand for the evening session. While every indication is that he will stay in state with either Alabama or Auburn, it has to mean something that he's been in Clemson the last two years for Dabo Swinney's high school camp. Webb spent several minutes with Thad Turnipseed – the director of recruiting and external affairs.
I've seen Webb at several camps and he seems like a quiet kid until you get him on the football field, then he's the right kind of nasty you like in an offensive lineman.
*I spent several minutes watching Tony Elliott's running backs group and came away impressed with 2020 prospect Jordan Simmons out of Powder Springs (GA) McEachern. At 5-11 and 180 pounds, he already has good size. He has a thick lower body, is explosive, runs routes well and catches the ball really well out of the backfield. Simmons already has offers from Florida, Georgia, Michigan and several others.
*Spent time watching 4-star receiver Braedin Huffman-Dixon out of Santa Ana (CA) Mater Dei. He is an intriguing prospect on many levels and I have additional intel to pass along. He committed to Colorado in early May but also has offers from Georgia, Nebraska, Oregon, and Southern Cal.
So what is a kid from California who is a Colorado commit doing in Clemson's camp?
Turns out that Clemson is his dream school and he's been scheduled to come to this camp for month. His school changed coaches at the end of last season and much of his game tape was lost so he's been on the camp circuit. Clemson, however, is the offer he would love to have and he spent a lot of time working with receivers coach Jeff Scott. The family also has connections to a familiar school in the area – Grayson down in Georgia – and he might wind up in Georgia sooner rather than later. I was told he will graduate early from high school but not necessarily enroll in college in January.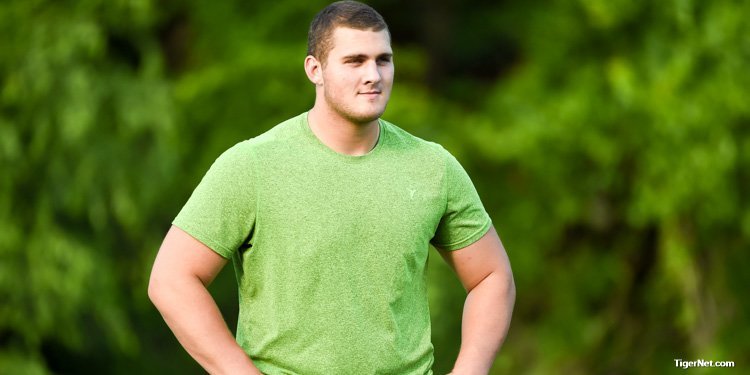 He has a good burst and he's a legit prospect.
While we were watching the receivers, Clemson commit Frank Ladson made another jaw-dropping play. He was running a route and looking back over his right shoulder. The ball was thrown offline, however, and he flipped his hips as quickly as I've ever seen and made a one-handed grab. Just…wow.
*2019 Memphis (TN) Whitehaven athlete Keveon Mullins (6-2, 205) was on hand for the night's activities but didn't work out. He decommitted from Memphis recently but has offers from Florida State, Georgia, Louisville, Ole Miss and South Carolina among others.
*5-star 2020 defensive end Sav'ell Smalls out of Seattle (WA) Garfield didn't work out, instead spending much of the first 30 minutes of the session with defensive line coaches Lemanski Hall and Todd Bates. Smalls was joined by 2020 four-star linebacker Sergio Allen out of Fort Valley (GA) Peach County.
*While watching the offensive linemen we also watched 2020 offensive tackle Jalen Rivers. Rivers looks the part, and he looks like he has the strength to contribute to someone right away. His teammate is 2020 defensive end Chantz Williams of Orange Park (FL) Oakleaf, and he worked out again this evening. Both players are here for all three days.
More Dabo Swinney Camp Coverage

Tags: Clemson Football
,
Shyheim Battle
,
Clay Webb
,
Frank Ladson
,
Sergio Allen
,
Jalen Rivers
,
Chantz Williams
,
Brent Venables
,
Tony Elliott
,
Jeff Scott
,
Todd Bates