| | |
| --- | --- |
| Swinney's facility vision includes "the home of the Tigers" | |
---
| | |
| --- | --- |
| Friday, March 13, 2015 7:01 AM | |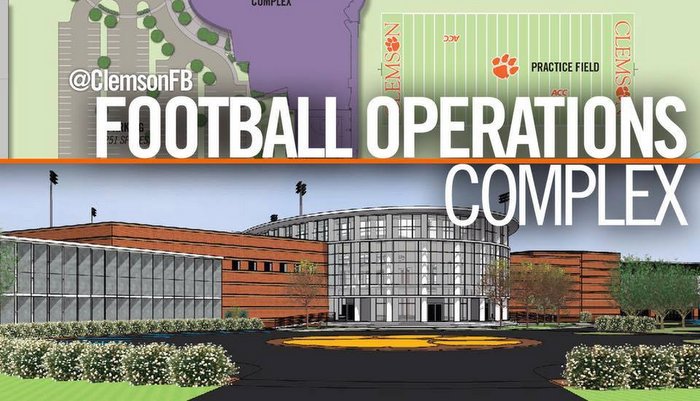 CLEMSON – Following Monday's spring practice session, head coach Dabo Swinney

Dabo Swinney
Head Coach
View Full Profile faced the indoor practice facility as his football team boarded the trailers that would ferry them back across Perimeter Road and to Clemson Memorial Stadium. Swinney pointed to the open space between the indoor facility and the indoor track area, and a big smile broke out on his face.
"This," he said pointing to a spot where the new football operations center will sit, "is going to be the home of the Tigers."
The Clemson board of trustees unanimously approved at its winter quarterly meeting the concept for a state-of-the-art football operations center connected to the new indoor practice facility, which sits across the road from the stadium.
The adjusted proposal is for a 157,000-square foot, multiple-floor center housing all football-related functions. Those include coaching offices, player and coach locker rooms, a weight room, a training room, an equipment room, a dining area and team meeting rooms, all of which currently reside in the West End Zone within the football stadium. Clemson hopes to break ground in early 2016, with plans to open the center sometime in spring or summer 2017.
Under Clemson's current football setup, the weight room, locker rooms, meeting rooms and coach's offices reside inside the West End Zone. Clemson's practice fields and indoor practice facility sit across the road, and players and coaches have to dress on one side of the street and either walk or take the "tram" across a busy four-lane road in the center of campus to get to the practice fields. The trams are actually two pickup trucks that haul trailers with stadium benches on the inside. The trams have to wait for a campus policeman to stop traffic so that those riding – and those walking – can make it across safely. This includes campers for Swinney's camp in June.
The new football operations center is, by design, a continuation of Swinney's master plan to build Clemson into a consistent winner.
"We have checked a lot of boxes over six years and we have steadily improved. One of the biggest goals was becoming consistent," Swinney told TigerNet. "I remember when we won 10 games and the league in 11, and it was like, 'that is great but we have to see if we can go put three or four and five 10-plus win seasons together.' We're now here and we've had four 10-plus win seasons in a row. We are at a level of consistency to where we're not just seen as a good team, we are seen as a good program.
"And then we are eighth in the country in the NFL draft. All of that resonates. Every bit of that. The academic success. The consistency on the field. We've been able to kind of build the total package. And for us, we're not just trying to win the recruiting battles and get good players, we're trying to get the right guys and get the guys that fit our culture. And that's the key. We have been able to do that a lot more than not."
THE WESTZONE
Swinney took over as interim head coach midway through the 2008 season and was awarded the permanent position following that season. Plans for the West End Zone were already underway, and Swinney said he was merely the recipient of what would turn out to be a beneficial project for the football program.
Swinney had a bigger plan in mind, however, and that plan was to have all of the football practice facilities, meeting rooms, offices and weight rooms in one spot.
"For me, the West End Zone was never my vision. I just happened to get the job when they were building it. They could have put up me in the President's Box and I could not have cared less," he said. "I just wanted a shot to see if we could get it going. In fact, the very first year I kind of laid out a vision to Terry Don Phillips, and my vision was to have everything together. I want to be with them every day, year-round. You bloom where you are planted and that's what we've tried to do and make the best of whatever situation we've had. But six years later, how do we get to another level? How do we keep getting better? For me, I don't like tramming our guys across traffic every day and police stopping traffic and then I am not with them. I want to be able to be in my office and look out my window and see them and be with them every day."
SAVING DEATH VALLEY FOR GAMEDAY
The other part of that plan was making sure that Clemson Memorial Stadium – Death Valley – takes on a special aura.
"Every day of the year, they come over here (across the road) except for seven days when we are playing in that stadium. For me, that further cements the message that we want to be the best," Swinney said. "And that we are not satisfied. If we ever get satisfied, then we will never be the best. We have to constantly improve."
The offices inside the WestZone will house other athletic personnel after the football staff moves across the street, allowing the WestZone to become what Swinney calls the "front door" to Clemson athletics as a whole.
"I will say this - the West End Zone is awesome and it is going to continue to make Clemson better because it's going to become the front door to Clemson athletics and that is needed," Swinney said. "We need a new front door to Clemson athletics. So through what we are doing, everybody is going to grow and improve."
The move will also allow Clemson football to have what he calls a forever home.
"This is going to be the home for Clemson football. For forever. This is a deal where my kid's kids will be here," Swinney said. "Whoever had the vision to build Death Valley, even though Death Valley has changed over the years and they have added on - it's still the home for Clemson football. And this is going to be the home of the Tigers, where we practice every day. And then seven days out of the year, man we will go into that stadium and it will be special.
"That is one thing that I've never really liked even though we've made the best of it. To go into that locker room on game day - it's not the same locker room you were sweating in yesterday at practice. Man, it's special. So there are a lot of reasons, but again this is a long-term commitment. Not that they aren't going to tear a wall down and re-do something or add on or whatever. But when this indoor got built, this solidified it that this is going to be the home of the Tigers as far as daily operations year-round. And it is going to be fantastic and just really bring it all together."
Having all of the facilities in one spot will help the coaches maximize the time the NCAA allows them to spend with the student-athletes.
"The weight room will be tied into the indoor facility," Swinney said. "We operate on a 17-hour rule, so maximizing your time and not having to let them go 30 and 40 minutes early so they can get down and get across the street. We can then just literally walk down the steps and boom, right onto the practice. Just the overall efficiency in what we do is going to be tremendous. And I think everybody is going to get better from this whole deal. It's going to be a lot of fun to watch it grow and it will be a lot of fun to watch everybody else grow along the way."
DESIRE TO BE THE BEST AND A TROPHY CASE
Swinney says the new facilities will compete with any others in the country, including Alabama and Oregon.
"We won't take a backseat to anybody. It has to be unique, different, fun and special because those are all the things that describe Clemson and that is what that facility is going to be," he said. "It doesn't have to be the biggest or anything like that. But it has to be the best that we can be, and that is what we are trying to do is have the best possible facility for our student-athletes and coaches that we can have and just continue to send that message that we are here to stay. We are far from satisfied, and we want to be in this for the long haul."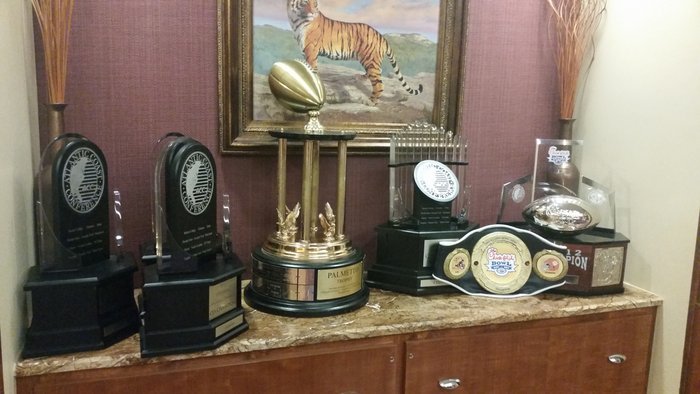 That desire to be the best includes a bigger trophy case, one that can house all of the trophies already earned and the ones Swinney expects to win.
"We are going to have a big trophy case. A big one. We have outgrown my shelf back there in the back office," he said. "We used to have this nice open space and now everything is cramped. We can't put anything else in there, and that is a good thing. But we are going to build it bigger. The WestZone has been great and has helped us compete. We were way behind for a long time, and the WestZone has been good for us. But functionally we needed to improve."
With that said, Swinney got on his golf cart and began the trek back across the road to his office, dodging raindrops and traffic along the way. Once his plan comes to fruition, it's a trip he won't have to make unless it's game day.