| | |
| --- | --- |
| Swinney talks new hires, injuries and Oklahoma | |
---
| | |
| --- | --- |
| Friday, December 12, 2014 12:52 PM | |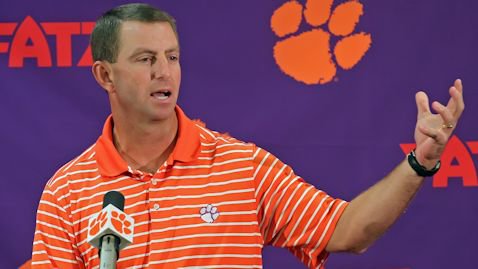 CLEMSON – Clemson head coach Dabo Swinney

Dabo Swinney
Head Coach
View Full Profile told the media Friday morning that he has been on the road recruiting since the win over South Carolina two weeks ago, and with that in mind a lot of ground had to be covered.
Since the win over the arch-rival Gamecocks, the Tigers have lost offensive coordinator Chad Morris

Chad Morris
Offensive Coordinator / QBs
View Full Profile , promoted Jeff Scott

Jeff Scott
Asst. Coach (WR) / Recruiting Coord.
View Full Profile and Tony Elliott

Tony Elliott
Assistant Coach / Running Backs
View Full Profile , hired Brandon Streeter as a quarterback coach and announced that Deshaun Watson

Deshaun Watson
Fr. Quarterback
#4 6-3, 204
Gainesville, GA
View Full Profile would have surgery on his torn ACL.
Add in the fact that Clemson plays Oklahoma in the Russell Athletic Bowl in 17 days, and there was indeed a lot to cover.
"I've been on the road since the South Carolina game. Literally. Good couple of weeks being out on the road," Swinney said. "Seeing most of our mid-year guys. Busy but very productive. Good to be back home, that's for sure. Proud of our team. Obviously the South Carolina game was a tremendous way to end our season. It was a good year. Had a chance to kind of reflect and look back on the season. I'm proud of what we got accomplished. We started out to finish 12-0 but we competed our tails off. We competed at a high level."
"We are certainly in position to have won every game and we came up a little short in a couple of instances there. Our football team has overcome a lot of adversity this year - especially on the offensive side. We are really excited about the bowl game. Great opportunity for us. I am really anxious to get back on the field with our guys this afternoon. They had a week off and this week they are back in the weight room. But we haven't been with them. Excited about that."
Swinney said that bowl practice will be critical for the Tigers' younger players.
"Bowl season is critical for us just like every year. We try to work hard," he said. "We try to develop our team. We want to prepare this year's team to win the game. But we also want to get a head start for spring practice. That's a big part of what we do with our bowl prep. We have a great group of red-shirt guys that want playing time and this is a critical time for them. It's fun to get out there and coach those guys. This year, it's even more critical because we have some staff changes. So we have a chance to develop our staff. So we'll have a trial run if you will.
"This particular game there is a ton of opportunity with this team. We are going to do everything we can to put our best foot forward to win this game. That's what it's about. We have a chance to win 10 plus games for four years in a row - we would be one of only four teams nationwide that have done that - Clemson, Florida State, Alabama and Northern Illinois. Great opportunity. We want to finish ranked as high as we can. So we will push forward and try to achieve that. Most of our guys are graduating. We will have two seniors, maybe three at the most that will need to do any course work in the spring to finish up. That's exciting."
Other notes
On Chad Morris and promoting Scott and Elliott
"It's exciting to see the opportunities. For Chad and Paula and their families. It was a great fit and that is perfect. For us, I'm excited about moving forward. We've had this plan in place for a couple of years. We knew if the right job came along that Chad would be a good fit. I'm excited about Jeff and Tony. They are two incredibly gifted young coaches. They have had huge roles in the success we have had - in every area. Whether that is recruiting- game planning, etc. They've both worn a lot of hats. It was really an easy decision. It's the culture I want to have to be able to promote from within. It's not always the case. It's all about who you surround yourself with. I know exactly what I want. They know how to do that and they will do a phenomenal job."
Injury news
" Stanton Seckinger

Stanton Seckinger
RS Jr. Tight End
#81 6-4, 241
Isle of Palms, SC
View Full Profile had surgery yesterday on his PCL and had some work done on his MCL too. He will start his rehab process right away and will miss spring ball. Deshaun Watson is having surgery this morning. There was a lot of thought and discussion on that. Had we played the next week he would have probably played it out. But the timing of it all - we would have lost about three weeks. We want to come back to school in January and instead of starting the process, he will be about three weeks into it. So when he comes back in January we are onward and upward. We want him to be able to lead our team in the summer with skills and drills. That is very important."
Brandon Streeter
"He's a great addition to our staff. He knows Clemson. But I have two freshman quarterbacks showing up in January. I've got Deshaun Watson. So I wanted a guy who had a lot of experience coaching quarterbacks. I knew I wanted to hire him for a long time. I've watched him, since he's been at Liberty and at Richmond. Had a great conversation with Coach Rocco - and he just validated what I already knew anyways. Great toughness. He will bring a lot to that room - they will all work tremendously together. We have a huge recruiting department. Thad Turnipseed does a great job. Brandon will assume the duties from Jeff. Also Tyler Grisham

Tyler Grisham
Wide Receiver (2008)
# 5-11, 185
Birmingham, AL
View Full Profile will move to our on-the-field GA. Thomas Austin

Thomas Austin
Sr. Offensive Guard
# 6-4, 310
Camden, SC
View Full Profile

Thomas Austin
Offensive Line
# 6-4, 310
Camden, SC
View Full Profile

Thomas Austin
Offensive Line
# 6-4, 285
Camden, SC
View Full Profile will be a GA replacing Dustin Fry. Then Cameron Aiken is a GA too. He will work in our video GA role. Anxious to get going."
The suspension of Jay Jay McCullough

Jay Jay McCullough
RS So. Tight End
#89 6-3, 248
Fort Mill, SC
View Full Profile
"Jay Jay- we are evaluating. I've been on the road for the last couple of weeks so we will see. Will let y'all know there."
Quarterback depth in the spring
"I think it will be fun. I saw Tucker Israel yesterday. Saw Kelly [Bryant] last week. It's going to be fun. And we have big Nick. Then we have a walk-on too. Ol' Streeter has his work cut out for him. We'll put a coaching hat on Deshaun as well. It's a great blessing to be honest with you to have two guys coming mid-term. We have to get them coached up. Hopefully they will make great progress like Deshaun Watson did last year."
Tony Elliott as a playcaller
"People would be surprised the calls that Jeff made the last few years. The calls that Tony made the last few years. Tony is going to move up into the box. He's a very cerebral guy. Tony is an engineering grad. Jeff is a math major. Jeff has done a great job managing chaos. There's a lot going on when you coach wide outs. Moving Tony up to the box is the biggest thing. He's done a great job the last few years. He's been very closely involved with our tight end and our quarterback. He's been a very big part of everything. Both of those guys are very intelligent. It's not uncommon to have co-coordinators. TCU has them. The team we are getting ready to play has them. They are going to do a fantastic job."