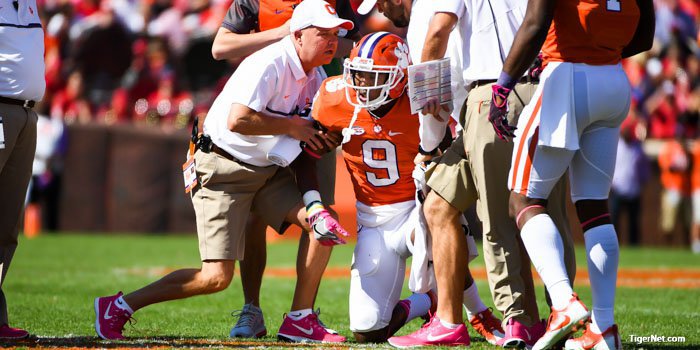 | | |
| --- | --- |
| Swinney speaks out on traumatic brain injury for college players | |
---
| | | |
| --- | --- | --- |
| Saturday, July 29, 2017, 2:01 PM | | |
GREENVILLE – An updated study released this week highlights the risks of playing college football, but Clemson head coach Dabo Swinney says the game is safer than it has ever been and that a lot can be learned from the tragedy that has struck so many former players.
Along with the opening of fall camp by many college football teams over the next few weeks comes an updated study reported in the Journal of the American Medical Association that found the degenerative brain disease CTE (chronic traumatic encephalopathy) in the brains of 48 of 53 deceased former college football players who donated their brains to research.
In a new study published in the Journal of the American Medical Association Tuesday, researchers from the Boston University School of Medicine and the VA Boston Healthcare System examined the brains of 202 deceased men who had played football at various levels. Of those, 53 played college football.
Swinney was asked about the study at the Hyatt Regency in downtown Greenville as part of the 8th Annual Coaches for Charity event on Wednesday, and he said the game is better than it's ever been.
"It is well-documented, the improvements that have been made in the game," Swinney said. "I think the game is better than it's ever been. There are always going to be risks involved with this game, just like there are with other games out there. The thing that you try to do as a sport is improve the game and improve the safety of the game."
Swinney then pointed to a litany of improvements that have been made over the last few years.
"Whether it be how the game is officiated, how the game is practiced, the calendar for the players, eliminating two-a-days and all of that," he said. "Limiting the amount of time you can have your guys during the week and eliminating how much you can have them in the offseason. There have been so many things and the game has never been better."
Swinney said the important thing to do is learn from the past.
"Obviously there are a lot of things - bad things - that have been learned from past years," he said. "It's no different than anything else out there in the world. Sometimes you learn more from the bad than the good. There certainly has been some bad and it's led to a lot of great improvements. So I like where the game is right now."
The study
Main Outcomes and Measures: Neuropathological diagnoses of neurodegenerative diseases, including CTE, based on defined diagnostic criteria; CTE neuropathological severity (stages I to IV or dichotomized into mild [stages I and II] and severe [stages III and IV]); informant-reported athletic history and, for players who died in 2014 or later, clinical presentation, including behavior, mood, and cognitive symptoms and dementia.
Results: Among 202 deceased former football players (median age at death, 66 years [interquartile range, 47-76 years]), CTE was neuropathologically diagnosed in 177 players (87%; median age at death, 67 years [interquartile range, 52-77 years]; mean years of football participation, 15.1 [SD, 5.2]), including 0 of 2 pre–high school, 3 of 14 high school (21%), 48 of 53 college (91%), 9 of 14 semiprofessional (64%), 7 of 8 Canadian Football League (88%), and 110 of 111 National Football League (99%) players. Neuropathological severity of CTE was distributed across the highest level of play, with all 3 former high school players having mild pathology and the majority of former college (27 [56%]), semiprofessional (5 [56%]), and professional (101 [86%]) players having severe pathology. Among 27 participants with mild CTE pathology, 26 (96%) had behavioral or mood symptoms or both, 23 (85%) had cognitive symptoms, and 9 (33%) had signs of dementia. Among 84 participants with severe CTE pathology, 75 (89%) had behavioral or mood symptoms or both, 80 (95%) had cognitive symptoms, and 71 (85%) had signs of dementia.