| | |
| --- | --- |
| Swinney says domestic violence issues transcend football | |
---
| | |
| --- | --- |
| Wednesday, September 17, 2014 10:27 AM | |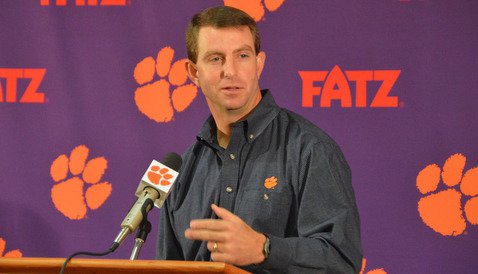 CLEMSON – Head coach Dabo Swinney

Dabo Swinney
Head Coach
View Full Profile knows first-hand about growing up in a troubled home and the difficulties of dealing with domestic violence, which is why he realizes that the problem transcends more than just football.
Swinney's story has been well documented during his time as a head coach, and because of his background the football team's policy on cases of domestic violence is straightforward.
"Yeah, zero tolerance. We're not going to deal with that kind of stuff," Swinney said. "I had a player that's no longer here, kind of a situation that we had in that realm. But listen, I grew up around that, all right. So I have first-hand knowledge."
During his Tuesday press conference, Swinney said he remembered growing up as a kid and needing to flee in the middle of the night to escape a bad situation at home, but Swinney said that without experiencing the violence first-hand or directly knowing someone affected by domestic violence, many people are oblivious to the problem.
"I can't tell you how many times as a kid I was in a car and drove off and just go sleep in a car somewhere or knock on somebody's door and go find a place to spend the night," Swinney said. "I understand all of that. The sad part about it, what is good and bad, there are women being battered every day that people never know about. Never know their name. But it takes a guy that runs a football to create the awareness that it really should have always had, in my opinion."
With the state of South Carolina ranking second in men killing women and very high in domestic violence rates, anyone could know a victim of such abuse. However, it took an Adrian Peterson or Ray Rice getting arrested to bring awareness to such a horrible problem.
"This isn't a football problem. Everybody wants to make football the bad guy," Swinney said. "This isn't a football problem, this is a society problem. That's what it is. And it's a shame to me that it took a football player to finally create a platform and the awareness that it deserves of all these unknown faces that are just as important as any football player's wife to bring attention and to bring light to such a bad situation. Because it's horrible. Bottom line.
It is unfortunate that young athletes had to be exposed to shed light on the problem all across the country, but Swinney hopes that the NFL, college football and other organizations will be able to create more awareness.
"So sometimes people just want to say oh, this is a football thing," Swinney said. "Football is a reflection of society, period. You name it, whatever's going on in society, it's in football too. The good part is, it finally has been brought to light and it's gotten the attention, and hopefully will create all kinds of great awareness and provide opportunities for a lot of women out there that are in bad situations. They're helpless."
An awareness that Swinney has been trying to support through his All In Foundation since becoming Clemson's head coach.
"Until you've been in that situation you just don't know, you don't know," Swinney said. "The thing that bothers me about all of that is there are people, you can go down here to the Safe Harbor in Seneca, which is an organization we support with our foundation, and it's an emergency shelter for women to go in the middle of the night. Been there. It sounds easy, but it's a very difficult thing to be a part of. So it's great that there are places out there that provide shelter for women, provide counseling, whatever it may be."