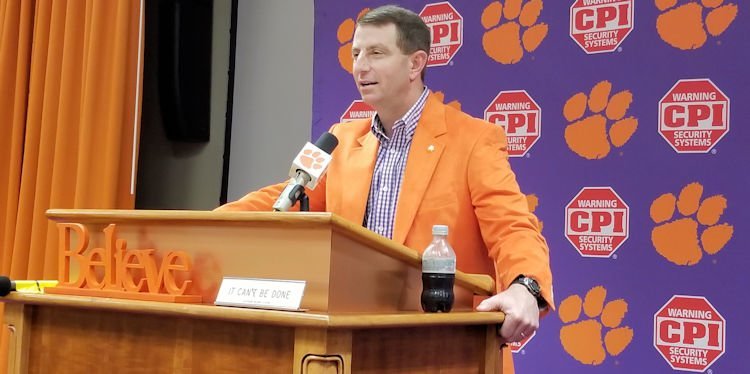 | | |
| --- | --- |
| Swinney says Tigers signed "most complete class" since he's been head coach | |
---
CLEMSON – Signing the nation's best players without a lot of drama is just what Clemson head coach Dabo Swinney wanted.
The Tigers picked up two commitments Wednesday, from 5-star wide receiver Justyn Ross and 4-star defensive back Mario Goodrich – bringing the total to 17 commitments for the 2018 recruiting class.
"What a great day. This is always a fun day. Not a lot of drama today because 15 guys signed in December," Swinney said in the team room at the football operations center. "I love the early signing period and the guys who went through it certainly did as well. We had nine midyears and going out on the road for the six that signed in December but aren't coming until the summer, it was just a better experience for everybody. A great day. Always fun when a young man chooses to come to Clemson.
"You lay your program out there, talk about the vision of your program, what your common purpose is, what your core values are, what you're all about, how you do things and we're very transparent in this whole process. I don't want to have to de-recruit anybody. I want to be genuine and authentic and I want guys to come because this is what they truly want to be a part of. It's always a blessing when you see a group of young men choose to come. Last year we signed 14 and this year we signed 17, which was a small class. Next year will be the very first time in three years that we'll sign a full 25. I'm excited about doing that."
Swinney said the Tigers have a few spots left, but they won't compromise their process when it comes to selecting the right fit for Clemson."
"We're very disciplined in how we recruit here. We manage the number," he said. "We're very strict in that and sometimes we might have a couple left over that we can reward some guys on the team that are deserving, but we're always looking ahead. We're always looking at what's out there and what's next and how we want to put it all together so that we have the right type of chemistry, morale, numbers at each position. It's a never-ending task, but this class I'm so appreciative of the job our staff did. We came into the season think we'd sign 12 and we ended up being able to sign 17 because we had a few guys decide to leave early, a few graduate and from a football standpoint want to play their last year somewhere else, so that opened up a couple of opportunities to bring in a few other guys. I'm really excited about these guys."
Swinney then said that he even pulls for the players that don't choose Clemson.
"I'm thankful for the opportunities we had to recruit a lot of great young people, even those that didn't choose Clemson," Swinney said. "It's neat to develop new relationships and meet new people and guys that I can pull for. Even though they're not here, I can root for them because I met a lot of great folks in this process. I'm proud of our program. I appreciate the parents for believing in the vision of our program and we're excited to welcome them all to the Clemson family."
The Tigers will once again sign one of the nation's top classes.
"This is our eighth top-15 class in a row. We've become incredibly consistent," Swinney said. "I don't get too caught up in all of the rankings because we've never had a No. 1 recruiting class but we're the second-winningest team in the country over the last seven or eight years. I'm much more caught up in the development into our players and how we go about our business. We've become very consistent on the field, in the classroom and in recruiting. I don't have any doubt that this group will be special. Probably on paper, this is the most complete class that I've signed since I've been the head coach as far as the young men walking in this building. This is a very special group. On paper this is an incredible class and very complete."
At the end of the day, Clemson recruits players who are also good people.
"For us, it's people first and players second. Recruiting championship-caliber people that just happen to be championship-caliber players," Swinney said. "That's how we go about our business here. I'm proud of our staff and the job that they did in bringing this group of players together. We've got 15 guys who signed in December and added two more guys who signed today, added three preferred walk-ons. Most of them committed early and most of them signed in December. I think we met all of the critical needs plus we got some other guys that I think will fill in in some spots."

Upgrade Your Account
Unlock premium boards and exclusive features (e.g. ad-free) by upgrading your account today.
Upgrade Now