| | |
| --- | --- |
| Swinney says Mountaineers have the Tigers' full attention | |
---
| | |
| --- | --- |
| Tuesday, September 8, 2015 12:59 PM | |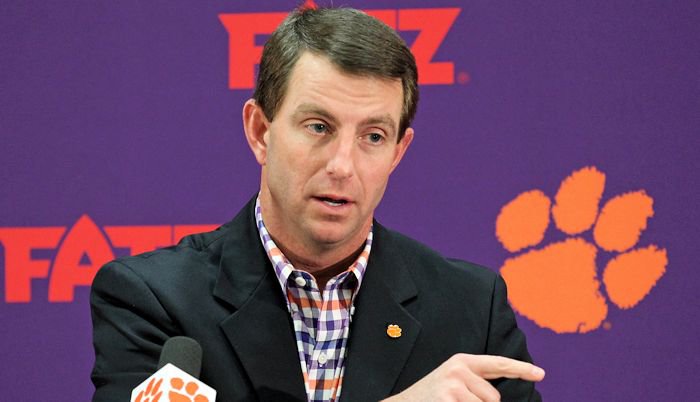 CLEMSON – While the fans are focusing on the Louisville game and the ACC slate, Clemson head coach Dabo Swinney

Dabo Swinney
Head Coach
View Full Profile has seen enough football to know that Appalachian State can't be taken lightly.
The Mountaineers hold the fifth-longest winning streak in the country at seven games and has a history of knocking off more talented teams, so while the fans are looking ahead Swinney and the Clemson Tigers are focusing on the task at hand.
Swinney met with the media Tuesday morning for his weekly press conference and said Clemson faces a different type of animal this weekend against Appalachian State.
"Right now we've played one game. Maybe we look back in four or five weeks and we can say that (the schedule has benefitted us), but that is kind of a disrespectful comment to Appalachian State," Swinney said Tuesday in the WestZone. "Our full attention is on them. It better be. If people don't think they (App St) can come in here and win, they're crazy. They beat Michigan. They can surely beat us. They have confidence, leadership, chemistry and experience. We just don't think like that. I just don't look at it that way. We're just trying to worry about Clemson, whether it's Georgia this week or Appalachian State. That shouldn't have anything to do with our thought process or mentality. Heck we played Wofford in 2011 and that was probably the problem.
"I'm proud of the start we got off to last week. "This is another great opportunity for us to be at home and hopefully grow our team. Appalachian State, I'm very impressed with their team. They've had great success and the run they're on is very impressive. They're very well-coached. They know what they're doing. They're sound in what they do on both sides of the ball. They've got the fifth-longest winning streak in the country with seven wins in a row. It's hard to win a game. People really don't have an understanding of just how hard it is to win. We've got the ninth longest streak with four in a row. That's just some perspective with how hard it is to win, to consistently win. I don't care who you play."
The Mountaineers return the most starters in the country, including quarterback Taylor Lamb and four starters on the offensive line, and Swinney said their up-tempo spread attack will be a good test for Clemson's defense.
"They list 19 starters back but they've got more than that," Swinney said. "They have several who have started but are backups. They've got confidence and they've been on a run. This is a team that I think we're going to have to show up and play to the level we're capable of playing. They have our full attention. They know what they're doing offensively. When you watch their quarterback, you can tell he's a coach's (former Furman head coach Bobby Lamb) son. He has great pocket presence, great instincts. He's a good athlete. Their offensive line, four of five are back. They're tough and scrappy. They do a good job of getting the defense on the ground. They use their tight end as a fullback a lot. Very impressed with their wideouts. They're a scrappy group. They cut guys down field and do a good job with it. They also play with tempo."
Defensively Appalachian State will look a lot like Wofford in terms of scheme.
"They have nine starters back on defense. We do have good carryover from what we saw from Wofford. It's a lot of odd front," Swinney said. "The difference is we're dealing with different athletes with Appalachian State. They have some guys who could play here at Clemson. We didn't see hardly any pressure. This week there will be a lot of pressure, a lot of blitzing, more twists, more cover zero, and zone stoppers up front. We have to have everyone on the same page so that we don't get our quarterback hit. They will bring more than we can block. Deshaun (Watson) has to be sharp in knowing who is coming free. It's a different challenge for us. That No. 49 (defensive end Ronald Blair) has started about 40 games for them. He's really good. He and No. 40 (defensive end Nate Norwood) are very active in that 3-4 front. They've got speed in the secondary, too."
With all of the experience the Mountaineers bring back and the talent on the roster, Swinney said he expects Saturday's game to be a battle into the fourth quarter.
"We're trying to be 1-0 this week. It's everything we've got to win this particular game. It's a fourth quarter game," he said. "If we're able to have some type of situation where there is a comfortable lead, sure you play as many guys as you can. But we have to earn it. We are expecting a fourth-quarter dogfight from a team that does not want to lose. They're playing really good football right now."
Other Notes
On where Clemson needs to improve from Week 1 to Week 2
"When I met with the team yesterday, it's never as good as it seems and never as bad as it seems. I'm looking for a lot of improvement. We had mental errors, a bad decision on a punt return, a muff, things that we have to correct. We had more penalties than the opponent. We had more margin for error in that game, but as we move through the season, our margin for error will shrink. I'm looking for certain things from individual guys. I'm looking for guys who need to grade better. We had great energy on defense. That was a difficult challenge schematically for a first game, especially for guys who hadn't played a whole lot. We leveraged the ball pretty well. Guys were where they needed to be in a disciplined manner. Totally different deal this week from a defensive standpoint, but nothing that they haven't seen on our practice field."
Replacing Mike Williams

Mike Williams
Jr. Wide Receiver
#7 6-4, 213
Vance, SC
View Full Profile
"We're just not going to replace Mike. We can replace his talent. We have excellent talent at receiver but there is nothing like having that veteran player. He has really worked on his craft. He has worked on his details. He has almost perfected his craft, and that's hard to replace. To say one guy will take that spot? I think it will be a combination of several on our offense. We have good depth at tight end, so I think those guys will have a bigger role. Charone Peake

Charone Peake
Gr. Wide Receiver
#19 6-2, 214
Moore, SC
View Full Profile , to have a guy like him, he's option number one. He knows this offense inside and out. He's always wanted to play at this level but he's been limited in the past. He can definitely fill a lot of that void. Then Deon Cain

Deon Cain
Fr. Wide Receiver
#8 6-1, 197
Tampa, FL
View Full Profile , Trevion Thompson

Trevion Thompson
RS Fr. Wide Receiver
#1 6-2, 193
Durham, NC
View Full Profile , Germone Hopper

Germone Hopper
RS Jr. Wide Receiver
#5 5-11, 175
Charlotte, NC
View Full Profile , and Artavis Scott

Artavis Scott
So. Wide Receiver
#3 5-10, 191
Oldsmar, FL
View Full Profile , they all have to help and I think they will."
Mitch Hyatt

Mitch Hyatt
Fr. Offensive Line
#75 6-6, 285
Sugar Hill, GA
View Full Profile
"Shoot, he played great. Had some knockdowns, good finishes. He had some good double-teams. It'd be hard for a guy to play better in his first college game. Things he can improve on? Absolutely. Footwork, leverage, hand-placement, fundamentals. But where he is now, it's a great start for him. Mitch came in ready to play. Mitch and Deshaun are very similar guys. Both are very confident. Mitch is very strong for a freshman. Very sound guy technique-wise. He's got a great football foundation. He's competitive, prideful and yeah you show up and you go out in your first practice and you're up against Shaq Lawson

Shaq Lawson
Jr. Defensive End
#90 6-3, 272
Central, SC
View Full Profile or Kevin Dodd

Kevin Dodd
RS Jr. Defensive End
#98 6-5, 268
Taylors, SC
View Full Profile , you grow up quick or you find the sideline. He lost his share of battles in the off-season but he just keeps coming. He's won some too. When you go against great players, it makes the game easier for him. The game was slower for him Saturday than it was in our practice. You show up to our practice, you better have your mind right."
Fan Support
"That's why it's a blessing to be at Clemson. I remind our players to never take it for granted. It's not like this is everywhere. This is a special place, an elite place. It's just awesome to me. We sold out Wofford and Appalachian State. I don't think it's always been that way around here. We've always had great crowds. To have sellouts is a credit to the work our players have done. We want them to play to our standard regardless of the opponent. I used to say that six, seven years ago. I was so tired of hearing about the weather, what uniforms we wear, and what time we play. Just show up and play and do what it takes to be great. Our guys have bought into that, and our fans have too. It's awesome. Coming in on the bus the other day, I felt like we were coming in for Gameday against Georgia all over again. It was awesome. That's the way it should be. It's just not that way everywhere. We are fortunate to be at Clemson. Don't take it for granted. Everybody loves the game but not everyone gets to be on the stage that we have here at Clemson. It's a blessing that we do have it here. Our fans are awesome."