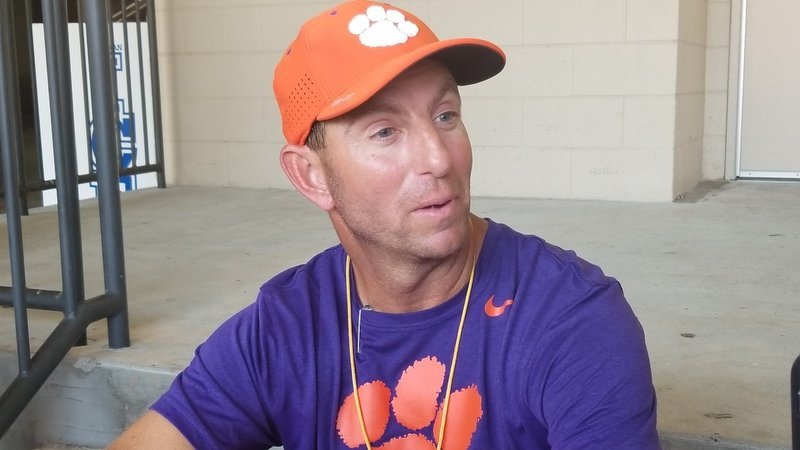 | | |
| --- | --- |
| Swinney says Bryant "had his best day" in Thursday's full scrimmage | |
---
| | | |
| --- | --- | --- |
| Thursday, August 16, 2018, 4:55 PM | | |
CLEMSON – The Clemson football team saw a little bit of everything in Thursday's stadium, the last full scrimmage before preparations begin next week for the opener against Furman in 16 days.
The Tigers scrimmaged for over two hours in the stadium, and head coach Dabo Swinney said a lot of ground was covered.
"Today was a full scrimmage, open field, just played both endzones and kind of played it out. If they got a three-and-out they were off the field, so we tried to make it a realistic scrimmage, kind of like a game in that aspect," Swinney said. "We did all of the kicking situations. We got multiple reps at everything, kickoff coverage, return, punt, punt return and we did tight punt.
"We worked some special situations at the end of the game. For example, you hit a big play down to the 10 and there are 10 seconds left on the clock and you have no timeouts, you better have a play and better be ready. We worked clock procedure and sudden change and end of game, tie game, defense gets a pick and gets tackled on the 10, we try to center the ball for a game-winning field goal."
The coaches even wore headsets on the sidelines and put coaches in the booth to simulate a game atmosphere.
"Just a lot of operational stuff today as a coaching staff. We had on the headsets and that type of stuff. We had a lot of procedures that we needed to work through there," Swinney said. "We did overtime today, put two teams on each sideline with captains, the whole overtime procedure. Did a couple of two-minute situations, one with a touchdown to win it and one with a field goal to win it. A lot of that. I mixed it up a lot more. I went some ones on twos and some twos on ones, kind of mixed it up that way, to really challenge the second group.
"To let them know that when you go in you have to perform at the same standard as the guy in front of you if there is a guy in front of you. There will be a lot of things we can look at on tape. But the first group on both sides had a good day. The first group on defense didn't give up a touchdown and I think the first offense scored every time. So there are some guys on our second group that I think can grow a lot from this scrimmage."
Swinney did say he wasn't pleased with the urgency shown by some of his players, accusing a few of his receivers of lollygagging.
"Biggest disappointment was with a couple of our wideouts in the two-minute drills. The clock is ticking, 25, 24, 23, the clock is ticking and we are fixing our jersey and lollygagging around," he said. "We didn't have quite the urgency that we need. Same thing on defense. They don't have to wait on you to line up. They can snap the ball. Just a little improvement that we need from an awareness situation in two-minute."
The quarterbacks – criticized for their inaccuracy during Tuesday's situational scrimmage – had a better day. That included a great day by incumbent Kelly Bryant.
"The quarterbacks had another good day," Swinney said. "I felt bad for Chase (Brice) in a couple of situations. He probably didn't have his best day but that is the world we live in. The quarterback gets booed coming off the field, but you had a guy up front that misses an assignment and the quarterback gets hit and then you have a receiver that runs the wrong route and you throw an interception. You throw the ball right where it is supposed to be, but the receiver runs the wrong route and it's an interception and everybody is booing the quarterback. `So I felt a little bad for him today. He made a great third-down throw that was dropped. It was just that type of day for Chase.
"I thought Kelly had his best day. He had a great day, multiple touchdown throws, a really good day. Trevor (Lawrence) had a good day. Missed a few things but pretty solid all day. I thought he executed the two-minute drill pretty well."