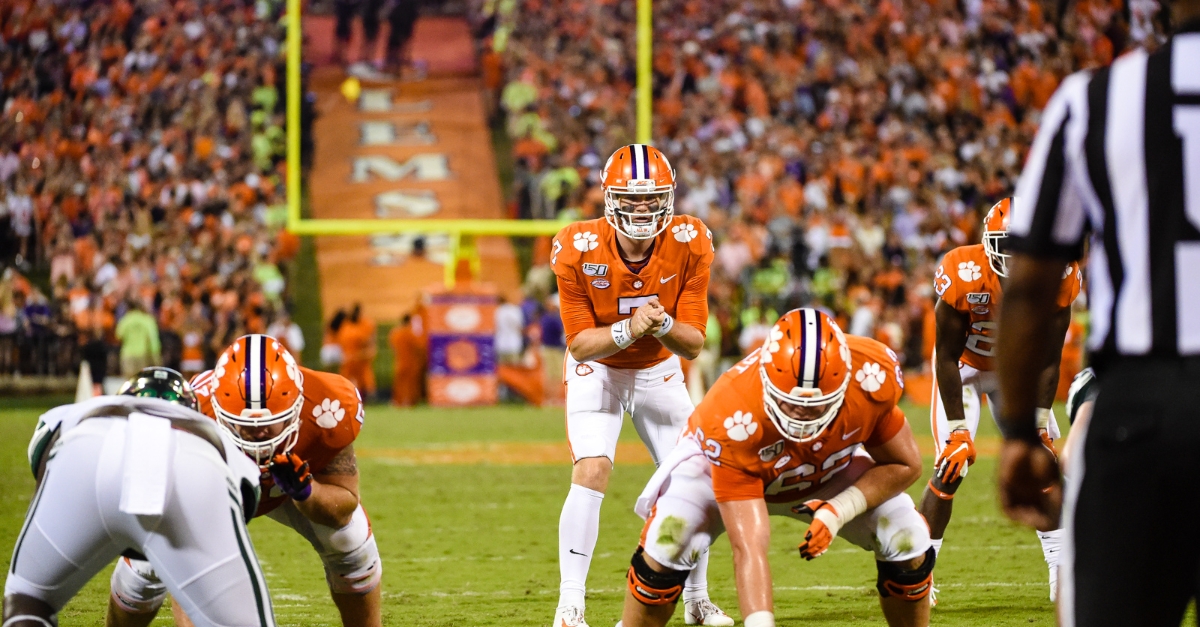 | | |
| --- | --- |
| Swinney recaps win over Charlotte, looks ahead to matchup with good friend Mack Brown | |
---
| | | |
| --- | --- | --- |
| Sunday, September 22, 2019, 7:09 PM | | |
Clemson played 111 players in Saturday's win over Charlotte, the offense executed at a higher level than it has in recent weeks and the young players on the defense continue to shine.
Clemson head coach Dabo Swinney held his weekly teleconference with the media Sunday afternoon to recap the win over Charlotte and look ahead to next week's game in Chapel Hill. Clemson (4-0, 2-0) will face North Carolina (2-2, 1-0) Saturday in a 3:30 p.m. game televised by ABC. The Tigers opened as a 28.5-point favorite on Sunday.
Swinney started the teleconference by looking back at the win over the 49ers.
"Offensively, a lot of big plays and a lot more efficient in this game. We had fewer penalties and were 100-percent in the red zone," Swinney said. "We averaged six yards a carry and did what we needed to do. We did have one drop and one interception, a few details that we will coach from. We did have one sack but that was on Chase Brice.
"Defensively, they were ready to play. They have shown so much maturity and focus on how they have to prepare every week. Charlotte did run the ball more than we wanted. But again, we played a lot of people. We had a pick-six which was obviously a huge play in the game. Our effort was good. Assignment-wise, we were pretty sound. We were strong on special teams. We averaged 11 yards a return and kickoff coverage was good.
"We saw a lot of good things on tape. I'm excited about this week. When you get to play a lot of guys like that who play, you feel like you have a rested team. So we're in good shape physically. We'll get ready to head to Chapel Hill and hopefully build some more momentum."
Nine different players showed up on the stat sheet with carries, including freshmen Mikey Dukes and Chez Mellusi.
"They're all doing great. It's been good to get them some playing time. We've got them some significant time in a couple of games. Chez and Mikey got one carry up at Syracuse," Swinney said. "Dukes came back and had a big one against Charlotte and Chez had a big one at Syracuse. The game is still fast for them. They're getting more comfortable the more they play. We're trying to get both ready. We'll probably need both down the road. Both are doing a great job. They're different in their styles but very effective.
"I'd say they're about even. Dukes is probably more scatty, if you will. Chez is probably more powerful, but they're both fast and they're tough. They have good hands. They're two, good, young prospects."
On handling the transfer portal
"I don't really try to handle that. I just run the team and do what's best for the team. If someone decides to leave - I never thought about it last year. People gave me credit and said I was just a nice guy. I hadn't thought about Kelly leaving until he came in here and said he was leaving. I just did what I thought was right for the team. Certainly, some schools say let's make sure we play these guys (for four games), but I don't think that way. Sometimes doing what's right isn't the easiest thing to do. I just want to play the guys who deserve to play. So I don't really have a plan (to handle that). If someone wants to leave, you just deal with it and you keep moving forward. I don't have anyone that I know of. I guess someone could walk in here tomorrow or at any time. Who knows."
The influence Mack Brown has had on Swinney's career
"He was a huge influence for me early. When I had just gotten the job, I got our first recruiting class in and I wanted to go meet with a couple of head coaches. Mack was the only one who would let me come. I didn't know Mack Brown, but he had followed us during the interim time and called me back. He welcomed me and my whole staff out there. It was great. I didn't know him but I had a lot of respect for him from afar. I just always liked how he handled himself. I just thought he'd be a good guy to go sit down and talk and observe how they did things. I wanted to watch a practice.
"I was hoping that I might get an hour of his time over a two or three day period. He gave me four hours and took us to eat. I had a lot of questions that I had written down, some questions about how to handle things and he was so accommodating to me. Just super, super nice. Sometimes I couldn't get the question out of my mouth and he was like reading my mind. He was open and honest and very helpful. We became friends. When he got out of coaching, we spent some time together at different events. He had a huge impact on me early on. Some of it gave me confidence in what I was doing and gave me some ideas on some things that would fit our program. Texas was in a different spot than we were in 2009 but I had a very clear vision of what I wanted us to look like. Sitting down with a guy like Mack Brown in 2009 was a big deal for me."