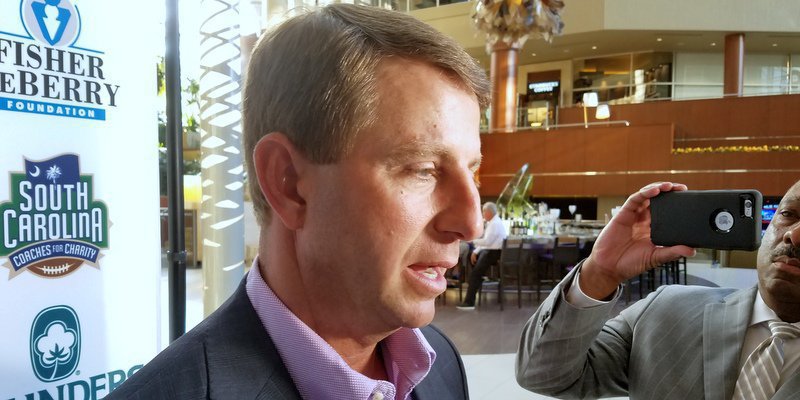 | | |
| --- | --- |
| Swinney on the beginning of fall camp: "I can't wait." | |
---
| | | |
| --- | --- | --- |
| Thursday, July 27, 2017, 7:01 AM | | |
GREENVILLE – Clemson's fall camp begins a week from today, and head coach Dabo Swinney is just as anxious as the fans to get started. For Swinney and the other coaches, it's the time of year when coaching football is fun.
Swinney met with the media at Wednesday night's Coaches for Charity event in downtown Greenville, and he told TigerNet that he's ready to get things going.
"I can't wait. The off season is my least favorite. The whole year is great, but my favorite time of year is the season," Swinney said from the Hyatt Regency in downtown Greenville as part of the 8th Annual Coaches for a Cure event. "This is always the most challenging time because no matter how prepared you are there is always so much to do in trying to get the plane off the ground if you will.
"I can't wait to get out there and just continue the process of building this team. We start a new phase on August 1st. Every year is a journey for us and the prime time phase starts August 1 (camp starts Aug. 3rd) and that is a critical part. Camp is a critical part of developing who we want to be and evaluating our new players and also evaluating the progress the guys have made since spring ball. I can't wait because it's the first time we've been on the field with them since spring practice."
Swinney said that like the fans, he's anxious to watch several position battles unfold.
"I think it is fun and I think it is exciting because I know the type of young men they are," Swinney said. "They are good people and they are very talented. Anytime you have really, really talented people that are competing and guys that take so much pride in their performance, you know you are going to have a high level of intensity in practice every single day. So it is going to be fun."
He also wants to see what kind of shape his players are in as camp starts.
"The first thing we look for during those first few days is to see where we are conditioning wise and kind of get a gauge for that. I feel good about it because it's not like we're not around in the summer and getting good feedback on the mandatory workouts and attendance and stuff like that," Swinney said. "We kind of see the conditioning and the look in their eye and see where they are mentally - who has great retention from the spring. Just look for improvement from where we were when we finished. We had individual meetings and kind of laid out a plan for every player on the team for the summer, and what we want to improve on.
"It is always fun for me to see guys those first few days to see who put the work in. We needed him to put 10 pounds on, and we needed him to get a little stronger, and we needed him to have a little more ownership of the system. Because when they really have that understanding then they are confident and when they become confident players, they become leaders. Those are some of the things I look for."
Swinney said all members of the 2017 recruiting class are on campus and that he doesn't expect any academic casualties.
"We don't really have a lot of those issues. Everybody is there in school," Swinney said. "We don't foresee any issues as far as somebody having any school issues before camp. All of our guys have done a great job."