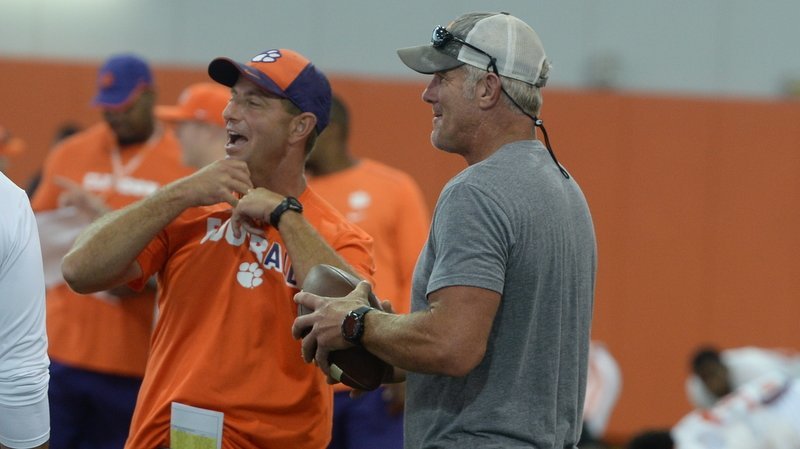 | | |
| --- | --- |
| Swinney has a deeper respect for Brett Favre's arm after playing catch | |
---
| | | |
| --- | --- | --- |
| Wednesday, August 8, 2018, 8:48 PM | | |
CLEMSON – Former wide receiver Dabo Swinney wanted to run a route for former quarterback Brett Favre but didn't get a chance to make that happen. Instead, Swinney played catch with the longtime Packers' quarterback and came away with a deeper appreciation for Favre's arm.
Favre showed up at Clemson Wednesday at the invitation of Swinney. He spoke with the team and watched most of the Wednesday practice.
"I actually did an event in Hattiesburg, Mississippi back in April or March and he came to the event. It was actually at Southern Miss," Swinney said. "We played against each other in 1990 - my sophomore year and his last year - and they beat us there. I've never had a chance to meet him but I've always followed him. He came over and we spent about an hour together before the event. We kind of hit it off and have been texting and I reached out to him to see if he would be interested in coming and visiting with the team.
"We're always bringing in different people from time to time during the monotony of camp just to kind of get a different voice. Here's a guy who played 20 years in the NFL and obviously has a very documented career. He was excited to come and had never been here. It was great. He came in early this morning and stayed all day. I think he really enjoyed Clemson and just being around. It was a lot of fun to have him here. One of my goals was to catch a pass from Brett Favre. I didn't quite get to do it the way I wanted to but it happened today."
Swinney even got to play catch with Favre.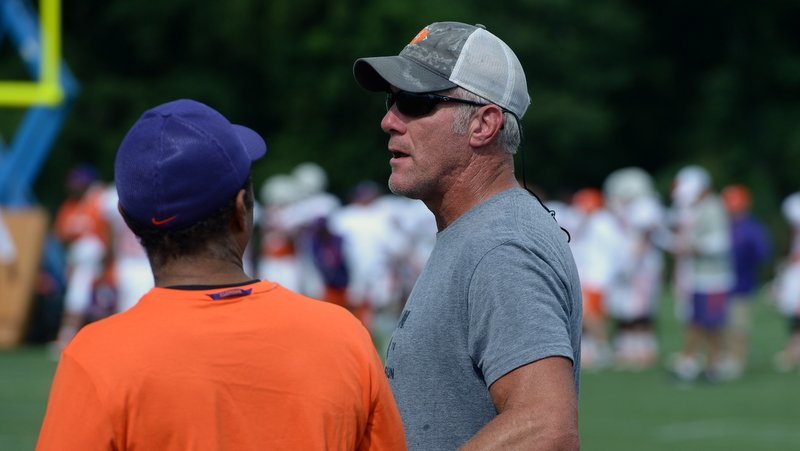 "It was a little different. I warm up with a manager every day, it's just kind of my routine," Swinney said. "When I was a receivers coach, I must've thrown 200 balls every day. It's just what I did for years. Now that I don't throw as much, so a few years ago I started warming up every flex. That's how I stretch. I traded out the manager for Brett Favre. That was a little different velocity coming out of his hand, but I was 100-percent so that was a big deal for me. It was really cool."
Swinney said Favre spent time talking to the team and then answered questions.
"He's exactly how you think he is. He was great with the guys, very interactive," Swinney said. "He had some things he wanted to talk about, but then we opened it up and went wherever the players wanted to go. It was a lot of fun and a lot of great stories. It was great to meet him."
Swinney said the best answer Favre gave came from a question offered up wide receiver Will Swinney.
"Actually, Will Swinney - I don't know if it was the best question, but it was the best answer. He asked, 'How hard was it being from Southern Mississippi to adjust to playing in that type of cold.'" Swinney said. "He said, 'Well, it was really hard until I got my first paycheck and then it became a lot easier.' I thought that was a pretty good answer. There was a lot of good questions. It was good.
"He's played at the highest level and played a long, long time and saw a bunch of players come and go. A lot about preparation. He always had something to prove. I think that's what always made him great. No matter how many touchdowns he threw, he approached every day with something to prove and I think that's a mindset you have to have to be great at anything and to sustain success. It was a great message."