| | |
| --- | --- |
| Sunday update: Swinney says turnovers and defense will decide ACC Championship | |
---
| | |
| --- | --- |
| Sunday, November 29, 2015 6:36 PM | |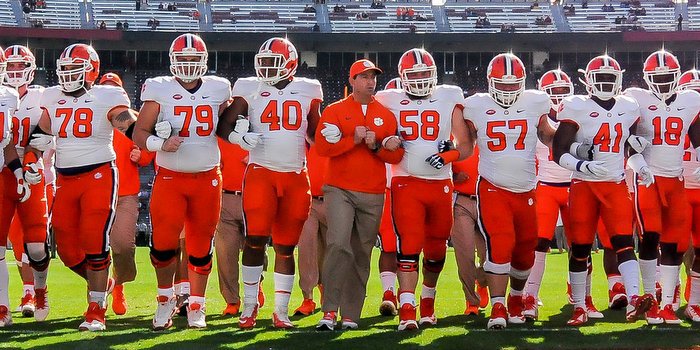 Two of college football's best – and hottest – offenses will be on display Saturday night in Charlotte, but Clemson head coach Dabo Swinney said Sunday that this week's ACC Championship Game will be decided by defense and turnovers.
Top-ranked Clemson and North Carolina will battle for the ACC Championship in Charlotte's Bank of America Stadium next Saturday with kickoff set for 8:14 p.m. on ABC. Clemson (12-0) is ranked 14th nationally in total offense while the Tar Heels (11-1) are ranked 16th. North Carolina is 11th in scoring offense while Clemson is 15th.
Defensively, the Tigers would seem to hold the edge – they are ranked 7th nationally while UNC is 65th nationally in total defense. However, turnovers have been an issue for the Tigers in recent weeks, and the Tigers are 85th nationally in turnover margin – they've forced 21 turnovers while giving up 24. North Carolina is 16th nationally in turnover margin – they've forced 24 while giving up just 15.
Clemson had three more turnovers against South Carolina Saturday in a 37-32 victory.
During the ACC Championship conference call with the media Sunday, Swinney was asked if the defenses that have stopped North Carolina's offense have anything in common, and he said they were all good defenses, then said that Clemson and North Carolina are mirror images offensively.
"The biggest thing is we have to be sound. Offensively we mirror each other, to be honest. We're similar in a lot of ways," Swinney said. "We both have a dynamic quarterback, and we have excellent receivers and tight ends. We have excellent backs and good offensive lines. The main thing is you have to be sound and try to take big plays away. They're explosive like we are. We have to take care of the ball. You don't want to give a team like that short fields. They certainly don't want to give us a short field and vice versa. They're going to run their quarterback and have misdirection, and they're going to play fast.
"Whichever defense has the better night and who wins the turnover margin will probably win the game. We think this is a great matchup. UNC is a great team. I've had a chance to see them some this year. Hopefully, we will have a sellout crowd (ACC title game is a sellout) and a great night. For us, it's business as usual as far as going to work today. We want to give our guys the best chance to be successful Saturday. We're healthy, so we should have all hands on deck Saturday night."
He then said that Clemson has to break the turnover trend if the Tigers want to beat North Carolina.
"We had one basic exchange yesterday that ended up on the ground. It's just being dialed in on fundamentals," he said. "We had one uncharacterisic turnover from Artavis Scott and one from Wayne Gallman. He's been as good as anyone in the country as far as taking care of the ball. Artavis had a big play and was just fighting for extra yards and their guy stripped the ball. You have to give the other team credit sometimes. We lost the turnover margin but still found a way to win. Turnovers can really cost you but our team just needs to keep playing. Great teams overcome adversity and we've done that several times this year. Certainly, though, we want to break that trend."
Swinney said Clemson's coaching staff is just now getting a good look at game film of North Carolina.
"Just kind of diving into them today, getting a feel for them. The biggest thing is they have not given up nearly as many big plays. We had a bunch of big plays on them last year," he said. "They've been very sound in what they've done this year. He [defensive coordinator Gene Chizik] has done a great job of giving them the best chance to be successful. I'll have a better answer for you in another day or so. Immediately, though, they're sound and disciplined and play with good fundamentals."