| | |
| --- | --- |
| Slimmer, healthy Tyshon Dye ready to make a name for himself | |
---
| | |
| --- | --- |
| Monday, March 23, 2015 7:04 PM | |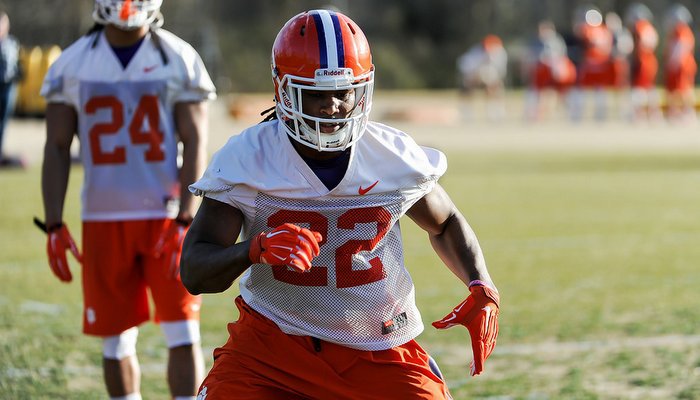 CLEMSON – When Tyshon Dye

Tyshon Dye
RS So. Running Back
#22 5-11, 215
Elberton, GA
View Full Profile returned to action last November, many Clemson fans wanted to see the Elberton, Ga., native carry more of the load as the Tigers dealt with injuries at the running back position. Dye admitted Monday, however, that he wasn't physically ready to carry too much of that load.
Dye redshirted in 2013 after he suffered a back injury that forced him out of action, and his start to the 2014 season was delayed by a torn Achilles tendon. He returned to action against Wake Forest last November and had 14 yards on five carries as the coaches tried to ease him into action.
He wound up with 151 yards and two touchdowns on 32 carries as he played in four games, but told the media following Wednesday's practice that he came off his rehab weighing too much to really be effective.
"I was at 235 when I came back last year. I am 215 now, and I want to be at 210," Dye said. "I'm not as slow as I was when I first came back. I feel like I've got a little bit more endurance so I can last a little longer than what I did before. I don't get winded as fast. I can be faster."
Not being able to practice caused the increase in weight, but Dye said the coaches were patient with his progress.
"I wasn't able to move around, so I wasn't that active. All I could do were abs and stuff," Dye said. "Nobody really ever said anything. Coach E ( Tony Elliott

Tony Elliott
Assistant Coach / Running Backs
View Full Profile ) feels that wherever I feel the most comfortable, that's where he wants me to be. He's never said anything about my weight. I've always been a power-type running back. I was never really shifty. None of that was ever going to change. I was ready mentally, but physically I wasn't quite ready. I'm glad I got that opportunity because I needed it. I felt like I wanted to work hard to make a name for myself."
Clemson head coach Dabo Swinney

Dabo Swinney
Head Coach
View Full Profile said that Dye – who showed glimpses of the back he can be – just needed an entire spring practice to get back into football shape. Dye agrees.
"I believe him, because I feel like I've gotten a whole lot better since when I first came back," he said. "I've lost a lot of weight. By this summer I'll be where I want to be. I want to get my speed back. That's the main thing I want to do. I'm probably at about 80-percent."
Sitting out gave Dye the opportunity he needed to analyze his game, and he came into the spring knowing what he needed to work on.
"It gave me a better mindset about things. It let me know what I needed to work on. Just getting faster and quicker," Dye said. "Just doing a lot of bag drills and a lot of change of direction, running 100s that are timed. Trying to get down the field as fast as I can. When it first happened, I got down a little bit, but I knew that I had the chance to see better days. I just tried to stay positive and not be too down about it and try to get better from it and learn from it.
"I wanted to eat healthier and stretch more and all of that type of stuff. I just tried to put in the extra time. I was going over plays with my mom and my brothers to help me retain what I had learned. In my case, I felt like I didn't have time for a break. I felt like I needed the time to get a little better, so I worked out and went over the plays."
Dye was asked if he had certain goals he wanted to achieve this season – whether it was a number of carries or yards – and he responded that he has just one goal in mind: to start.
"My goal is that I want to be first team," he said. "Why would I not want to be? It's all up to the coaches and I'm just going to play my role until my time comes."
Dye has switched numbers – he wore No. 23 last season but has switched to the No. 22 he wore in high school – and Swinney said Dye has looked like a different player in more ways than one.
"He just looked very different than he looked in the fall," Swinney said. "It is just a combination of him just continuing to gain that confidence and just the off-season with the work ethic in the weight room, going through our off-season program. He's just really got back healthy and he really looks it. He looks great. His body looks great. I'm real pleased with Tyshon. He's moving and making cut and things that he wasn't quite able to do with the speed he is doing it at right now. And he is more confident in what we are doing."