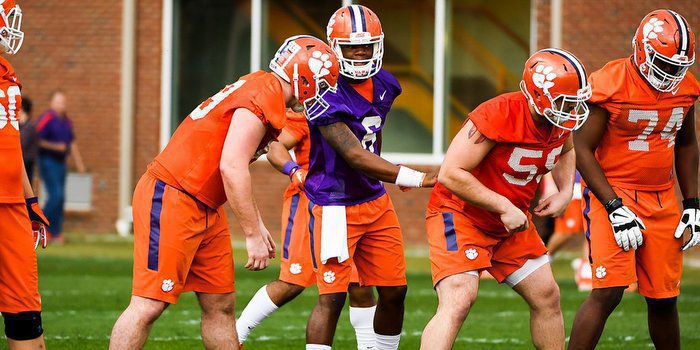 | | |
| --- | --- |
| Scrimmage Report: Defense shines, quarterback race tightens | |
---
| | | |
| --- | --- | --- |
| Wednesday, March 15, 2017, 8:20 PM | | |
CLEMSON – Ninety-nine plays.
The Clemson football team held its final practice before spring break Wednesday afternoon in the indoor practice facility, and head coach Dabo Swinney oversaw an offense that ran exactly 99 plays, the same number of plays Clemson ran in the 35-31 win over Alabama in the title game in January.
The Tigers will take 10 days off from practice before resuming workouts on Monday, March 27. Clemson's Spring Game is Saturday, April 8 at Memorial Stadium. The team celebrated the win over Alabama – and wins over Virginia Tech, Ohio St. and Florida St. – with the unveiling of four new tombstones before the start of practice.
Once the practice started, it was all about 2017.
"It was fun. I like the way we've been able to get deep into the playbook on both sides," Swinney said after the scrimmage. "The downside of it is that it went really fast for some guys. In the past we've gotten a few days, taken a break, then they've got a chance to process it and catch up a little. But it's good, we've got eight days and I think we came through it pretty healthy. We held out a few guys, (Taylor) Hearn and Mitch (Hyatt) didn't go-certainly a factor there. I thought there were a lot of good things, defensively and not a big shocker for me in the first scrimmage, I thought they were really mentally ready to go. We've got a lot of guys over there that I think are going to be good, functional players for us. They had great energy from the get go and we had only one pass interference, that's a big emphasis for us this spring that we've got to improve there with some of our technique there.
"We had a pick, caused a fumble, so they were active. I thought they tackled well. You're repping a lot of groups and a lot of young guys so I thought that was good to see. The defense kind of won the day just from a scrimmage standpoint, if I had to raise somebody's hand up. But having said that, there were a lot of good things offensively too. You're repping four quarterbacks and running the ball a lot. I thought (Adam) Choice, (C.J.) Fuller, and (Tavien) Feaster all did some good things. We moved little Ty Thomason, a 230-pound kid who's been playing wideout, we moved him at back and he actually caught my eye a couple times and I'm excited we got him in the right spot on the bus. We did a few things in the passing game but nowhere near the consistency we need."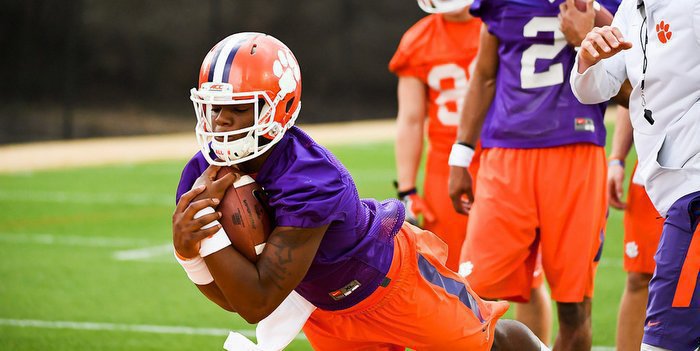 Kelly Bryant completed 7-of-13 passes for 91 yards. He completed 4-5 passes, including a 39-yarder to Hunter Renfrow, on a late touchdown drive against the number-one defense. Freshman Zerrick Cooper completed 4-of-8 passes and had a 13-yard touchdown run.
Hunter Renfrow led the receivers with four catches for 57 yards, while Deon Cain had four catches for 33 yards. D.J. Greenlee led the tight ends with a pair of catches for 30 yards. Adam Choice had 31 yards rushing, while Tavien Feaster added 30. C.J. Fuller scored a rushing touchdown.
"One positive offensively was that we didn't have a lot of just procedural bologna repping that many people," Swinney said. "We've probably got 80-percent of the offense in. We didn't have a lot of offsides and stuff like that. The execution wasn't what we needed it to be. I think we had at least three drops on really well-thrown balls that we just didn't finish the plays. Again, there were some nice plays too. I don't know what the final count was, I think it was close to 100 plays but it was up there, there's always good and bad but we scrimmaged everybody. I'm anxious to watch the tape but I'm not disappointed and it's about where I thought it'd be for the first scrimmage so now it's meetings tomorrow and kind of leave here with everybody feeling like they've got some good work done and come back on the 27th and see where they are. We're actually going to come back on the 26th and have some meetings and get back on the field in two weeks for some of those guys."
Tre Lamar and Shaq Smith led the tacklers with seven apiece. Clelin Ferrell added six. Nyles Pinckney had three sacks while wearing his new uniform number-44. Christian Wilkins had a pair of tackles for loss, as did Lamar. Dorian O'Daniel had an interception, a sack and four tackles.
Still, defensive coordinator Brent Venables wasn't impressed.
"Nobody stood out. We had a good attitude and good effort," he said. "The guys weren't already checked out for spring break. You worry about that right before spring break, and our guys had the correct mindset to compete and get better. "
Offensive coordinator Tony Elliott said the offense isn't where he wants it to be.
"We've got work to do. Obviously, a lot of new faces and first time in the action going against a very, very good and experienced defensive front," Elliott said. "Some guys got some opportunities live with the coaches off the field. Did some good things. I thought procedurally we were good - better than I anticipated. Young quarterbacks, young guys, new center, we didn't have issues from a procedure standpoint, but overall not as consistent as we needed to be
"I've got to look at the film to be sure but so far so good in terms of what we've seen without live bullets coming. With the live bullets coming - not totally live and still being protected - and coaches off the field and everything moving fast, our guys got put in some situations where they've got to learn, got to increase their knowledge. Overall the guys are competing. It will be good to see the film and make sure that what we saw from the sideline, that they made the right decisions."
He then broke down the race to be the starting quarterback.
"We'll know more after we watch film when we can see what they see in the pocket. We have an idea of where the ball should go and the decision they can make, but you can't tell until you actually see that. I definitely think (Zerrick) Cooper is making progress," Elliott said. "Tucker (Israel) is a guy from a mental standpoint, he knows the system as well as anybody, and he has to continue to take advantage of his opportunities when they present themselves. We're starting to see it slow down for Hunter (Johnson) as well. I think as we get into the second half of spring and get a lot of installation out of the way and put the ball down and let them scrimmage, we'll probably see those guys close that gap (on Kelly Bryant)."

Tags: Clemson Football
,
Kelly Bryant
,
Hunter Renfrow
,
Zerrick Cooper
,
Deon Cain
,
D.J. Greenlee
,
Adam Choice
,
Tavien Feaster
,
C.J. Fuller
,
Tre Lamar
,
Shaq Smith
,
Clelin Ferrell
,
Nyles Pinckney
,
Christian Wilkins
,
Brent Venables
,
Tony Elliott