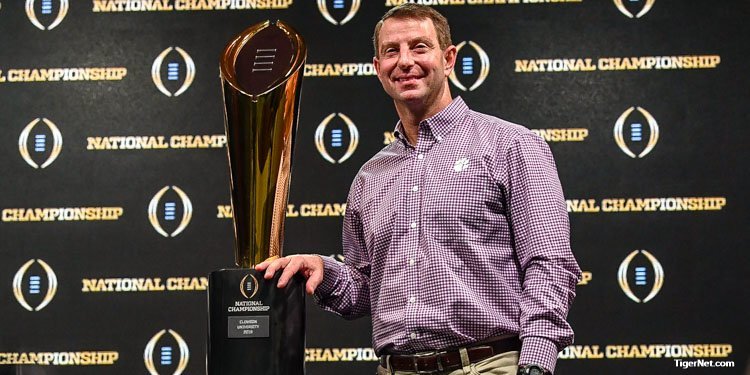 | | |
| --- | --- |
| Recruiting and championships: The "totality of Clemson" helps in both | |
---
| | | |
| --- | --- | --- |
| Friday, February 8, 2019, 7:01 AM | | |
CLEMSON – One recruiting service listed 30 5-star players for the 2019 recruiting cycle, but just because a player has a certain number of stars beside their name doesn't mean they will receive a Clemson offer. They have to be a fit, both on and off the field.
The Clemson coaching staff landed another Top-10 class in 2019, but head coach Dabo Swinney told the media Wednesday that he doesn't expect the Tigers to ever land the nation's top class. Why? They evaluate better than most programs and have to find players that fit the culture he has created.
"From a class standpoint, we have never signed the No. 1 class in the country, and I am not sure we ever will," Swinney said. "This is another Top-15 class, which is nine in a row, and what we do better than other people is evaluate the people and the fit to our program. This class, in particular, as I get out on the road and see all these different places, this class comes from 14 different states, and it's really cool for me to be able to confirm and affirm why they chose Clemson. It's easy for me to see that."
Swinney is only allowed a final in-home visit with recruits, and once he spends time with a committed player's family and the prospect himself, he understands why they chose Clemson.
"When I can go and have conversations and go to homes and things like that, it's easy for me to see why they chose Clemson. It's very obvious to me why they chose Clemson," he said. "The brand is strong. Time will tell because down the road it's all based on performance and not potential - it's based on graduation and decision-making and a lot of different things. But I am thankful for these players, and I am thankful for their families and their belief in our program, and then I am also thankful for the job of our staff."
He then said that one of the reasons he loves being a college coach is the ability to go out and recruit and rebuild a team every season.
"To me, that's one of the best parts of college coaching," Swinney said. "You have the opportunity to be able to recruit to your program and guys have to choose you. It's not like the NFL where you just draft somebody, and they have to come whether they want to or not. This is a really cool dynamic in college football because people have choices and when they choose to come and be a part of it, I think it's really cool."
Clemson follows a prospect on social media long before an offer goes out, and recruits are screened in an effort to find the type of young men that will represent Clemson the right way. Once an offer is submitted and the prospect makes a visit to Clemson, the "totality of Clemson" takes over.
"Our staff does an unbelievable job of going out on the road and articulating who we are and what our core values are and who we are as a program and what our expectations are," Swinney said. "And just getting guys on campus is huge because once they get on campus, it's the totality of Clemson. This is a special place. There are so many people who drive that. I appreciate everybody that helps drive that from top to bottom. For me personally, 17 guys that we can start coaching up is going to be pretty cool."