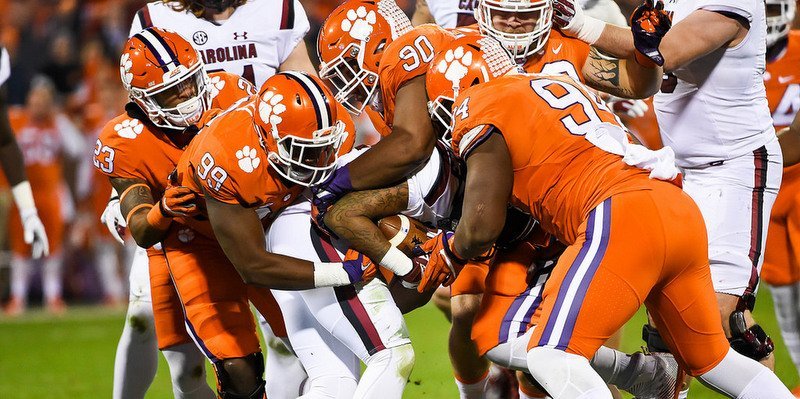 | | |
| --- | --- |
| Ranking Clemson's five toughest opponents for 2018: Who made the cut? | |
---
| | | |
| --- | --- | --- |
| Thursday, January 18, 2018, 5:56 PM | | |
Once the 2018 Clemson football schedule was released Wednesday afternoon, I took to Twitter to ask my followers the five toughest games on the Tigers' schedule next season.
Because it's social media and because the season is still seven months ago, opinions varied. That's a good thing – discussions like this are what keep us going during the cold winter months, the spring and the never-ending summer leading up to fall camp.
The schedule is unusual in that Clemson will not have consecutive home games until the last two games of the season, the first time that has happened since 1986 when the Tigers had just five home games. The schedule alternates home and away games for the first 11 games of the season, a first in school history.
The Tigers will play all 12 of their regular season games on Saturdays for the first time since 2015 and for just the second time in the last seven years. The open date is on October 13, in the middle of the schedule.
With no quirky dates on the schedule – no Friday night at Syracuse or Boston College or no short week leading up to a Thursday at Georgia Tech – the ACC set Clemson up for success. But that doesn't always guarantee success, and last year's loss at Syracuse proves that a talented team that isn't prepared can lose to a team like the Orange.
The majority of the folks on Twitter did agree that Clemson's five toughest games would include Boston College, Florida St., Texas A&M, Georgia Tech, and Louisville. Sometime TigerNet contributor Robbie Tinsley came out with those top five while also regretting his choice of a wedding date (he looked at history and thought Clemson would play its spring game on the same date as Masters weekend, and booked his wedding for the 14th. Sorry buddy).
I like all of those picks, and I can see adding NC State and South Carolina to that list as well.
So, without further ado, here are my five toughest games, as of right now:
5. South Carolina. Ok, I know that Clemson has dominated the series the last few years and that the Gamecocks haven't scored on Clemson's first-team defense in a while. But the South Carolina schedule is weak, which means they have a chance to be ranked when they come into Death Valley. It's also a rivalry game, so records go out the window.
4. NC State. Let's face it, the series between the two has been dominated by the Tigers in recent years. But, the game seems to always be close and while the Wolfpack lose a lot of players from last year's team, they return starting quarterback Ryan Finley and a load of offensive skill players. The Pack are always a tough out and will be again.
3. At Florida St. The Seminoles lost their head coach, an entire coaching staff, a big chunk of a prized recruiting class and a lot of talent to the NFL. However, they will return quarterback Deondre Francois and a load of talent on both sides of the ball. Under new head coach Willie Taggart, this has a chance to be a statement game for his program.
2. At Boston College. The Eagles will be favored by some to finish second in the ACC Atlantic next season. There is a lot of optimism surrounding Steve Adazzio's program right now. The Eagles closed out the year on a tear, winning five of their last seven games. They have running back A.J. Dillon set to capitalize on last season. The true freshman racked up 1,256 yards and 12 touchdowns in the final seven weeks of the season, en route to ACC Rookie of the Year honors. He joins fellow classmate and quarterback Anthony Brown and 14 other returning starters on The Heights. This is also the first time the teams will meet outside the month of October in six years.
1. At Texas A&M. I get it – Texas A&M doesn't have the talent they've had the last few years, but they do have a head coach that knows Clemson (former FSU head coach Jimbo Fisher), the game is in College Station and while Clemson's defense is a known quantity, the offense isn't and will have only the opener against Furman to work out the kinks.
Why did I leave out Georgia Tech and Louisville? The Georgia Tech has become a talent and scheme mismatch. Paul Johnson does well with what he has, but the cut blocks don't seem to work against a Brent Venables' defense and the Tigers' superior athleticism shuts down the option. Sure, you can look at a game like 2014 when the starting quarterback left with an injury and a backup three pick-sixes – that can lead to an upset. But if all things are equal, this one isn't close.
As for Louisville, I have to wait and see what they do without Lamar Jackson. He was their offense and their identity the last few years. What will they be without him? I'm waiting to pass judgement.
Here are some of the replies to my tweet, and hopefully yours made the cut (although not all because of space).
5) at Georgia Tech
4) Louisville
3) at BC
2) at Texas A&M
1) at Florida State

— Robbie Tinsley (@RTinMan13) January 17, 2018
BC
Ncst
GT
FSU
At A&M

— dwest - the biggest alex cobb fan (@dwest9cubs) January 17, 2018
Clemson, Clemson, Clemson, Clemson, and Clemson (Dabo mentality)

— Spencer Powell (@Spencapow) January 17, 2018
FSU
BC
A&M
GT
SC

— Newspring Church Attendee ?? (@CFBJAY) January 18, 2018
NC State, at Wake, South Carolina, at Texas A&M, at FSU

— Parker Adkins (@ParkerAdkins) January 17, 2018
FSU- talent and new enthusiasm
GT- always a tough out in Ark
NC St- Finley is an NFL talent@A&M- tough venue, renewed vigor in program
BC- tough nosed, physical, keep the ball away from us. Gonna be incredibly cold.

— Nathan Swords (@coachswords) January 17, 2018
5. @ Wake Forest
4. @ Texas A&M
3. @ GT
2. NC State
1. @ FSU

— Tucker Pettigrew (@tpettigrew405) January 18, 2018
Texas A&M
Georgia Tech
NC State
Boston College
Florida State

— Chase Loniger (@chase_loniger) January 17, 2018
Weak, a&m,tech,bc,fsu

— David Conner (@WilliamConner9) January 17, 2018
Louisville
Ncst
A&m
Coots
Semiholes

— David Stroupe (@stickdaddy1979) January 18, 2018
NCST, GT, BC, Tex A&M, FSU.

— Tim Player (@TimPlayer1) January 18, 2018
FSU
A&M
BC
OSU
Bama

— Rodney Gurley (@GurleyRodney) January 18, 2018
5) SC
4) At BC
3) at GT
2) at FSU
1) at aTm

— Scott Kelley (@DScottKelley) January 17, 2018
5. GT (away)
4. Wake (away)- Wolford, usually solid D
3. A&M (away)
2. FSU (away)
1. SCar (home)

— Daniel Froelich (@danfroelich93) January 17, 2018
5. GT
4. SC
3. A&M
2. NCState
1. FSU

— Touch The Rock (@Clemson_Rock) January 17, 2018
5. @Georgia Tech
4. @BC
3. @Wake
2. @A&M
1. @FSU

— Kevin ?? (@The_KBlackmon) January 17, 2018
#1 FSU. #2 Ga Tech 3 Louisville 4 BC 5 NC STATE

— Falconeddy (@falconeddy67) January 18, 2018
5. South Carolina, 4. Texas A&M, 3. Louisville, 2. NC State, 1. Florida State

— Josh (@Tigerfan6317) January 17, 2018
5. @ GT
4. @ BC
3. South Carolina
2. @ TA&M
1. @ FSU

— Clemson (@CannasseurSC) January 17, 2018
Louisville, Duke, A&M, NC State, FSU

— Greg (@Super_Gregory_) January 17, 2018

Upgrade Your Account
Unlock premium boards and exclusive features (e.g. ad-free) by upgrading your account today.
Upgrade Now