| | |
| --- | --- |
| Postgame Thoughts: There's good reason to be excited | |
---
| | |
| --- | --- |
| Monday, September 7, 2015 7:01 AM | |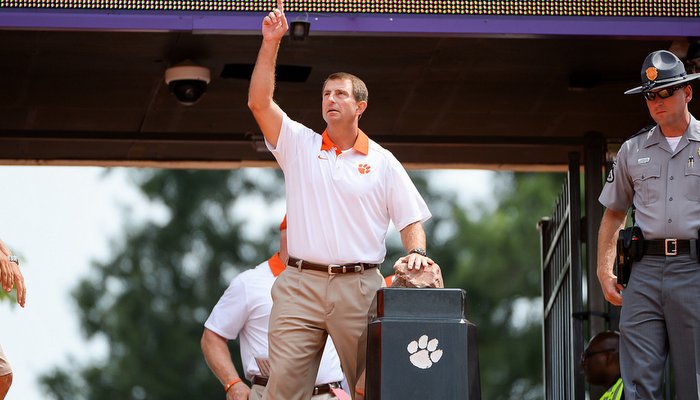 I walked out of press box in Death Valley late Saturday afternoon, stepping through puddles left by a postgame shower that left the air heavy with moisture. And promise.
To be honest, I didn't know what to expect when I woke up Saturday morning. I didn't have the usual excitement of game day, and I had spent most of the previous week wondering why I wasn't ready for the start of another season.
It was a long summer filled with drama. It seemed like the ACC Kickoff was years ago. Camp was way too long. Clemson wasn't opening up with a Georgia or an Auburn or some exciting opponent. I had dodged the construction in the WestZone and all around campus for months. There were plenty of reasons I could use to tell myself why I wasn't excited, but the real reason was that I just didn't know what we would see when the 2015 version of the Tigers took the field against Wofford.
The answers were pleasantly surprising.
I started out the morning doing the Tiger Pregame Show, a deviation from my usual game day routine, and once my radio duties were over I walked with Nikki across Perimeter Road and Lot 5 to the stadium. It was then that my feelings began to change – we ran into the parents of more than a few of the freshmen that dot Clemson's roster, and their enthusiasm began to rub off on me.
I understand that Wofford wasn't a premier opponent, and I understand this isn't even the same kind of Wofford team that took Clemson to the wire in 2011. I covered Wofford for a few years over a decade ago, and Mike Ayers' doesn't have the same program that was a factor in the 1-AA playoffs year after year.
However, there were things that were readily evident and it didn't matter who the opponent happened to be. The game began, and the Tigers lost wide receiver Mike Williams

Mike Williams
Jr. Wide Receiver
#7 6-4, 213
Vance, SC
View Full Profile and Ryan Norton

Ryan Norton
RS Sr. Offensive Line
#58 6-3, 284
Simpsonville, SC
View Full Profile to injury. In the past, the attrition this Clemson program has seen since late May would have meant disaster. Since late May, the Tigers have lost defensive end Ebenezer Ogundeko

Ebenezer Ogundeko
RS Fr. Defensive End
#1 6-3, 250
Brooklyn, NY
View Full Profile , kicker Ammon Lakip

Ammon Lakip
RS Sr. Punter / Kicker
#36 5-11, 200
Alpharetta, GA
View Full Profile (for three games), left tackle Isaiah Battle

Isaiah Battle
Offensive Tackle (2012 - 2014)
#79 6-7, 290
Brooklyn, NY
View Full Profile (draft), defensive back Korrin Wiggins

Korrin Wiggins
Jr. Defensive Back
#12 5-11, 202
Durham, NC
View Full Profile (injury) and defensive tackle D.J. Reader

D.J. Reader
Defensive Tackle (2012 - 2015)
#48 6-2, 321
Greensboro, NC
View Full Profile (personal issues). Add in the losses of Williams and Norton, and Clemson was without six players that were deemed to be starters after spring practice.
At a lot of places, those kinds of losses will kill a program. With Clemson, it's next man up, and that's a testament to the recruiting done by Swinney and his assistant coaches.
Guillermo stepped into the breach left by Norton and was excellent. Williams? Germone Hopper

Germone Hopper
RS Jr. Wide Receiver
#5 5-11, 175
Charlotte, NC
View Full Profile , Deon Cain

Deon Cain
Fr. Wide Receiver
#8 6-1, 197
Tampa, FL
View Full Profile , Ray-Ray McCloud

Ray-Ray McCloud
Fr. Wide Receiver
#34 5-9, 181
Land O' Lakes, FL
View Full Profile , Trevion Thompson

Trevion Thompson
RS Fr. Wide Receiver
#1 6-2, 193
Durham, NC
View Full Profile and even Hunter Renfrow

Hunter Renfrow
RS Fr. Wide Receiver
#13 5-10, 176
Myrtle Beach, SC
View Full Profile can all take up the slack. Reader? Scott Pagano

Scott Pagano
RS So. Defensive Tackle
#56 6-3, 290
Honolulu, HI
View Full Profile and Christian Wilkins

Christian Wilkins
Fr. Defensive Tackle
#42 6-5, 299
Longmeadow, MA
View Full Profile looked just fine. Battle? Hyatt graded out at 92% and looked like a player the coaches can trust to protect Deshaun Watson

Deshaun Watson
So. Quarterback
#4 6-2, 207
Gainesville, GA
View Full Profile 's blindside. Lakip? The coaches stashed walk-on Greg Huegel

Greg Huegel
Fr. Punter / Kicker
#92 5-11, 180
Blythewood, SC
View Full Profile in their pocket and he hit all six of his extra point attempts. Wiggins? Travis Blanks

Travis Blanks
Safety (2012 - 2015)
#11 6-0, 211
Tallahassee, FL
View Full Profile is back from injury and looked outstanding, as did Dorian O'Daniel.
The defense – even though it was Wofford – didn't miss a beat and was the same aggressive unit we got used to seeing last season. Wofford didn't even get a first down until two minutes remained in the first half, and if it wasn't for Renfrow's muffled punt I doubt the Terriers would have found the end zone. T.J. Green

T.J. Green
Jr. Safety
#15 6-3, 203
Sylacauga, AL
View Full Profile and Ben Boulware

Ben Boulware
Jr. Outside Linebacker
#10 6-0, 241
Anderson, SC
View Full Profile were everywhere. B.J. Goodson

B.J. Goodson
RS Sr. Linebacker
#44 6-0, 245
Lamar, SC
View Full Profile was a field general. The younger players impressed.
The offense was crisp, and even without Williams there are playmakers everywhere.
There are wrinkles that need to be ironed out on special teams, and my guess is that Artavis Scott

Artavis Scott
So. Wide Receiver
#3 5-10, 191
Oldsmar, FL
View Full Profile will be the punt returner the coaches trust going forward. We still don't know how Huegel will do on field goals. The punting game wasn't as good as it could have been, but the good news is that it was the perfect week to get some of the hiccups out of the way.
The coaches told us all week that they had 10 offensive linemen they felt they could trust, and in some small measure that group answered many of the questions I had. I now feel like the offensive line can be a strength going forward. I've never typed that in my time covering Clemson.
Yes, it was Wofford. But there were good signs all over the place, and if you watched you understand this team has talent across the board, young talent that will only get better as the season progresses. You also realize – it's ok to get excited. Football is back, and this team should be fun to watch.

Tags:
Ryan Norton
,
B.J. Goodson
,
Ammon Lakip
,
Travis Blanks
,
Isaiah Battle
,
Germone Hopper
,
D.J. Reader
,
Mike Williams
,
Ben Boulware
,
Korrin Wiggins
,
Scott Pagano
,
Ebenezer Ogundeko
,
T.J. Green
,
Deshaun Watson
,
Trevion Thompson
,
Artavis Scott
,
Hunter Renfrow
,
Ray-Ray McCloud
,
Deon Cain
,
Christian Wilkins
,
Greg Huegel