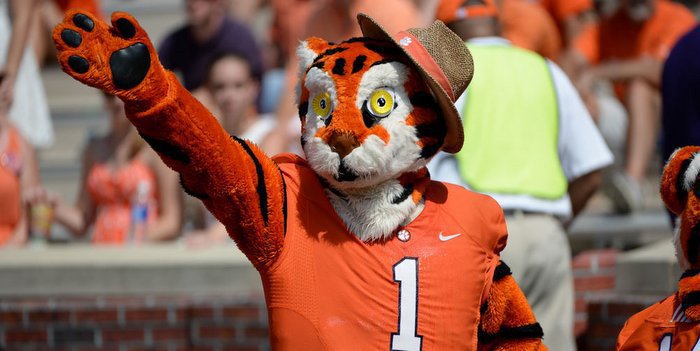 | | |
| --- | --- |
| Pigskin Prophet: Week One Edition | |
---
| | | |
| --- | --- | --- |
| Thursday, September 1, 2016, 8:01 AM | | |
It's here!!! College football is back, and we have a great opening weekend of games to enjoy. In fact, it might just be the best opening weekend in recent memory in terms of the number of big games that will be played.
The Prophet has been busy since the Boom bus went bust, and I was hired to help Steve Spurrier sell books on his literary tour. What does that mean? It just means I make sure he shows up in front of the cameras only partially drunk while making sure he shows up at the golf course full of hooch.
It's been quite the tour so far, with the Ole Ball Coach managing to offend just about everybody, including South Carolina fans. But they get offended by everybody these days, so they don't really count. The tour has made it to Nashville, and I'm here for a little Gamecock and Commodores action.
It's also time for the picks, and if you don't get your feelings hurt, you're not trying hard enough.
THURSDAY
SOUTH CAROLINA AT VANDERBILT
The evening gets started with a bang when these two SEC East powerhouses (hahaha) with long winning traditions in the SEC (snicker, snicker) face off in a battle for last place in the SEC Least. Vanderbilt returns a lot of talent and experience on the defensive side of the ball, while South Carolina returns for yet another season. The game also gets a lot of hype because of the setting, a 30,000 seat stadium that gets less patronage than some of the bars in downtown Nashville. This one promises to be a real barn burner, complete with at least two kickoffs (to start both halves) and several punts. Somewhere along the way, someone might actually score. If it's Vanderbilt, expect Will Muschamp to pop a vein in his neck and mutter something about Spurs Down. VANDERBILT 2, SOUTH CAROLINA 0
SATURDAYPigskin Prophet: Week One Edition
GEORGIA TECH vs BOSTON COLLEGE
These two ACC schools travel to Ireland for an early-morning start. Boston College still has to figure out how to score a touchdown, while Georgia Tech has to figure out a way to get Paul Johnson's ego on the same plane with big football players. That's kinda like trying to get J-Lo and Kim Kardashian to share the backseat of a cab – there just ain't enough room. The Jackets should get a little more offense this year, and once their offensive linemen revert back to falling down and causing career-ending injuries, they will take charge. GEORGIA TECH 24, BOSTON COLLEGE 20
OKLAHOMA AT HOUSTON
Oklahoma is ranked high in the polls for the 197th straight year, mostly because some national media think they are in the SEC and have to be ranked there. The Sooners will have a tough one in their opener with a Houston team coached by Tom Herman, who was one of South Carolina's first 22 choices before settling on a Boom out of desperation. The Sooners and Cougars both have good quarterbacks and good coaches, but the difference will be in Oklahoma's ability to run the ball against teams not named Clemson. OKLAHOMA 31, HOUSTON 20
LSU vs. WISCONSIN
This one should be fun, with the Tigers of LSU facing off against Wisconsin in Lambeau Field. The Tigers are getting a lot of love nationally, but people forget that they don't have a solid quarterback because Les Miles only recruits people who can hand off the ball and screw up the game clock. The Badgers are facing former defensive coordinator Dave Aranda, who replaced Kevin Steele in Baton Rouge. That factor alone means the Tigers will be better than last season. Neither team is very good at throwing a forward pass, so it will be a yawner for most of the contest, getting exciting late because Les will do something stupid and keep the Badgers in the game. LSU 24, WISCONSIN 14
GEORGIA VS. NORTH CAROLINA
The Tar Heels are another team getting a lot of preseason love, while Georgia is a team with a new head coach and question marks all over the field. I think people forget that North Carolina's defense gave up 222 points in the bowl game to Baylor, while allowing around 11,000 rushing yards. Sure, it's year two under Gene Chizik but this team just lacks physicality. Meanwhile, Georgia head coach Kirby Smart has rounded up several donors and managed to bail the majority of his team out of jail and gotten others pardoned from their prison sentences by the same judge in Louisiana who pardoned Alabama's players because it was too hot. If Nick Chubb is healthy, the Dawgs run it enough to win. GEORGIA 30, UNC 27
THE REAL USC vs. ALABAMA
Alabama has had its share of off season issues, with players wanting to leave the program and others being forced back into the program by head coach Nick Saban. Add in the legal system forcing players back to Tuscaloosa – they just wanted to be criminals but instead are forced to be students – and there has been turmoil surrounding the Tide. But there is still talent galore, and the Trojans are still figuring out who they are under Clay Helton. Something tells me the red Tide is going to pop the Trojan balloon after being too forceful, giving birth to another strong Bama season. BAMA 32, USC 23
CLEMSON AT AUBURN
It's hard to call this a game between Tigers because Auburn has schizophrenia – they don't know if they are Tigers or Eagles or the chipmunk-looking thing they call a mascot or the Plainsmen or Country Gentlemen or the Toomers. Their team has certainly been schizophrenic under Gus Malzahn, playing for a national championship one year and then seeing their chain gang of players run afoul of the law. That's led to a few disappointing seasons, but Malzahn gave a breath of fresh air to the program by waving goodbye to Will Muschamp and bringing in Kevin Steele, who is on his ninth job in the last seven weeks. Auburn fans will be loud and raucous, and it might be close early, but the Tigers pull away from the Eagle-eyed Plainsmen who act like a Country Gentleman and shoot Chipmunks. CLEMSON 44, AUBURN 17
ALABAMA ST. AT UTSA
Alabama St. has a....wait....who??????
SUNDAY
NOTRE DAME AT TEXAS
The Irish head into a Texas Strong-hold (snicker, snicker) to take on the Longhorns in a matchup that's critical for both teams. Charlie Strong has been on the hot seat since Day One as he tries to resurrect a program that wants to once again reach national contender status. Meanwhile, Brian Kelly will play 11 quarterbacks in an attempt to confuse the horns (none of them were arrested the other night), while Texas tries to overcome a bad start after Bevo drops a load of Muschamp press conference material at midfield before the game. Irish win. Barely. NOTRE DAME 31, MUSDUMP 27.
MONDAY
OLE MISS vs. FLORIDA ST.
The Rebels will leave Oxford once all of their parents' light bills have been paid by one of Hugh's assistants. Leading the charge out of Mississippi is Chad "Machine Gun" Kelly, who doesn't care about how good the Noles look on paper cause he's taken aim at beauty queens before. The 'Noles have managed to keep one quarterback out of jail this year, and freshman Deondre Francois will get the start. The Rebels will try to overcome the loss of Mama Nkemdiche, who is now running a gang out in Arizona, and they will manage to make this one close throughout. It's a nail-biter, but even the bag man won't buy Ole Miss a win. FSU 33, OLE MESS 27