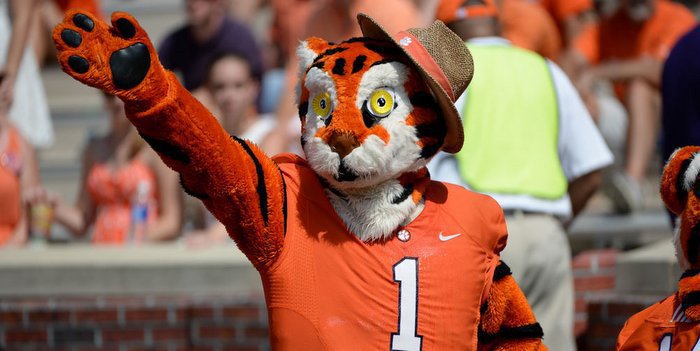 | | |
| --- | --- |
| Pigskin Prophet: The Chaos Ensues Edition | |
---
| | | |
| --- | --- | --- |
| Thursday, September 15, 2016, 12:31 PM | | |
Admit it. It's been a strange start to the college football season.
We've had quarterbacks apologizing and schools firing coaches in the middle of the summer, and the NCAA getting teeth over the toilet but not academic fraud. Georgia almost got beat by the Enoree Baptist Church's Women's Knitting Circle. Clemson was taken to task by Troy. Oklahoma St. was beaten on a play that should have never happened, but no one has the common sense to say, 'Oh, that shouldn't count.'
We've had the ACC pulling the Larry Culpepper ACC Championship Game out of Charlotte. And even more strange, South Carolina won a game.
Has Columbia frozen over? What's next? Probably just another wild and wacky week three of the college football season. Weird things are afoot, and it's not even Halloween. Let's take a look at the game this week and if you're offended, take a knee in protest next time your spouse nags you about that creaky cabinet door.
FRIDAY
Arizona St. at UTSA
Whoooooo???
SATURDAY
SC STATE AT CLEMSON
Clemson fans are all out of sorts after this horrific 0-2 start. I have a buddy named James who is active military, and he's so angry over the two losses he's ready to pull all the scholarships and fire all the coaches and start completely over so those p***** won't ruin his day. The good news is that the Tigers are actually 2-0, and will be 3-0 after going back to having fun and dismantling the Bulldogs this weekend. Even better news…the Marching 101 appears in Death Valley. CLEMSON 55, SC STATE 13
FLORIDA ST. AT LOUISVILLEPigskin Prophet: The Chaos Ensues Edition
The honest truth is I am not sure how healthy Florida St. is heading into this game. Little Bimbo Fisher played his starters into the late third quarter in a win over a team with 11 eligible players last week, and some of them took a beating. This week, they head to the "Columbia of Kentucky" otherwise known as Looooavull. Their stadium has broken down train cars and sits in the middle of an industrial complex owned by the mob, while outside fans are accosted by what looks like cast members of The Walking Dead. We also have two quarterbacks who combined weigh 122 pounds, so I'm not sure who will be left standing at the end of the day. Let's say Louisville, because Volleyball Petrino had the good sense to pull his starters last week. LOOOAVULLL 30, FSU 28
MIAMI AT APPALACHIAN ST.
The Hurricanes travel up to Deliverance to take on the Mountain Ears at Dwayne "The Rock" Johnson Stadium. Those Ears will have their banjos at the ready, just waiting for a chance to swat that Ibis over the head with the G string. However, Mark Richt has brought change to Coral Gables – strippers are no longer allowed in the locker room – and the Canes are playing well. This one is all about the glitz of South Beach versus the people wearing homespun clothes, and the glitz wins. Barely. MIAMI 31, APP ST 27
VANDERBILT AT GEORGIA TECH
Pawwwl has his team ready to do battle with another fine academic institution. Vanderbilt is really, really bad, though, as is evidenced by the fact South Carolina won in a head-to-head matchup. There is a possibility that Johnson and his Great Falling Down Linemen will be looking ahead to next Thursday's matchup with Clemson, and things will be close for a while as the two offensive juggernauts slug it out, combining for three passes (one of those unintentional). Tech will lead 2-0 at the half, then pour it on in the second half and run away with the win, prompting local radio hosts to slobber and proclaim the Jackets a title winner. TECH 8, VANDERBILT 3
COLORADO AT MICHIGAN
The Buffs leave the friendly confines of the American West (where they were almost hunted to extinction) to travel to Khaki Pants U to take on Freddie P. Soft and the Booger Eaters (see video below). The Booger Eaters will have too much firepower, and Harbaugh will be too amped up on his natural protein diet to let the critters from Boulder stampede out of town with a win. BOOGERS 36, BUFFS 20
EAST CAROLINA AT SOUTH CAROLINA
The Gamecocks get a home game for the first time this season, returning to Columbia a little sore after having a cowbell inserted where the sun don't shine last Saturday. East Carolina knocked off NC State in the Dave Doeren Farewell Tour last week and will head to Columbia with a little confidence knowing they take on the second-worst team in the worst Power Five division in college football. That doesn't mean it will be easy – the poor boy who cried over the loss to The Citadel is sitting beside the Tailgate Lovers from two years ago and they'll be riled up and ready to cheer on their Gamecocks. It's close. SOUTH 27, EAST 25
OHIO ST. AT OKLAHOMA
Urban Attitude heads to the dust bowl of Oklahoma to take on Bob Stoops and the Sooners. Let's face it, the loss to Houston to start the season has Stoopsy in a precarious position – another loss and they are out of the College Football Playoff discussion (as they should have been all along). Meanwhile, Urban and the Bucks are trying to get some experience for a young but talented squad. Will the Sooners bust a nut and win? Nope. The Buckeyes take it. OHIO ST. 34, OKLHOMA 30
ALABAMA AT OLE MISS
The Rebels (I am offended by that name) host the Crimson Tide in an SEC West showdown. The Rebs and ole Stonewall and Bobby Lee have beaten the Great Satan two years in a row, and Little Nicky has never lost three games in a row to a conference foe. The Rebel crowd will be dressed up in their finest, with great coats and parasols and hoop skirts, but something tells me it won't matter. The Rebs will put up a stiff fight – especially with Machine Gun Kelly doing his best work behind the best line money can buy – but Little Nicky puts his supernatural forces to work and Bama leaves Ole Miss wondering where Mama Nkemdiche went. BAMMER 34, REBELS 26
OTHER GAMES
*Ohio at Tennessee – I wonder how the Vols play away from a NASCAR track.
*Oregon at Nebraska – This one should be fun to watch, if only because you have the traditional look of Nebraska versus one of Oregon's 426 uniform combos.
*Delaware at Wake Forest – Buy your tickets now. Be one of the six people who actually care to watch.
*Pitt at Oklahoma St. – Hopefully there are officials at this game who know the rules. Which means it won't be Ron Cherry
*Old Dominion at NC State – Props to the Wolfies for playing such a rigorous non-conference slate (hahahaha).
*Maryland at UCF – Hey, I forgot Maryland actually had a football team. How's that move working out for ya, Turtles?
*Miss St. at LSU – Boy. This will be exciting. Yawn.
*Texas A&M at Auburn – Things don't get any easier for Gus, who is starting Bo Jackson at QB.
*Georgia at Missouri – Another smash mouth game from SEC EAST powers!!! Hahahaha