| | |
| --- | --- |
| Pagano shows out, Swinney talks grades and injuries | |
---
| | |
| --- | --- |
| Thursday, December 18, 2014 5:57 PM | |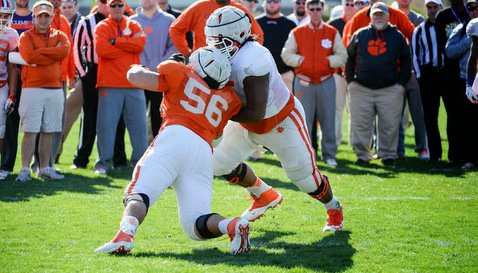 CLEMSON – One more practice remains before the Clemson football breaks for a few days and then heads to Orlando for the bowl game, and head coach Dabo Swinney

Dabo Swinney
Head Coach
View Full Profile said he thinks the Tigers are ready to get to the bowl site.
The Tigers will practice one more time before getting a break, and then the players will make their way to Orlando and report to the bowl hotel on Dec. 23rd. Following Thursday's practice, Swinney said that it was good to see some of the younger players show out, including defensive tackle Scott Pagano

Scott Pagano
RS Fr. Defensive Tackle
#56 6-4, 292
Honolulu, HI
View Full Profile .
"Good practice. We finished up with some short-yardage today," Swinney said. "Some good on good. We tried to create a good balance throughout the week. We've done a lot of two minute situations and we've some third down pass and stuff like that. I think our guys are ready to go play. They are back in shape. I feel good about where we are physically and I think we've brought our young guys along well.
"It was good to see a lot of guys show out. A guy like Pagano. All of a sudden you take Grady (Jarrett) off the field and take DeShawn (Williams) out of there and see a guy like him get him an opportunity makes me sleep a little better. Knowing what's leaving here and then you see a young guy like Pagano really embracing his opportunity. He has really worked and he is going to be a good player."
Swinney said that many of the "JV" players have stood out and the Tigers are in good shape on the injury front.
"It's fun to watch them improve and I've seen their confidence grow since last Friday when we started with those guys," Swinney said. "We'll do a little bit more of that with the JV once we get down to the bowl site and Christmas day. Maybe a little bit the day after Christmas. Other than that we are in pretty good shape health-wise. (Jordan) Leggett got a little banged up the other day, but hopefully he'll be ready."
Grades will be in by Friday, and Swinney doesn't anticipate any casualties for the bowl.
"Got some positives. Deshaun Watson

Deshaun Watson
Fr. Quarterback
#4 6-3, 204
Gainesville, GA
View Full Profile made a 4.0, straight A's and President's List," Swinney said. "I've just seen a couple of grades and don't know them all. Artavis Scott

Artavis Scott
Fr. Wide Receiver
#3 5-11, 190
Oldsmar, FL
View Full Profile made a 3.6. (Wayne) Gallman made a 3.0. Tyshon Dye

Tyshon Dye
RS Fr. Running Back
#23 5-11, 214
Elberton, GA
View Full Profile made a 3.2 It's really good to see these young guys competing off the field like they are competing on the field and taking pride in their performance in everything they do. That's what our program is about."
Swinney said Watson is wired like many of the seniors who graduated on Thursday.
"That's the way he's wired and it's the same with the senior class," he said. "There's something about finishing. Just something about being a finisher. Checking off boxes and being complete. The message I talked about was this is the winningest class in Clemson history and you look at them in front of you in terms of who they are and the fact they all have their degree – it's really not a coincidence.
"It's a representation of their commitment off the field – usually if you're talented and work hard and you'll get those results on the field."
Swinney said as a result of having so many high-character players on the roster, he doesn't worry about the team traveling to Orlando.
"Heck I was in Orlando and got ran off the road minding my own business," he said. "I really worry more about other people than I do our players. I think we have a good group of guys and from time to time we have our issues, but our guys have earned trust here. We didn't have one issue last year - we had one guy late for curfew and he isn't with us anymore. That's it. And you are talking about Miami. South Beach. That is about as crazy a scene as I've ever seen in my life and we didn't have any issues."