| | |
| --- | --- |
| Oklahoma vs. Clemson Prediction | |
---
| | |
| --- | --- |
| Thursday, December 31, 2015 10:07 AM | |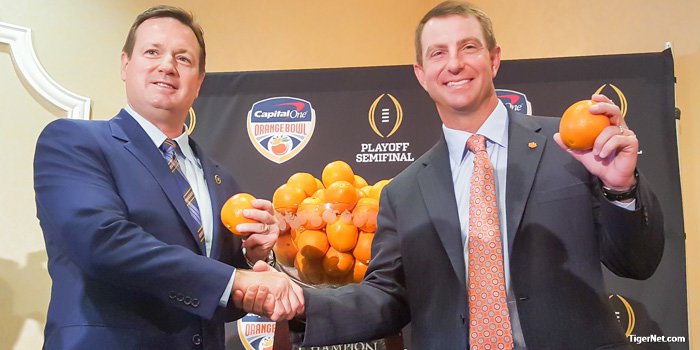 MIAMI, FL – Everything that needs to be said has been said, and everything that needs to be written has been written. The press conferences are over, the practices have ended and players have been sent home. It's time to play the game.
No. 1 Clemson and No. 4 Oklahoma kick off the 2015 Capital One Orange Bowl at 4 p.m. Thursday in Sun Life Stadium. On the line? Only a berth in the National Championship Game in Arizona early next month.
It's Clemson versus Oklahoma, the Tigers and the Sooners, it's the arrogance of college football royalty versus the quiet confidence of a monster in the making. It's Big Game Bob versus Bring Your Own Guts, it's Boomer Sooner against Tiger Rag. It's the ghosts of Frank Howard and Bud Wilkinson. It's the Orange Bowl and this one really matters.
Spot the ball.
CLEMSON VS. OKLAHOMA
WHEN: THURSDAY, DEC. 31, 2015 4 p.m. EST
WHERE: Sun Life Stadium (65,000) Miami Gardens, Fla.
TELEVISION: ESPN Play-By-Play Announcer - Brad Nessler Color Commentator - Todd Blackledge Sideline Correspondent - Holly Rowe
NATIONAL RADIO: ESPN Play-By-Play Announcer - Bill Rosinski Color Commentator - David Norrie Sideline Correspondent - Joe Schad
CLEMSON RADIO: CLEMSON TIGER SPORTS NETWORK Play-By-Play Announcer - Don Munson Color Commentator - Rodney Williams Sideline Correspondent - Patrick Sapp
WHEN OKLAHOMA HAS THE BALL
Quarterback Baker Mayfield has completed 70.7 percent of his passes over the last seven games (average of 256.6 yards; has exited four of the seven early, one at halftime) with 21 TDs and just two interceptions. Dating back to Oct. 17, Mayfield ranks first nationally in pass TD/interception ratio (10.5), second in pass efficiency rating (183.9) and passing TDs, and third in completion percentage (70.7) and touchdown percentage (11.0). Mayfield is a threat to run or pass, and Clemson's ability to not only get pressure but get pressure with the front four and keep containment will be a key.
Running backs Samaje Perine (132.4) and Joe Mixon (84.1) are averaging a combined 216.5 rushing yards and have totaled 18 rushing TDs over the last seven games. Perine is averaging 7.2 yards a carry during the stretch while Mixon ranks third nationally during the period by averaging 7.6. Perine's 12 rushing TDs since Oct. 17 rank second nationally.
Wide receiver Sterling Shepard ranks third nationally since Oct. 17 in TD receptions (8) and yards from scrimmage per touch (14.8), and fourth in receiving yards per game (112.1; minimum seven games).
The key: I think Clemson can contain Oklahoma's running game. If you're defensive coordinator Brent Venables, you have to hope you can get pressure on Mayfield without blitzing. Clemson has been caught in blitzes the last few weeks, and they've all turned into big plays. A double-corner blitz cost the Tigers a touchdown against South Carolina, and Oklahoma has better talent across the board than the Gamecocks. Can the Tigers contain the running game and make Mayfield stay in the pocket? Can Clemson's linebackers – not the fastest group in the country – stop passes to backs coming out of the backfield? It's been a while since any of that has happened. Trevor Knight was easy to stop last year because he was a statue. Mayfield is no statue….
ADVANTAGE: OKLAHOMA
WHEN CLEMSON HAS THE BALL
Sophomore quarterback Deshaun Watson, who won the Davey O'Brien Award and finished third in Heisman Trophy balloting, has completed 69.5 percent of his passes (ranks third nationally) for 3,512 yards (270.2 ypg) and 30 touchdowns while throwing 11 interceptions. He has also run for 887 yards (68.2 ypg) and 11 scores. Watson is 16-1 as a starter at Clemson.
Sophomore running back Wayne Gallman has rushed for at least 100 yards in seven games this year, including a 187-yard performance against North Carolina last game. He has rushed for a total of 1,332 yards this season and is just 13 yards shy of the Clemson single-season record of 1,345 set by Raymond Priester in 1996.
Junior tight end Jordan Leggett was a John Mackey Award finalist and has totaled 34 receptions for 442 yards and a teamleading seven touchdowns. He had a TD reception in five straight games at one point, a Clemson record for a tight end.
OU leads the Big 12 in scoring defense (20.8 ppg), total defense (350.7 ypg), rushing defense (149.2 ypg), passing defense (201.5 ypg) and pass efficiency defense (108.0). In the 19 years of the Big 12, no team has ever finished the season as the league's leader in all of those categories.
Clemson's offense runs through Watson, and the read option and spread don't work unless you have both a quarterback and running back with the ability to run the football. However, the key to Thursday's contest might just be Leggett. Oklahoma's players told us this week that Big 12 offenses don't utilize the tight end as a receiving threat. If Leggett can find holes in the seam and make plays down the field, it will open the running game for Watson and Gallman and open up the throws to the outside.
Oklahoma's defense has been good this season, but they haven't seen an offense like this one.
ADVANTAGE: CLEMSON
SPECIAL TEAMS
Freshman Austin Seibert, who is also OU's punter, has scored 119 points this season, the second most ever by an OU kicker and the second most by a freshman in school history (Samaje Perine had 126 points last year). Seibert has hit on 17-of-22 field goals this year and he ranks second in the Big 12 with his 42.4-yard punting average. Ten of his 51 punts have gone 50 yards or more, and 20 have been downed inside the 20-yard line (only two touchbacks). OU leads the Big 12 in net punting with its 41.5 average. The Sooners have allowed only seven punt return yards on the season (on 10 returns) for a nation-leading 0.7 yards per return.
Junior Alex Ross recorded 170 kick return yards against Oklahoma State in OU's last game, the fourth most in a contest in school history. He had a 90-yard return in the win, making him the first player in OU history to produce three kick returns of at least 90 yards in a career.
For Clemson, kicker Ammon Lakip had been handling kickoffs and extra points but was sent home after failing a drug test. Greg Huegel was outstanding on field goals this season and now will handle all three responsibilities. Punter Andy Teasdall had a rough moment in the ACC Championship Game but has been steady if not spectacular.
Clemson's kickoff coverage teams and return teams haven't made plays, pure and simple.
ADVANTAGE: OKLAHOMA
WHAT WILL HAPPEN
The Sooners are the trendy pick, and they've put up the kinds of numbers that show they might just be the nation's most complete team. Clemson's defense has rested and gotten healthy, but I really don't believe you can see Clemson's linebacker play and think the Tigers will be able to stop Oklahoma's offense. Teams finally saw enough film and started scoring points later in the season because coaches make adjustments.
Oklahoma will score points.
But Clemson will score points, too. And we've talked to several Oklahoma players this week, and they believe Clemson is a one trick pony and that Watson is a running back playing quarterback. They think he doesn't like to throw, and they believe that the Oklahoma logo alone will scare Clemson into submission.
They're wrong on all accounts. Watson is the better quarterback, and Oklahoma will find themselves in an early hole. Once they realize Clemson didn't roll over in fear they will begin their comeback. It's a replay of many Clemson games this season – Tigers jump out to the lead and then hold on for dear life.
But they hold on, because they know how to win.
FINAL SCORE: CLEMSON 38, OKLAHOMA 34
---
GUEST PREDICTIONS
---
Mickey Plyler
- 6AM-9AM EST on WCCP 105.5FM -
41-31 Clemson
Tony Crumpton - Associate Editor - 35-30 Clemson
Nikki Hood - TigerNet Writer - 37-31 Clemson
Lawton Swann - Clemson Sports Talk / TigerNet Talk - 38-30 Clemson
Pigskin Prophet - 45-40 Clemson