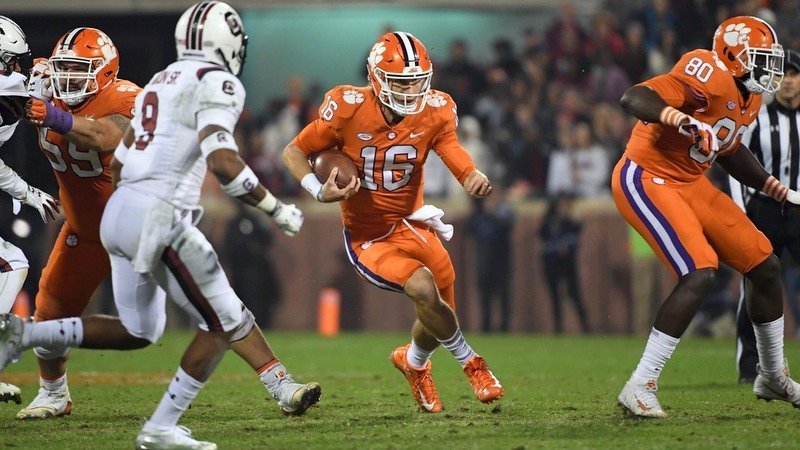 | | |
| --- | --- |
| Offense rules the day in record-setting performance on Gamecock defense | |
---
| | | |
| --- | --- | --- |
| Sunday, November 25, 2018, 12:01 PM | | |
CLEMSON – It was a record-setting night for the Clemson offense and freshman quarterback Trevor Lawrence.
Clemson's 744 yards were the most against South Carolina in series history, surpassing the 622 yards gained by Clemson in the 2016 contest. It ranks third in a single game in Clemson history, trailing 756 against Wake Forest in 1981 and 754 against NC State in 2012.
Clemson gained 393 passing yards and 351 rushing yards and marked Clemson's first time posting both 300 passing yards and 300 rushing yards against South Carolina in series history.
Clemson recorded a school-record three touchdown drives of 95 yards or more, scoring on drives of 95, 97 and 98 yards in the game.
Clemson recorded a season-high 38 first downs, the second-most in school history and only two shy of the school record of 40 set against South Carolina in 2016.
"This senior group deserves a great finish in Death Valley. We said, 'Hey, you are four quarters away from your last game in Death Valley,' and for that group to finish the way that we did is really special," co-offensive coordinator Jeff Scott said. "To be able to go out our first four drives and get touchdowns is huge. No sacks again tonight. We have had 1 sack in 5 games which is incredible. That offensive line, over 350 yards rushing, those guys really don't get enough credit. A lot of special kids around, we are running the ball better than we ever have."
Lawrence was 27-of-36 for 393 yards through the air and added 42 yards on the ground.
"Trevor played really well in his first time in that kind of environment, a rivalry game," Scott said. "A guy like Adam Choice to have three touchdowns in his last game in Death Valley, there is not a harder worker than that guy. He deserves it. Hunter Renfrow made some great catches, he added an exclamation mark on his career. He passed Mike Williams overall in receptions tonight and also went over 2000 yards in his career. Mitch Hyatt had a dominant performance tonight, the most yards against South Carolina."
Scott said the offense didn't carry the day despite the defense struggling.
"To be a great team you have to be a great defense and a great offense," Scott said. "We knew there would be opportunities when we would have to lean on each other. The best part is how we responded to adversity. We were in a tight game and we responded all three times. We are an offense defense special teams. It was a rivalry game. You throw the records out the door in a game like this. They were coming to play. They have some great players on offense. Our mentality is to go out and score every time we touch the ball."
Scott said he didn't expect the game to turn into a shootout.
"No, I did not expect that completely. You have to give them credit, they did a great job throwing the ball," Scott said. "It gave us opportunities to go out there and respond. The defensive staff isn't going to be happy about it, but it's fun to be in a game when you can run it and throw it for 4 quarters. I think it was fun for offensive guys to go out there and play for four quarters."
Scott was pleased with the three scoring drives of 95 yards or more.
"I think we have had 3 of those all year, but to have three of those in one game is special," Scott said. "I give a lot of credit to the offensive line. To move the ball that distance. I told the guys in the huddle, this is kind of who we are. We like it backed up where we can go the distance, our guys have taken a lot of pride in that. The guys loving to go out and execute time and time again."