---
| | |
| --- | --- |
| Tuesday, November 3, 2015 9:04 PM | |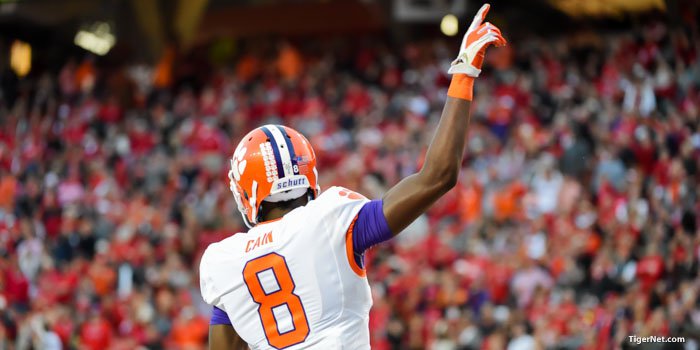 CLEMSON – The last time a Clemson football team sat atop a national poll, head coach Dabo Swinney had just passed his 12th birthday. That long streak ended Tuesday evening when the College Football Playoff Committee placed the Tigers atop the initial rankings for the 2015 season.
Saturday's home game against 17th-ranked Florida St. will mark the first time in program history the Tigers play a regular season game as the nation's top-ranked team.
College Football Playoff Committee Chair Jeff Long told a nationwide television audience why the Tigers deserved to sit on top.
"I think the quality of their victories and certainly the Notre Dame victory at home," Long said. "But they have four teams that better than a .500 record that they have defeated. That combined with an offense and a defense that are very strong on both sides of the ball so I think that is what won the day in the committee's eyes for the number one ranking."
The Tigers are in an enviable position this week with a chance to clinch the Atlantic Division championship with a win over the Seminoles. The Tigers are currently 12-point favorites and will be the talk of the nation this week, but Swinney said the focus is squarely on beating the 'Noles.
"I think we are a very good team. I voted us really, really high myself the last couple of weeks," he said. "I believe in our team, but we got a long ways to go. Our focus is 100% trying to find a way to beat an outstanding Florida state team, a team we have had a very difficult time with the last few years.
Initial College Football Playoff Committee Top 6 rankings
1. Clemson
2. LSU
3. Ohio State
4. Alabama
5. Notre Dame
6. Baylor
The Tigers have won 11 consecutive games over two seasons and 17 of the last 18 contests. It is Clemson's longest overall winning streak since the 1980-81 seasons, when the Tigers won 13 games in a row over the 1980-81 seasons. Swinney said the honor is a reflection of what is team has accomplished to date, but there shouldn't be a celebration this early.
"I think it is just a sign we have had a great season to this point. I certainly think we should be in the conversation regardless of what the ranking is," he said. "I don't think anybody should be having a party over what the poll is, and I don't think anybody should be disappointed. If you look back at last year, Ohio State was I think 15th or 16th in the first poll and won the national championship."
Swinney reminded the ESPN crew of last year's initial rankings.
"Notre Dame was top 10 and finished unranked. Georgia Tech was not ranked and finished number nine," Swinney said. "So there is a lot of ball to be played. I know you guys have to sell advertising and all that type of stuff. You got to have something on TV."
Swinney ended the interview by saying the poll shows Clemson's potential.
"All I would say is I'm proud of our team because we are 8-0, and that's all good. This poll right here is simply based on potential," he said. "Potentially we have a chance to be in there. December 6th, when we finish our season, it will be based on performance, and that is what it is all about. This is a game of performance not potential. When the preseason polls and preseason all-American teams come out, I just rip them up in front of our team every year because it is about playing and earning it on the field. You have to play the games."
Here's how the New Year's Six Bowl Games would look according to the 1st CFB Playoff Rankings. #CFP25 pic.twitter.com/yAvTiuij4F

— ESPN CollegeFootball (@ESPNCFB) November 4, 2015