| | |
| --- | --- |
| Not just another guy: Hunter Renfrow making his mark | |
---
| | |
| --- | --- |
| Monday, September 28, 2015 6:49 AM | |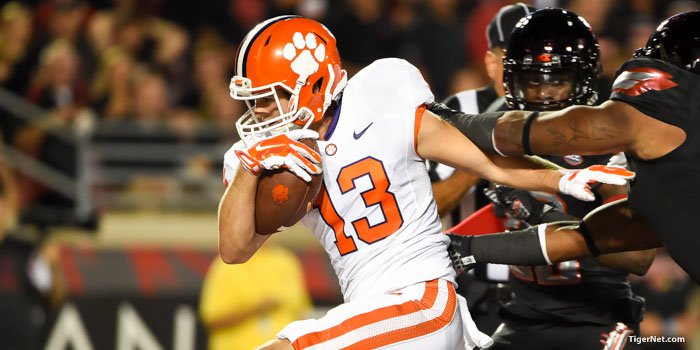 CLEMSON – Hunter Renfrow

Hunter Renfrow
RS Fr. Wide Receiver
#13 5-10, 176
Myrtle Beach, SC
View Full Profile doesn't have dozens of adoring fans stop him as he walks around campus, and he isn't swamped by autograph seekers. The only way most fans would notice him is if they saw him walking around in his football uniform with the familiar No. 13 jersey.
That could all change very soon for the 5-10, 175-pounder of Myrtle Beach.
Clemson head coach Dabo Swinney

Dabo Swinney
Head Coach
View Full Profile has been touting the talent of the former walk-on since the spring, and the redshirt freshman has seen extensive playing time early in the season. At Louisville last week, Renfrow caught a crucial 32-yard touchdown pass from Deshaun Watson

Deshaun Watson
So. Quarterback
#4 6-2, 207
Gainesville, GA
View Full Profile .
However, he still doesn't draw notice around campus.
"I look like a regular student, so they have no idea," Renfrow said last week. "If I'm not wearing a Clemson shirt, they think I'm a regular guy. A lot of my friends try to joke around with me and make it a bigger deal than it is, but it's just normal."
Renfrow said catching his first touchdown pass as a Tiger was special, but mostly because Clemson won the game.
"It was a lot of fun," he said. "The guys were trying to get me pumped up on the sideline over the touchdown, but it would not have felt near as good if we wouldn't have won. That was the biggest thing. Just winning the game was huge."
Renfrow said he knew that sooner or later his number would be called by Watson.
"I was just waiting for my opportunity to come and help the team any way I could. If that was a touchdown, then so be it," he said. "I know any time we have a pass play that it can go to anybody. We have a lot of great receivers and Deshaun spreads it out really well. The middle of the field broke wide open and Deshaun read it like he was supposed to, and it worked out."
Swinney told the media earlier this week that he's been telling anyone that would listen that Renfrow would make an impact this season.
"I guess Y'all think I lie to you. I try to tell you the truth. He's a player," Swinney said. "There's no way else to say it. I said the same thing about Adam Humphries

Adam Humphries
Wide Receiver (2011 - 2014)
#13 5-11, 193
Spartanburg, SC
View Full Profile for four years when everybody wanted to know why Adam Humphries is playing. The biggest thing with Hunter is that he had some offers, but he was 155 pounds playing quarterback. He had the skillset to fly, good ball skills, high football IQ, coach's son. He was just too small. He's got good height and a good frame, but he's just too small. Great baseball player. He came in and redshirted and now he's 175 pounds. He's a freshman. He's a confident kid."
Renfrow said that the opportunity to make an impact at wide receiver was the reason he chose to walk on at Clemson, passing up scholarship offers from smaller schools.
"I've always felt like I could and that's one of the reasons I came here," Renfrow said. "I wanted to be able to play with the best and Clemson's one of the best. I tried to stay committed and do my best every day."
Being able to learn from some of the older receivers has helped Renfrow adjust to ACC football.
"Just trying to be consistent. It's a credit to a lot of the older guys like Tay (Artavis) Scott, Mike (Williams) and Charone (Peake) just helping me a lot," Renfrow said. "Even G-Hop ( Germone Hopper

Germone Hopper
RS Jr. Wide Receiver
#5 5-11, 175
Charlotte, NC
View Full Profile ) is helping me out a ton. The confidence from those guys and the willingness to help and help the team get better."
Number 13 is familiar to Clemson fans because of Tyler Grishman and Adam Humphries, and Grisham (who is a grad assistant with the football team) is passing on his knowledge to Renfrow.
"Grisham actually works here, so we talk everyday," Renfrow said. "It's an honor to be like those guys a little bit. We'll see if I can follow in their footsteps. It's a credit to those guys because they've made it a lot bigger than I have. "