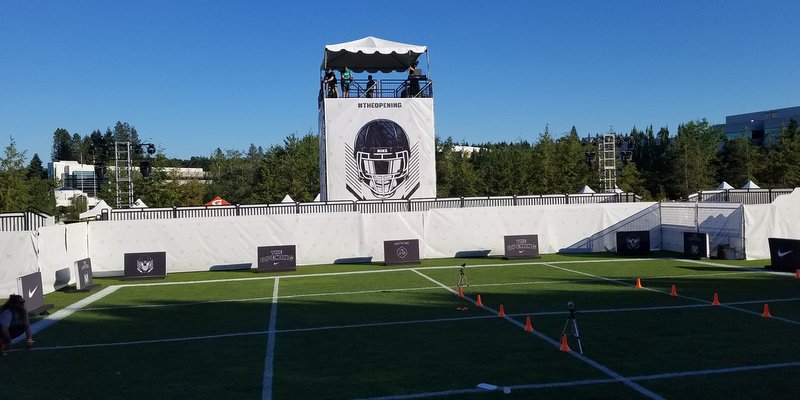 | | |
| --- | --- |
| Nike World Headquarters: Five days with the nation's best recruits at The Opening | |
---
| | | |
| --- | --- | --- |
| Monday, July 10, 2017, 7:01 AM | | |
I didn't know what to think or expect when the bosses here at TigerNet made the decision to send me to Nike's The Opening in Beaverton, Oregon. I've covered a lot of big games and events, but recruiting's premier event was something I had never covered.
The trip got off to a rough start – turns out a car reservation in Portland isn't really a reservation and they reserve the right to rent cars for $200 a night and cancel yours, right Budget? – but Enterprise saved the day and after a late flight on Wednesday, we were ready for the first workout on Thursday.
We checked in at the field, received our press credentials and marveled at Nike's world headquarters. Once the workout and interviews were finished, Nikki and I took the time to walk a bit of the campus. Partly out of curiosity and partly because it was 72 degrees with bright sunshine and no humidity.
As we walked the campus, I noticed plenty of Nike employees leaving their desks and heading for many of the tracks and walking trails that dominate the landscape. There were yoga pants, shorts, and t-shirts galore, all with the Nike trademark. That made me wonder – what exactly is the dress code here? I stopped writing for a while after my son was born and entered the corporate world where suits and ties were the norms, and this didn't appear to be the case.
My question was answered by a Clemson graduate. Mike Dixon (Class of 2000) emailed me and asked if he could come down to the field to meet us. Dixon is a retail brand marketing guru at Nike, and once the introductions were over I asked about the dress code. Turns out the dress code is – Nike. You can wear khakis and a polo, or shorts and a t-shirt or if you want to you can wear yoga pants. Nikki turned to me and asked if I wanted her to apply (it's a joke, I don't think she would ever leave Clemson, even for the chance to wear gym clothes to work). Many thanks to Mike for some great recommendations in the Portland area.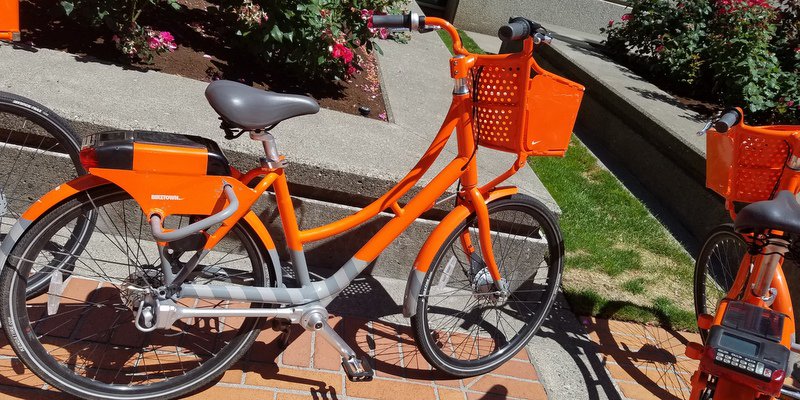 There are orange bikes all over campus – free for employees to use with a swipe of their ID card – that they can ride from one building to the next or take for a cruise at lunch. The parking spots out front are like reading from of a Hall of Fame roster, everyone from Mike Piazza to Bear Bryant to Deion Sanders to LeBron James. Those spots are their spaces when they are on campus, and when they aren't selected bigwigs at Nike get to use those spots.
The elevators all have the signature Nike swoosh, and a highlight for me came when we were given the opportunity to shop at the Nike Employee Store – all new stuff that is half off with no sales tax. Yes, I wound up with a new pair of shoes that will serve as my "gamers" this season.
Speaking of the Portland area – once the second workout was over, we had some time to kill before the lineman challenge the next day, and Nikki and I took a few side trips. We didn't have the time to make it down to Crater Lake or up to Olympic (two bucket list items for me), but we did make it out to the falls (Multnomah and others), through the Columbia River Gorge and over to Mt. Hood. For those of you that don't know, and I am sure many of you don't, Nikki and I love to hike and backpack out West, so the chance to traverse the slopes of Mt. Hood was special.
We parked and crossed a few snowfields and made it as far as we could below the summit, snapped a few pics and headed back to Portland. The next day we made it over to Cannon Beach (Goonies never die!!) and Astoria before getting back to work.
Back to football – I've attended the Nike combines and recruiting camps for years and the talent level runs the gamut. It runs from kids who are just out there having fun, with no chance at a college scholarship, to the kids you know have a chance to play in the league one day. At The Opening, it's 166 of the best high school players in the country and they're all good. The drills are competitive and they're fractious and the lineman drills are fun to watch. Standing there watching Xavier Thomas go head-to-head with Jackson Carman is a delight.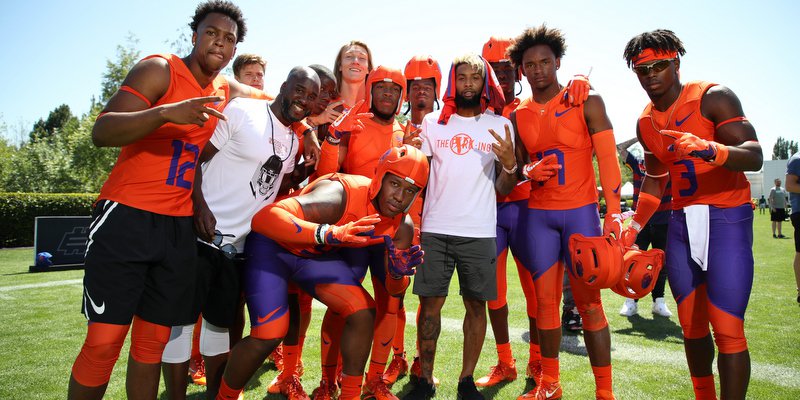 If you ever want to go, the event is open and free to the public, and my credential allowed me interview access and the chance to stand about 10 feet closer to the field than the parents and spectators. If you love recruiting, it's probably worth the time and effort to go and watch.
The event is big money and it's definitely a big-time show. There are lights and music and fireworks and the players are treated like kings. However, standing and talking to the parents I learned something that surprised me – the parents and family are all on their own when it comes to travel to the event. They have to pay for their own hotel and airfare and food, and I heard some horror stories about parents trying to get out of Portland once the event was over.
Our flight back to Atlanta – a red-eye that landed in Georgia at 6:30 A.M., had Trevor Lawrence and his family and another 50 of the invitees, along with Ryan Shazier of the Pittsburgh Steelers. The waiting area was fun, listening to the players talk smack and recount the events of the past week.
So what are my final thoughts? I'm ready for next year, and I hope Clemson has a large number of targets again, because that was a whole lot of fun.