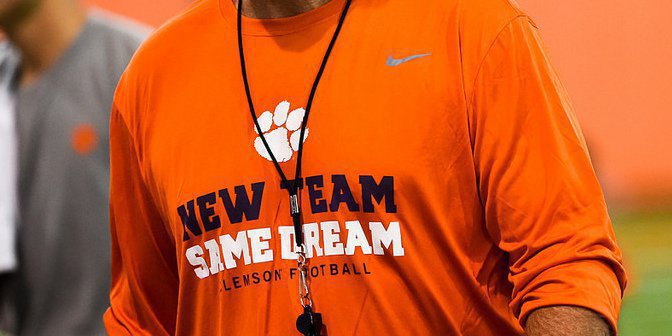 | | |
| --- | --- |
| New team. Same dream. Tigers take aim at another title | |
---
| | | |
| --- | --- | --- |
| Saturday, August 5, 2017, 1:01 PM | | |
CLEMSON – New team. Same dream.
Last year, Clemson's team mantra was Finish with No Regrets after coming up short in the 2015 National Championship, but after winning the ultimate prize in 2016, Dabo Swinney is making sure this year's team understands the dreams and the goals are still the same.
Swinney – Clemson's ninth year head coach – met with the media prior to the beginning of fall camp Thursday afternoon and said while the makeup of his 2017 squad is different, the five team goals haven't changed.
"Eyes are forward. This is a totally new team," Swinney told the media in the PAW dining facility of the Reeves Football Complex. "I told them this is a new team but we've got the same dream. That don't change. We know we all want the same things. We've got five goals and we fight hard to go achieve those team goals. If we do a good job with our team goals, then those goals will allow us to compete at the highest level. We've got new guys and we've got to get them all in the right spot and make sure we give our team and our players in the best situation possible for success."
While the fans and the media are still talking about 2016 the national championship, Swinney, the coaches, and players have moved on and are focused on starting over.
"You don't get to stay at the top of the mountain. You don't get to stay there. You have to start over and we're right back at the bottom with everybody else," Swinney said. "You get what you earn. When it's all said and done, when we look back, if we have the right type of commitment and work ethic and daily focus, we'll be pleased with what type of results we get. I really believe that. There's a lot that can go into a season and a record, but I'm just looking for great enthusiasm as we get started."
Swinney and the staff spent a week going over everything about the Clemson football program and met with the team earlier this week to do the same.
"The last couple of days, there's been a lot of just program installation," he said. "We spent five days as a staff over the last couple of weeks reinstalling our program - everything about it A-Z - and then we've taken the last couple of days with our team. We haven't talked a lot of football. It's been why we do what we do, what drives our program, how we do those things."
Now they can all turn their attention to football.
"This is the best time of year for me. I'm excited to get into our routine in this building and have a day-to-day structure of being with the guys, coaching football and starting to focus on our team and preparing Clemson and somewhere down the road we'll turn the page and start preparing for an opponent," he said. "I look forward to that. We've got a long way to go. We've got a lot of work to do."
By the early reports from the strength and conditioning staff and the results of the weigh in earlier this week, Swinney thinks his team may be primed for another run.
"I'm pleased with our team. I couldn't be more proud of this team, how they've handled themselves, how they've prepared throughout the summer," he said. "The weigh-in is kind of a formality, but there's something about being able to look a guy in the eye and know that they've put the work in. This is a team that's put the work in, they've paid the price. We're a well put together team. Guys look good. I think our conditioning is very good. Our guys' weights and where we wanted them to be, they've done a great job. Some guys needed to gain some weight. Some guys needed to lean up and change their body composition a little bit. They've done a good job."