| | |
| --- | --- |
| Morris talks short-yardage, Watson starting and mindset of Stoudt | |
---
| | |
| --- | --- |
| Monday, September 22, 2014 9:21 PM | |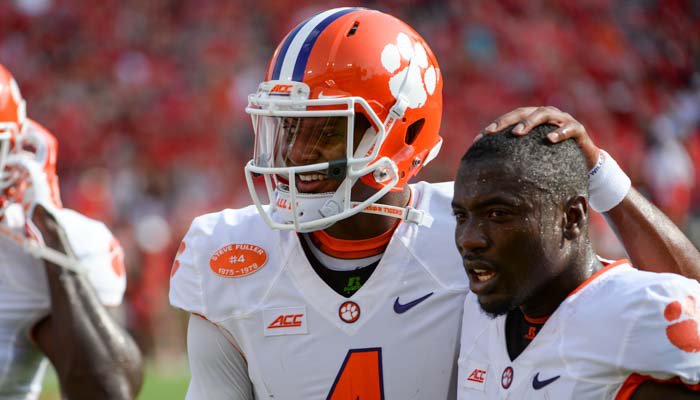 CLEMSON – Chad Morris

Chad Morris
Offensive Coordinator / QBs
View Full Profile told the media Monday morning in the WestZone that it never crossed his mind to put quarterback Deshaun Watson

Deshaun Watson
Fr. Quarterback
#4 6-3, 204
Gainesville, GA
View Full Profile under center with the Tigers facing short-yardage situations on the goal line and late in the game in a fourth down situation. The reason? Trust.
Morris said that his freshman signal caller had problems under center as late as last Thursday, and he never thought it was feasible to ask Watson to go under center with the game on the line.
"I chose not to go underneath center. Had the ball not sailed over anybody's head we wouldn't be talking about this right now," Morris said in the WestZone. "I know what Deshaun's deficiencies have been. He didn't do it very often in high school, if any. Including short-yardage. As of last Thursday, we fumbled the snap under center in short-yardage situations with him at quarterback. We've got a quarterback sneak in our game plan and our system. Had we known what the outcome was going to be- we would have done it differently. I didn't trust him."
Despite the loss – the first time since 2004 that Clemson has suffered a second loss this early in a campaign – Morris was pleased with the play of Watson, saying that Watson gave the team a spark.
"The biggest thing it was scripted for him to go in (when he did). Then it was how he played and whether or not he had a spark," Morris said. "Did we have an opportunity to move the football a little bit better. After watching him get out of trouble a few times and make some plays, we kind of felt like he gave us a spark and let's give him another series. We just didn't know how he was going to come out and how he was going to play. We had an idea. At that point we felt like let's run with it and see how it goes."
Morris then said they played the rest of the game by ear, watching to see how Watson reacted to the big stage.
"Even coming out of halftime we talked about it. But we felt like at the time he gave us the best chance (to win), so let's go with it," he said. "We are out here every day with them. I know what they can do good. So, we just felt like that was what we needed at that point in time."
However, Morris wanted to point out that Watson isn't a lock to remain the starter – he has to continue to play well.
"That's going to be determined on how well Deshaun plays," he said. "We've said from the get-go there's no lifetime contract. As we've said to this point, it's not necessarily how Cole has played. I know he wishes we had that pass back to Leggett. Had we completed the pass would he have gone back in the ball game? We don't know that, but it would have been hard to not put him back in. But you don't know those things. But I think Cole earned the job coming out of spring and fall camp. It's more so about how Deshaun has played since then. He's earned that. Cole is an unbelievable competitor and his time will come back again. But at what point in time, we don't know that."
Morris said that Stoudt – who started the first three games – was disappointed in the decision but the two had a long talk Sunday night.
"Of course he's disappointed. He's a competitor. He has poured his heart and soul into this program and you hurt with him and you hurt for him," Morris said. "I visited with him a long time last night, and we just sat and talked. He's extremely supportive of Deshaun, but obviously he wants to play. He wanted to play the other night. But my message to him has been to be ready when your opportunity comes because it will come back and you have to be ready. We had a chance to really talk and that's the biggest thing. He is a great competitor."
Heading into Saturday's home game against North Carolina, Morris said that Watson knows a good majority of the Clemson playbook.
"He's extremely smart," he said. "We are talking about reading defenses and what we are trying to accomplish. It will be exciting to watch him. We knew how good of a player he was coming out of high school. He's played in a system very similar to ours. We've watched him progress. The sky is the limit.
"You have to remember now, he's a true freshman. Tremendously talented. We as coaches have to not overload him. To make some of the throws he made the other night. It's just a shame we didn't come out of there with a win. His performance was unbelievable as it was. He's excited about where we are going."
Morris said if there was one thing he could change about Watson, it would be that he show a little more emotion and be a tad more vocal.
"He's the same guy every day. Sometimes that frustrates me a little bit because I want him to show more emotion at times," he said. "But that's who he is. He needs to be more vocal. We've seen glimpses of what he's been able to do. That's why Coach Swinney and I sat down and talked about this. Now he's definitely shown us with the performance he's put on the other night. He's got some things he still has to work on. But we aren't going to overload him."
On scoring points
"There's about six things that went wrong, and let's just get one of the six things right, we win the ballgame. The effort we played with didn't change. The only thing that changed is the way we feel right now. I felt like we should have scored 31 points. That's how I felt."
On North Carolina
"These guys are probably a lot like us in that they are working on themselves right now. Over three weeks we've improved. It's about us. Defensive standpoint, we will think about every front, every coverage and every blitz. It will be a very electric environment Saturday night to get No. 4 on the field and let him go."
Jay Jay McCullough

Jay Jay McCullough
RS So. Tight End
#89 6-3, 248
Fort Mill, SC
View Full Profile getting the start
"He's going to start this week over Jordan (Leggett) and those guys. I'm extremely excited about Jay Jay. I think he's playing very physical and very fast. Let's see if we can't rattle some things."
On the C.J. Davidson

C.J. Davidson
RS Jr. Running Back
#32 5-10, 203
Clemson, SC
View Full Profile fumble
"Obviously C.J. wishes we had that last carry back. You kind of look at it and go, 'you gotta be kidding me.' The only unblocked guy was the safety. That's what was disappointing about it, because if the guy doesn't get his hand in there, we got a first down, clock's moving, and we're going to score. That was my mindset."