| | |
| --- | --- |
| Morris talks quarterbacks, opportunity of playing at top-ranked Florida St. | |
---
| | |
| --- | --- |
| Monday, September 15, 2014 3:20 PM | |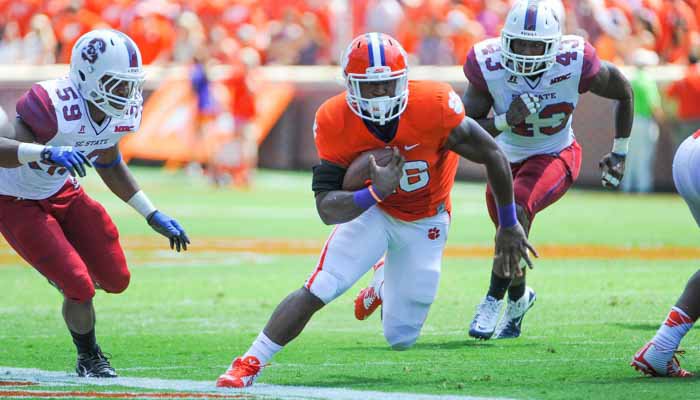 CLEMSON – Chad Morris

Chad Morris
Offensive Coordinator / QBs
View Full Profile walked into his interview session with the Clemson media Monday holding a Florida St. depth chart and information sheet about the top-ranked Seminoles, this week's opponent.
Morris smiled, told the media he missed them and even showed up for interviews the prior Monday only to find out that there wasn't a media presence. Morris laughed and said he simply interviewed himself. By the end of Monday's session, he probably wished he was the one asking all of the questions.
A few questions were asked about Florida St., but most of the session was spent with Morris answering questions about quarterbacks Cole Stoudt

Cole Stoudt
Sr. Quarterback
#18 6-4, 231
Dublin, OH
View Full Profile and Deshaun Watson

Deshaun Watson
Fr. Quarterback
#4 6-3, 204
Gainesville, GA
View Full Profile , and he was patient with his answers. Long story short, however – Stoudt is the starter, Watson will play Saturday.
Morris said that Saturday's rotation will be similar to what we saw when Clemson played at Georgia in the opener.
"It's kind of like what we said - Deshaun is going to play. We've been saying that all year long," Morris said. "We'll have a plan for when he goes in. How much? No one knows at this point, right now. We'll see. He's going to play. Make no mistake, Cole is our starter. We're excited about where we are with Cole right now. Cole is excited about this ballgame and the opportunity he has as the starter. Clemson has never beaten a number one team. Ever. The last time that Clemson has beaten Florida State was with a fifth year, first year starter - fifth year senior, first year starter. Great opportunity for Cole. You're talking about a young man that could have transferred, but he loves this university. He's played well for two ballgames."
Morris said that Saturday's matchup provides a big opportunity for the Tigers.
"We've got a great opportunity ahead of us - obviously, an opportunity that we're excited about. We're excited to get back on the field," he said. "I actually wish we would've played last week. I don't care for the open weeks too much, especially early in the season, but it is what it is and we had the opportunity to get better through practice last week and also get a chance to get some guys healed up. A big opportunity in front of us.
"Our guys are excited about it. It's going to be a great atmosphere, without a doubt. A huge opponent - these guys are the national champions and will be that until somebody knocks them off, which nobody has shown to be able to do that in about 17 games. We've got our work cut out for us. It's a great opportunity for these guys and where we are in our program and this young bunch we have offensively."
Will the experience of playing at Georgia help this week?
"Absolutely, yes. Playing the first week of the season at Georgia, our guys have played in a hostile environment so I would think that works in our favor. We've done this before already this year with some young guys that were getting their first career starts so it shouldn't be quite as new. It will be rocking down there Saturday night, you can bet that. It will be a lot of fun."
Will we see more of the freshmen playmakers?
"Absolutely. You're going to see those guys play and play significantly more. How much? I don't know. It's hard to say. Kind of the flow of the game kind of dictates a lot of that. These guys are going to play. I take it your talking about Adam Choice

Adam Choice
Fr. Running Back
#26 5-10, 211
Thomasville, GA
View Full Profile , Wayne Gallman

Wayne Gallman
RS Fr. Running Back
#9 6-1, 209
Loganville, GA
View Full Profile and those guys, Artavis Scott

Artavis Scott
Fr. Wide Receiver
#3 5-11, 190
Oldsmar, FL
View Full Profile . They've definitely proven that the moment is not too big for them. We saw some of that with Artavis Scott in the Georgia game. We saw a little bit - I wish Wayne would've kept his feet when he caught that pass and we were down by three. The game out here against South Carolina St., watching those guys perform and getting their confidence level up. The worst thing you can do to a young guy is destroy his confidence. You've got to be careful with those guys. They have definitely proven that they are ready to play and they're going to play."
On Charone Peake

Charone Peake
RS Jr. Wide Receiver
#19 6-3, 204
Moore, SC
View Full Profile and the tight ends
"We feel like he [Charone] is getting better every day. He's one of the fastest guys on our team, now that he should be getting back fully to 100-percent. Jay Jay McCullough

Jay Jay McCullough
RS So. Tight End
#89 6-3, 248
Fort Mill, SC
View Full Profile is a guy that we've talked about that hadn't been completely All In during his time here and he has really come on this year. We saw a little bit of it during the spring but not enough. We knew he had to have a really good summer and he did that. He had a good fall camp. The biggest thing was watching him in the Georgia game - he was the most physical of all of our tight ends. As a matter or fact coming out of that Georgia game my comment was that this guy has earned the right to play more. He was more physical than any of them. Jordan Leggett

Jordan Leggett
So. Tight End
#16 6-5, 251
Navarre, FL
View Full Profile is a guy that has to keep coming on. We're needing more out of him as far as being from a physical standpoint. We're needing more out of him from a speed standpoint. He's a guy that shows flashes but really needs to come on. Playing time is going to be limited, that's just the way it is. Jay Jay McCullough is playing pretty well right now."
On the tempo
"I don't want to go slow. We took a lot of pressure off of Cole in that first game and I thought it slowed us down into some check systems, which was by design. We still snapped the ball 80 times. If I had it to do over again, I would go faster than we could possibly go. I think that's where our guys operate. They operate very well when they go fast. We snapped it 93 times the other night. We very easily could've snapped it over 100 times. We're not going to change what we do this week. We're going to go fast and play with unbelievable tempo. That's something we've stressed this past week. I'm not going to slow things down. If anything, we're going to go faster."
On the offensive line
"I think overall, you've got some guys up front that are developing the continuity among themselves. The biggest thing we've had is trying to find the right combination of guys. In the Georgia game - especially in the second half - we had some breakdowns in pass protection. I think overall it's a work in progress with those guys. We had a good week last week. I think that's a group of guys that it means something to them and we've just got to keep getting better.
"We've got to keep getting better. I think you saw the emergence watching these guys be able to run the football a little bit better last week. I think you saw it the first 50 plays against Georgia. We ran the football effectively and had over 300 yards at halftime. There were flashes. It's just being able to finish. We've got to continue to work our technique. You wish some of them would come on more than they are but it's a process. Maybe they'll figure it out. We do have the guys and we're going to continue doing what we do. We've said it from the get go that we want to run the football. We want to run it more than what we have. We feel like we have the backs to be able to do it. Now we have to go execute it.
"We're probably looking at the same five that we started with last week. It's probably a little early to tell. We'll have to wait and see how practice goes."
On reminding the team about last years game
"We try to remind these guys that we did get embarrassed out here, make no mistakes about it. Going back and watching film, we moved the football but you can't turn the football over. You can't give them points. Very few times does anybody give us anything. Anytime you allow a defense to score, the chances of you winning definitely drops - or increases if you're on that side of the ball. We've talked about. We've watched video of it. We've reminded them of it. They see it. We never allowed our fans to get into the fourth quarter to give us an advantage."