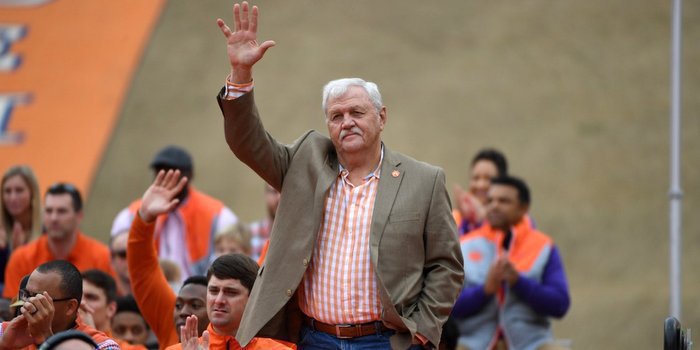 | | |
| --- | --- |
| Mic Drop: Dan Brooks handles his retirement his own way | |
---
| | | |
| --- | --- | --- |
| Sunday, February 5, 2017, 8:01 AM | | |
CLEMSON – Mic drop, exit stage left.
Former Clemson defensive tackles coach Dan Brooks announced his retirement following Clemson's win over Alabama in the College Football Playoff National Championship. And he did it his way.
There were no media interview sessions, and he didn't make a big deal out of it in the locker room after the game. While the rest of the coaches and players celebrated in the first few frantic minutes after the final gun sounded, Brooks stood off to the side with his wife Kathy, watching everybody else have a good time.
It wasn't until later that Brooks let head coach Dabo Swinney know his intentions.
"I hated to see Dan retire. I tried to talk him out of it, but man he earned it," Swinney said earlier this week. "He told me about four o'clock in the morning after the National Championship Game. He had a big old cigar in his hand, and we were sitting, the highlights were playing and we were all celebrating and he said, 'Coach, I think I'm done.' And I just looked at him and my heart sunk."
Brooks was recently named the 2016 Assistant Coach of the Year for the Football Bowl Subdivision by the American Football Coaches Association. Brooks, who also served as associate head coach for the Tigers, just completed his 33rd year as a college coach, including the last eight at Clemson. Brooks coached 410 games as a full-time assistant coach, second-most on the Tiger coaching staff.
Brooks has produced 30 NFL draft picks, seven NFL first-round selections, three All-Americans, 14 all-conference picks and one Outland Trophy winner. Clemson has gone 82-25 during his eight seasons on staff, including six consecutive seasons with 10 or more victories.
"I love Dan Brooks. He is a mountain of a man. A gentle soul," Swinney said. "He has been good for the game, and he's impacted so many lives. Just loyal and a joy to work with every single day. But he's 65. He coached his 400th game this year, coached a couple of All-Americans, and he won the National Championship. It's like drop the mic and ride off like John Wayne."
Much like The Duke, Brooks is a coach from a different era.
"Coach Brooks is old school, a military based-guy," former defensive tackle DeShawn Williams said. "You are going to do it his way and his way is always right way. He treated everybody equal. "The thing I like about him was he loved for his players to compete for a starting spot. During game week, you never knew who was going to start because with him it came down to who had the best practice that week. That is one of the best things about Coach Brooks. And you knew he would have you prepared. He coached technique better than any coach I've ever had. He takes time with each player and makes sure they get it right. He wants you to have fun and let loose. He has already coached some of the greats in the game and he's seen it all. But the best thing about him is that he turns boys into men."
Swinney said the way Brooks handled his retirement tells you all you need to know.
"He said he thought about this summer and typical Dan he didn't want anybody to know anything because he doesn't want it to be about him," Swinney said. "That is just how he is. He was mad that I made a deal out of it at the parade and the banquet and all of that. But man, he deserved it and so did Kathy, his wife. He's coached 43 years, I guess."