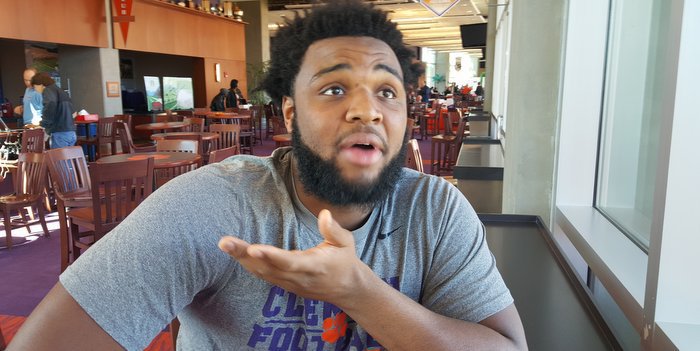 | | |
| --- | --- |
| Line Leader: When Christian Wilkins talks, people listen | |
---
| | | |
| --- | --- | --- |
| Thursday, March 17, 2016, 7:14 AM | | |
CLEMSON – Christian Wilkins has played just one year at Clemson, but he's already one of the leaders of a young defense that has to replace eight starters from last season. When he speaks, everybody listens, and when he says he likes what he sees through the first of spring practice you have to take notice.
The Tigers wrapped up the first portion of spring practice last week, and Wilkins told the media that he's comfortable with what the defense accomplished before spring break.
"We're looking pretty good. Competing a lot and working real hard against each other," Wilkins said. "For only having 6 practices and everything, we're looking really good. I'm happy with what the defense is doing and how guys tend to be stepping up so far and not missing a beat from last year. The newer guys - the mid-year and younger guys - are looking strong out there. We are competing with the offense every day, and they are real strong. They are giving us a great challenge and great look every day.
"Van Smith, he already looks really good. Ryan Carter has been playing great. Every time I see him (Carter) his nose is near the ball and making some type of play. Some of the younger guys like Dexter (Lawrence) and Nyles (Pinkney) are two mid-year guys that are looking pretty good."
Wilkins quickly became a fan favorite because of his freakish combination of size and athletic ability, but Lawrence is quickly making his own name.
"He still shocks me and surprises me every day," Wilkins said of Lawrence. "For such a young kid, he is just so strong and so massive and just driving guys off the ball. I'm still trying to help him learn technique and everything like that and teach him the bit I know."
He doesn't mind teaching the younger players because he knows that's how traditions and winning ways are passed from one class to the next.
"The brand we built here, being able to recruit and the overall camaraderie of the defense is what keeps us winning," he said. "The older guys when I got here, took me under their wing right away, Scott, Rod, DJ and Carlos, right away. It felt like family, and I felt like they wanted me to do better than what they could do already. They want you to be better than them. We just competed with each other, and everyone wants to play. So, now, I teach the next guys, and hopefully, those guys will teach the next guys and keep it going."
However, he is still trying to refine his own game.
"Just little things that are big things like reading my keys and how to train my eyes to tell me where I'm going and trusting my keys," he said. "Instead of just playing low and with good technique. In some areas, I feel comfortable, but I still need to get better in a lot of different areas, but that is what the spring is for and that is what I still hope to accomplish."
If Clemson's defense is to replicate the success of the past two seasons, it all starts up front with Wilkins and company.
"It all starts up front in the trenches," he said. "We know as the d-Line, especially in the d-tackles where we have a lot of experience and depth that we're going to have to lead this defense and be strong for the defense - be strong at the point of attack, be gap sound and be really disciplined."
Defensive coordinator Brent Venables mentioned that Wilkins might have to use his athletic ability at defensive tackle at some point this season, and Wilkins said while he's seen some snaps at end he's been focused mainly on tackle.
"I am at tackle, getting my reps back in, but I'm still trying to learn the end spot, too," he said. "I've gone out there a few times and practiced, just got a few reps, and it's not too bad out there. You get to play cute and stand up. I know it's a possibility because the depth there is light. If one or two guys go down, I'm going to have to be step up and play there."