| | |
| --- | --- |
| Lawson steps up to lead Clemson to road win | |
---
| | |
| --- | --- |
| Saturday, September 19, 2015 11:09 AM | |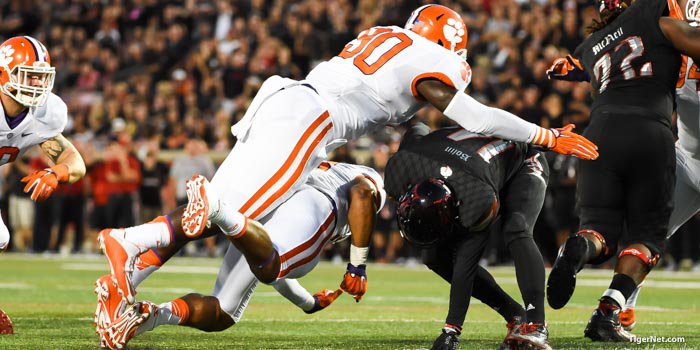 Shaq Lawson

Shaq Lawson
Jr. Defensive End
#90 6-3, 272
Central, SC
View Full Profile wanted to see his defense make a statement in its first road game of the season.
And Lawson and his defensive teammates certainly didn't disappoint.
While the Clemson offense was scuffling throughout Thursday night's game at Louisville, the Tigers' defense was dominant, holding the Cardinals to 272 yards.
Louisville never got into a rhythm offensively, mainly because it converted just 2-of-14 third-down attempts, and that was key to the Tigers' 20-17 win.
"I felt like we dominated with our front seven," Lawson said. "We knew coming into the game we had to dominate with our front seven, and I knew it was going to take care of the rest of the whole game if we dominated and set up for our back end to make plays.
"We knew coming into this game, it was going to be a defensive game. We knew we had to create momentum for the game and get the offense going. We knew coming in through this week that they were going to be a tough team on their side of the defense, so we knew our defense had to win our side."
The Tigers' defense did just that.
Louisville had 28 rushes for 19 yards, an average of 0.7 yards per carry. Cardinals quarterback Kyle Bolin completed 19-of-34 passes for 238 yards, while Lamar Jackson completed his only throw for 15 yards.
But Bolin threw two interceptions, while 78 of his passing yards came on a 55-yard completion in the first half and a 23-yarder on Louisville's final drive as it tried to tie or win the game. That final drive ended with a Jadar Johnson

Jadar Johnson
Jr. Defensive Back
#18 6-0, 203
Orangeburg, SC
View Full Profile interception to seal the win, while Cordrea Tankersley

Cordrea Tankersley
Jr. Defensive Back
#25 6-1, 195
Beech Island, SC
View Full Profile had the other interception.
"We came into the game trying to stop the run because that's what they like to do is try to run," Lawson said. "If we stop the run, everything else will take its place. We knew coming in we had to be the road dogs. That's what (defensive coordinator Brent) Venables preaches, road dogs. And we knew we had to set the tempo, and we knew we had a lot of eyes on us watching us because it's a Thursday night game. And it felt great to get the first road win."
B.J. Goodson

B.J. Goodson
RS Sr. Linebacker
#44 6-0, 245
Lamar, SC
View Full Profile led the defense with nine tackles as the Tigers finished with seven tackles for loss and five sacks.
Lawson finished with five tackles, including 1.5 sacks, and already has 2.5 sacks and five tackles for loss in three games.
"I had a lot of one-on-one matchups with a freshman, and I knew coming in I was going to try to take advantage of that, and I was giving it my best to try to take advantage of that all week," Lawson said. "(On the second sack) I knew I had to make a play at that time of the game because they were really kind of going away from me in the first half. That was the first time I had that feeling like, 'They're going away from me,' but I knew then my time was coming and I had to make a play."
Now, the Tigers turn their focus to Notre Dame, and that game won't be played until Oct. 3, giving Clemson plenty of time to get ready.
"It felt great to make a statement," Lawson said. "We've got a lot of people doubting us still, I mean, still probably after this game. We know what we need to be, and we're looking forward to Notre Dame. We have to come back in here Sunday and get ready. We have a long time to prepare for them. I feel like we'll be ready for them."
Daniel Shirley is the sports editor of The Telegraph in Macon, Ga., and co-host of The Morning Show on FoxSports 1670 AM. Follow him on Twitter at @DM_Shirley and read his blog at macon.com/peachsports.