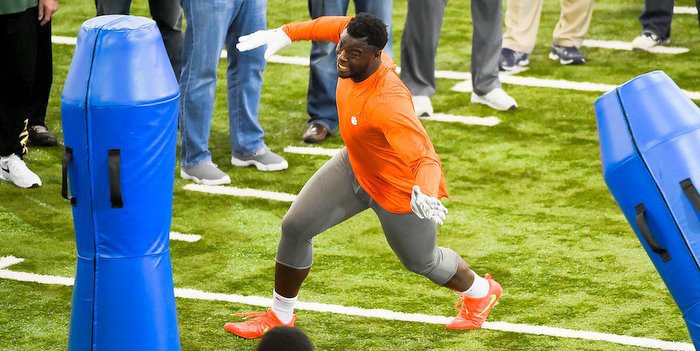 | | |
| --- | --- |
| Lawson shows NFL teams that toughness matters | |
---
| | | |
| --- | --- | --- |
| Friday, March 11, 2016, 7:57 AM | | |
CLEMSON – Shaq Lawson had an impressive showing at Thursday's Pro Day at Clemson's indoor practice facility, but Lawson feels like he showed everything he needed to show in the College Football Playoff National Championship against Alabama.
Lawson, who led the nation in tackles for loss last season, was injured early in Clemson's victory over Oklahoma in the Orange Bowl in late December. The knee injury kept Lawson from finishing the game and his availability for the title game was in doubt right up until kickoff.
Lawson wound up with two first-half sacks and displayed the kind of toughness he thinks teams are looking for. He also said teams have been asking him about the injury.
"They just asked me what happened in that situation, and I told them I had sprained my MCL, and then I got back out there and played the next week," Lawson said after Thursday's workout. "They were very impressed with me coming off a grade 2 MCL. They see how I have heart, to go out there and play my last game as a Clemson Tiger at 50 percent on a bum knee. I gave max effort and gave it my all for my team. I feel like that showed the signs that teams are looking for - players that aren't going to quit on you and players that will work hard even though they are hurting."
Lawson chose not to run or lift during the session, but did go through full linebacker workouts to showcase his versatility should NFL teams want him to drop back in coverage.
"I felt comfortable with all the drills," he said. "Teams wanted to see me play linebacker, and then I was very comfortable with all of the defensive line drills. I felt like I was comfortable and I was successful."
He said he met with 22 teams in Indianapolis and his agents have lined up several of visits lined up for individual workouts in the weeks leading up to the draft, which will be held April 28-30 in Chicago.
"The meetings were great. I met with 22 total teams and all of the meetings went great," he said. "Meetings went great. Anything they wanted me to do, I did it right for them. I am ready to find out where my new home will be. I am ready to find out my new team so I can be the Rookie of the Year and lead my team to a Super Bowl. I can't wait to find out my new team and I can't wait to get there."
In the meantime, one of Clemson's toughest players is simply living the dream.
"I am enjoying this process. I am enjoying every minute of it. I come from a small town - Central - and every day when I wake up I am just enjoying it and thank God because I know this is a blessing," he said. "There are things I have overcome, like losing my father back in 2011 and going to Hargrave (Military). Everything was done for a reason."