---
Loving me some defense. Man o man.
Clemson takes down Auburn 14-6.
Not a good look right now for Auburn.
Kelly Bryant picks up the first down and Clemson can run the clock out.
Clemson takes over on its own 18 yard line.
Austin Bryant is an absolute beast. Four. 4. sacks on the night
Tonight's attendance is announced at 81,799.
The Clemson defense holds and forces another punt.
Clemson has eight sacks on the night - the most in a game since 2004
JD Davis with the sack to force an Auburn punt.
How much time left?
That's a pass KB will look at and want back. Clemson to punt.
Clemson's defense stands tall again forcing a punt.
That drive for Clemson went nowhere and ended with a bad punt from Spiers.
Tre Lamar looked like he was shot out of a cannon as he sacks Stidham on fourth down. Clemson picks up where it left off.
CJ Fuller coughs it up to give Auburn the football and new life.
Clemson will start at midfield after a McCloud return.
Austin Bryant and Clelin Ferrell come up with back-to-back sacks to force Auburn to punt.
Kelly Bryant bounces off defenders for a 27-yard TD run. Clemson extends its lead to 14-6, 11:47 3Q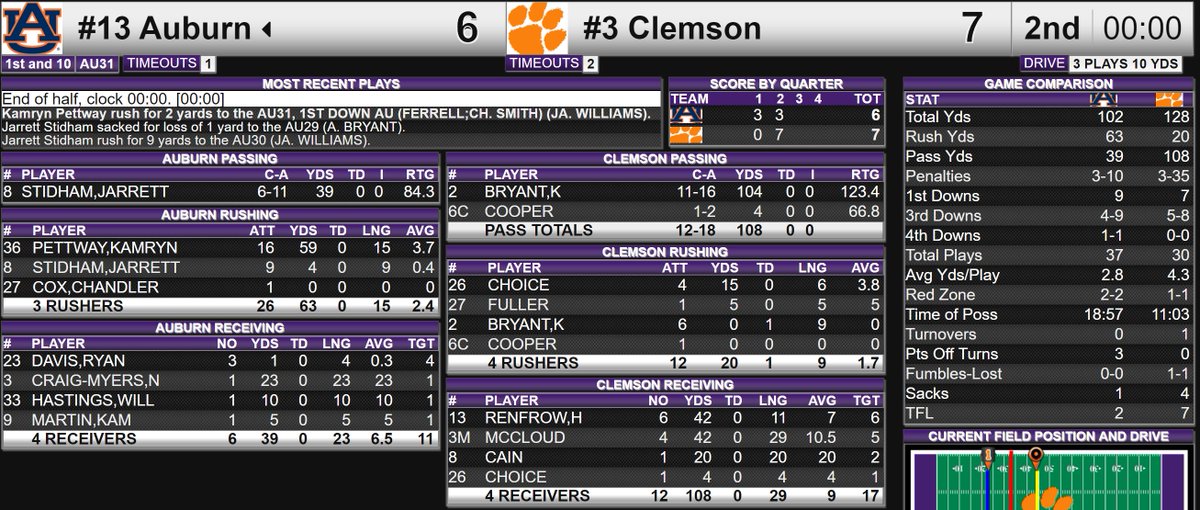 At halftime, Clemson leads Auburn 7-6. Clemson will get the ball to start the second half.
In the second quarter, Clemson has 122 total yards and Auburn has 18.
Clemson takes a 7-6 lead over Auburn with 48 seconds to play in the first half.
Kelly Bryant muscles his way into the endzone for the first touchdwon of the game.
Clemson calls its first timeout of the game facing a 2nd-and-3 on the three with 52 seconds to play 2Q.
Tavien Feaster in the game at WR.
Where is Fuller?
Kelly Bryant back in at QB for Clemson.
Hope he is okay! Why so conservative on offense?
Clemson's defense forces another punt.
Dorian O'Daniel has 10 tackles so far tonight.
Kelly Bryant is trying to throw again.
If it can go wrong for Clemson tonight, it is.
Huegel's 46-yard FG attempt was a line drive that was nowhere close.
Greg Huegel will attempt a 46-yard FG.
Kelly Bryant is sitting up slowly and walking off the field.
Zerrick Cooper is getting ready in a hurry.
Kelly Bryant is down on the ground and not getting up.
Clemson finally picked up a first down.
The Clemson defense forces a three-and-out. McCloud with a decent return to set up Clemson near midfield.
Nm
Clemson comes up inches short and has to punt again. The defense needs a break.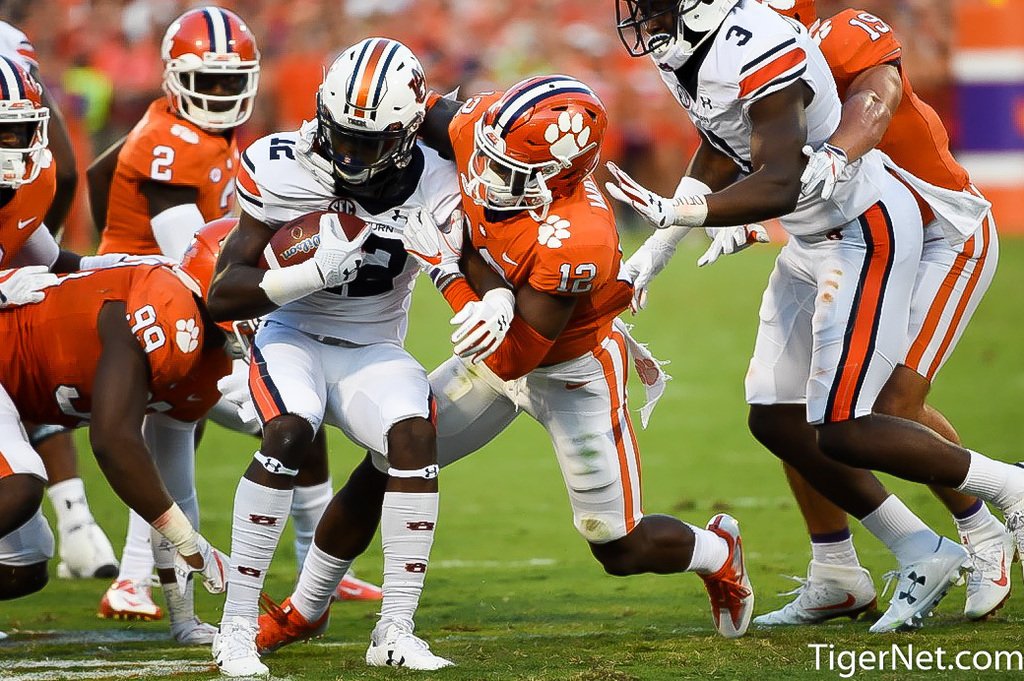 Auburn extends its lead to 6-0 with 14:17 to play before halftime.
Christian Wilkins with the QB sack to force another Auburn FG.
Auburn had 74 total yards to Clemson's 6 in the first quarter.
Thanks for the thread announcements.