| | |
| --- | --- |
| Joe Gore ready for the bright lights of Georgia | |
---
| | |
| --- | --- |
| Friday, August 8, 2014 12:03 AM | |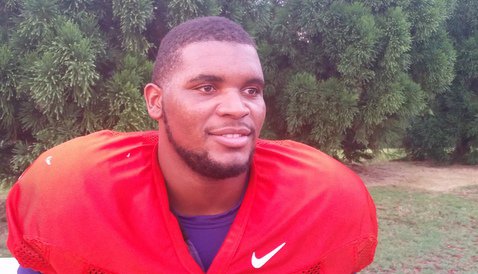 CLEMSON – When the clock strikes 5:30 p.m. on August 30th and the lights come on between the hedges, Joe Gore

Joe Gore
RS Jr. Offensive Tackle
#73 6-5, 283
Lake Waccamaw, NC
View Full Profile will be ready to go to battle at right tackle.
The redshirt junior and North Carolina native has had an injury-plagued career, but now that he is healthy Gore knows that his team is depending on him to anchor the right tackle spot and he is fully prepared and confident in his abilities.
Gore appeared in seven games last season, taking 57 snap and registering two knockdowns, and he said Monday night that as he improved last season, he showed the coaches that he was ready to contribute and have the opportunity to claim the right tackle spot.
"I've been ready for a while. I think I showed that last year during the last couple of games, that I was ready," Gore said Monday after practice. "I just tried to take advantage of what I had then. I guess they took it the right way that I was ready to play. I think I'm pretty prepared to go against anybody at anytime. Like Coach Morris says, anybody, anytime, no matter who it is, any location."
Gore has battled several knee injuries during his career, but coming over from the defensive side of the ball hindered his progress as it took time to learn how to play offensive tackle.
"At first, probably my knowledge," Gore said of what slowed his development. "I didn't understand a lot of stuff at first, but then when they started breaking things down for me I started to understand everything. That's really the only other thing that has been holding me back besides the injuries."
However, Gore started studying with players who have a good grasp of the offense so that he would have no hurdles coming into the season.
"I feel like I know both sides pretty good. I've been practicing on both sides all spring and during camp," Gore said. "I started studying with some other tackles more. Me and Ryan Norton

Ryan Norton
RS Jr. Offensive Line
#58 6-3, 292
Simpsonville, SC
View Full Profile and Eric Mac Lain

Eric Mac Lain
RS Jr. Offensive Tackle
#78 6-4, 306
Hope Mills, NC
View Full Profile started studying together, trying to get all of the plays down."
The 6-5, 300-pounder has also improved his technique, which has allowed him to be more explosive off the ball.
"I practice on my kick slide a lot more, so I'm a lot faster off the ball," he said. "I practice on going down a lot faster, which has really helped."
One advantage that Gore and his teammates along the offensive line have is that they get to practice against some of the top defensive ends in the country on a daily basis.
"That's a big advantage to all of our tackles - going against Vic, Corey, Tavaris and all of those guys," he said. "They are all ridiculously athletic. They have so many skills. Going against them, I feel like we're prepared to go against any defensive end in the nation."
Despite the confidence that Gore has in himself and his teammates, he understands that the fans and those who cover college football have questions about Clemson's offensive line, but he doesn't put too much stock in other people's opinions – good or bad.
"Everyone gets criticized. I just try to ignore all of it," he said. "I don't even pay any attention to what anyone says about me. They tell me good stuff, I don't pay attention. Tell me bad stuff, I don't pay attention. It's going to happen regardless - good, bad. No matter who you are, somebody is always going to have something negative to say. Everyone is going to have questions, but I've been going against starters for years now. As we see, Corey and Vic have been starters for two years now and I've been going against them for the last couple of years in practice. I feel like I'm prepared."