| | |
| --- | --- |
| J.V. Report: Swinney likes what he sees out of Choice and Smith | |
---
| | |
| --- | --- |
| Thursday, December 24, 2015 3:37 PM | |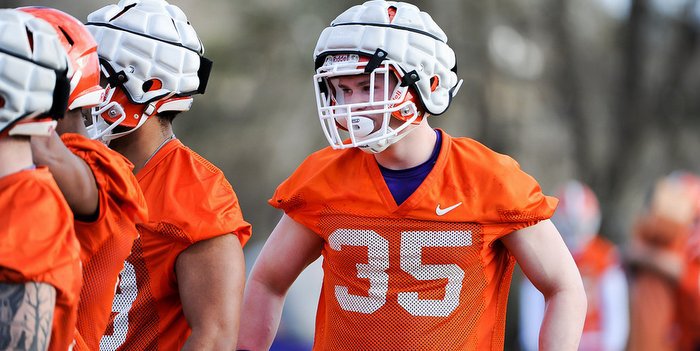 CLEMSON – One of the greatest benefits of earning a trip to a bowl game is the additional practices afforded to a team, and that means a look at players that might not get as many reps or time in front of a coach during the regular season.
Clemson used last year's bowl preparation to get a good look at players like Cordrea Tankersley, Adrian Baker and Kevin Dodd. This season, there are several players that are getting an extended look as the Tigers prepare to take on Oklahoma in the Orange Bowl on New Year's Eve.
Head coach Dabo Swinney said the plan is to make sure the regulars get plenty of work while also taking the time to look at the J.V., or junior varsity.
"We have a plan for getting our team ready, but we also have what we call our J.V. where we get the varsity off the field. We spend about four periods a day - about 20 minutes - on what we call J.V. practice," Swinney said. "That's just coaching and teaching them and the cumulative effect of that through the bowl period is one of the best things we can accomplish because they are further along when we are ready to coach them in spring ball."
One player that has stood out to Swinney is running back Adam Choice. Choice, a sophomore from Thomasville, Georgia, missed spring practice while recovering from a torn ACL suffered last October at Boston College. He was the team's leading rusher at the time.
Choice appeared to be healthy heading into fall camp, but the coaches decided to redshirt him because of the depth at the position.
"Adam Choice is one that played last year, but just seeing where is physically, it's like wow," Swinney said. "Wow, he is impressive in what he has been able to do this year in power hour and practice. This is a guy that won our starting job last year, and he's worked incredibly hard. He's flashed. It's been good to see."
Swinney said Choice hasn't been the only player to catch his eye.
"Clelin Ferrell and Tanner Muse and Gage Cervenka. All of those guys. Zach Giella on the offensive line. Got a bunch of guys that have bright futures for us," Swinney said. "Several of them have caught my eye. We have a good group of redshirt guys. There are some guys that are going to be good players around that people kind of forget about. I think Chris Register will be a guy - when it's all said and done - that will make his mark. We have a lot of guys that are not necessarily true freshmen but they are redshirt freshmen or sophomores that haven't really taken a lot of snaps for us. A guy like Dane Rogers has really come on.
"I think Muse is going to be a good player. We have a lot of young talent. Denzel Johnson, I think he is going to be a really good guy that is going to develop into a good player. He's still raw and learning. But they will develop and turn into good players."
Swinney then said that linebacker Chad Smith has reaped the benefits of a redshirt year and is showing out in bowl practice.
"Chad is a perfect example. He looks great," Swinney said. "I went up to him the other day and told him that power hour has really helped him. We almost played him. He was one of those guys that was kind of on the verge and we kept him and Clelin with us for quite a while. It's great when you can hold those guys. Chad is about 238 pounds and he is solid as a rock and we are looking for a big spring from him."

Tags:
Kevin Dodd
,
Cordrea Tankersley
,
Dane Rogers
,
Adrian Baker
,
Chris Register
,
Adam Choice
,
Tanner Muse
,
Chad Smith
,
Gage Cervenka
,
Zach Giella
,
Clelin Ferrell
,
Denzel Johnson