| | |
| --- | --- |
| Hyatt coach: "He's the meanest kid I've coached, hands down" | |
---
| | |
| --- | --- |
| Monday, August 25, 2014 9:46 AM | |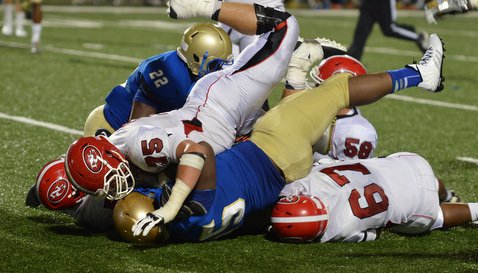 POWDER SPRINGS, GA – Duvall Braxton has coached football for over 10 years at both the high school and collegiate levels and has seen a lot of offensive linemen come through the ranks. However, Mitch Hyatt is the meanest he has ever coached.
Braxton has coached the 5-star and Clemson commit left tackle for the last two seasons and he told TigerNet after North Gwinnett's 52-49 win over McEachern (GA) Saturday night that Hyatt's fight is unparalleled and something he doesn't see very often.
"He's a kid that as far as talent and skill and just fight, he's got it," Braxton told TigerNet. "As far as muscle, he's still kind of light for a college tackle. Technique wise and fight - he's the meanest kid I've coached, hands down."
Not only does Hyatt have a mean streak, you also won't see him giving up on a play, because it's just not in his nature. During the win over McEachern, the officials ran into a pile more than once because they thought there might be a little extracurricular activity after a play, but it was only Hyatt finishing his blocks.
"They are taught, 'through the echo of the whistle.' When the whistle blows at the very end and you don't hear anything else and the ref is looking at you wrong, you better still be blocking," Braxton said. "He bought into that and all of them bought into that. If he's not on top of somebody, he better still be driving when the end of that whistle blows."
There really isn't a play that the 6-5, 274-pound lineman can't make, including kicking out to the left on a screen pass to take out a cornerback after the play started out going to the right.
"He does things that some of our backs have trouble with," Braxton said. "He's that athletic to be that big. On that play, he has to change directions. The play starts one way and he has to come back out to the other. His job is to kick out that corner. It's amazing."
According to Braxton, Hyatt's athletic ability comes from playing basketball and he is able to use that ability to compensate when the play breaks down or when he's going against a bigger or faster defensive end.
"The thing for him that helps is that he's a basketball player, so a lot of the things that he does naturally are because he's a two sport player," Braxton said. "There are times that a guy may beat him inside and instead of him trying to get his head across, he'll swing his hips around like he's blocking them out for a rebound. He does things a lot like that, naturally. He's so athletic for his size. He's a kid that if he does something wrong, I can jump on him and there's no other kid on the team that better say a word. Naturally, he's got it but he works on the fundamentals, too."