| | |
| --- | --- |
| Howard says QBs running the ball in short-yardage is a "spit in the face" | |
---
| | |
| --- | --- |
| Tuesday, August 12, 2014 8:47 PM | |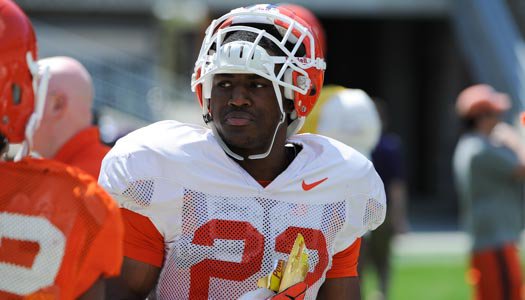 CLEMSON – D.J. Howard

D.J. Howard
RS Sr. Running Back
#22 6-0, 205
Lincoln, AL
View Full Profile thinks that quarterbacks carrying the football on third and fourth down is a spit in the face to Clemson's running backs.
The Clemson football team once again practiced in Jervey Meadows – just outside of the baseball stadium – Tuesday afternoon, and Howard was one of the players brought out for interviews.
Over the last three seasons, quarterback Tajh Boyd

Tajh Boyd
Quarterback (2009 - 2013)
#10 6-1, 225
Hampton, VA
View Full Profile was the go-to guy on third and fourth down and short yardage, and Howard was asked his feelings on the subject of quarterbacks running the ball in tough situations.
"It's a spit in the face. Give us the ball and let us do our jobs," the senior out of Alabama said. "Let us do what we came here to do. We have scholarships, too. We were recruited to come run the football. Give us the ball."
Howard then laughed and said the running backs have had to deal with a lot of spit over the last few seasons.
"We're still wiping it off," he said, acting like he was wiping off his face. "I guess everything worked out okay, as long as we got the touchdown. You can't complain too much. I think it was moreso schemes – you want to get the defense leaning and respecting the quarterback. But even then, it didn't sit well. But that's ok, when we get the ball we know what to do with it."
The Tigers struggled in short-yardage situations during Saturday's scrimmage, but Howard said he thinks the offense will find a way to get the job done.
"Every dog has his day," he said. "I guess it wasn't our day and today we were out here working trying to get better."
National championship
Sophomore defensive end Shaq Lawson

Shaq Lawson
So. Defensive End
#90 6-3, 269
Central, SC
View Full Profile thinks the 2014 Tigers have a chance at a special season.
"I feel like we will be one of the best defenses in the nation this year," Lawson said, who then said that the team's goal is to win a national title. "The only team stopping us is Clemson. We feel like we can beat any team on our schedule. We just can't let ourselves beat ourselves."
Lawson said a personal goal is double-digit sacks, and he has been working at both defensive end spots.
Road trip
Linebacker Ben Boulware

Ben Boulware
So. Outside Linebacker
#10 5-11, 235
Anderson, SC
View Full Profile said the trip across the road to Jervey Meadows – termed by head coach Dabo Swinney

Dabo Swinney
Head Coach
View Full Profile as a road trip – was a novelty at first, but the novelty quickly wore off.
"It is a good mix-up," Boulware said. "You get used to the indoor and the other practice field every single day, so changing it up makes it a little different. But at the end of the day it's still practice and it's still just grass. At first you're pretty happy that you get to come out here, but pretty quick it's just football."
Injury updates
Starting offensive tackle Isaiah Battle

Isaiah Battle
Jr. Offensive Tackle
#79 6-7, 285
Brooklyn, NY
View Full Profile returned to practice without limitations Tuesday. Lawson also was full go, while Travis Blanks

Travis Blanks
Jr. Safety
#11 6-0, 210
Tallahassee, FL
View Full Profile continues to see more and more action on defense. Daniel Rodriguez

Daniel Rodriguez
RS Jr. Wide Receiver
#83 5-8, 175
Stafford, VA
View Full Profile missed the practice with an ankle injury that he suffered on Monday. Tight end Sam Cooper

Sam Cooper
RS Sr. Tight End
#86 6-6, 250
Brentwood, TN
View Full Profile was in a green jersey and continues to improve. Wide receiver Charone Peake

Charone Peake
RS Jr. Wide Receiver
#19 6-3, 204
Moore, SC
View Full Profile continues to run on the side and take some reception drills. He hopes to return to practice full go by Monday.