| | |
| --- | --- |
| Gruden likes what he sees in Tajh Boyd | |
---
| | |
| --- | --- |
| Wednesday, April 30, 2014 12:23 AM | |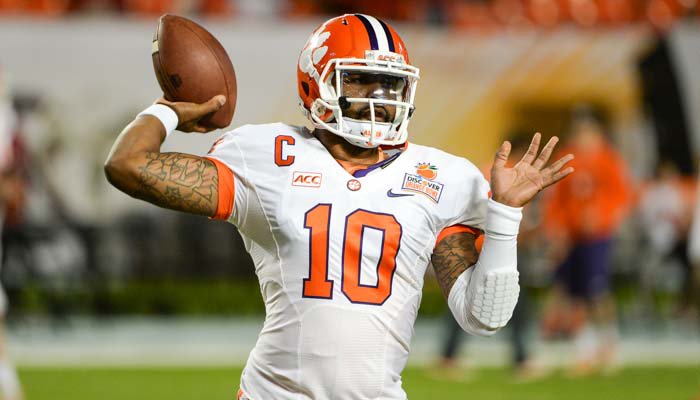 Jon Gruden might get a little excited when talking about the next generation of quarterbacks that are preparing for the NFL Draft, but that excitement doesn't keep him from making a fair assessment.
During a conference call with the media Tuesday, the former NFL head coach and current Monday Night Football commentator gave his opinions on all of the players in the draft – which will be held starting May 8th – but the quarterbacks in particular drew a lot of questions.
Gruden was asked about former Clemson quarterback Tajh Boyd

Tajh Boyd
Quarterback (2009 - 2013)
#10 6-1, 225
Hampton, VA
View Full Profile , and Gruden said he was familiar with Boyd after he was one of nine prospects featured on Gruden's QB Camp recently. If you haven't seen the episodes, they are worth a look, especially with Boyd.
On Tuesday, however, Gruden said he liked what he has seen out of the former Clemson All-American.
"One of the things I like about Boyd the most is he's a finisher. He didn't come out early; he went back to Clemson to finish with his teammates," Gruden said. "He is a quarterback that has a live arm, he can run, he has production passing and running."
Boyd's career numbers speak for themselves - he was 901-for-1402 passing for 11,904 yards and 107 touchdowns against 39 interceptions in 2,963 snaps over 47 games (40 starts) in his career. He completed 64.3 percent of his passes and had a 155.2 pass efficiency rating, had 1,165 rushing yards and 26 rushing touchdowns, had 13,069 total yards and was responsible for an ACC-record 133 touchdowns and had an ACC-record 107 passing touchdowns.
He is first in school history in passing touchdowns, first in passing efficiency, first in touchdown responsibility, first in passing yards, first in completions, first in completions per game (19.2), first in passing attempts, first in completion percentage, first in total offense yards, first in total offense plays (1,907), first in 200-yard passing games (35), first in 300-yard passing games (18), first in 200-yard total offense yard games (36), first in 300-yard total offense yard games (22), first in consecutive starts at quarterback (40), first in snaps by a quarterback (2,963), first in top-25 wins by a starting quarterback (8), tied for first in wins by a starting quarterback (32), third in passing yards per attempt (8.49), fifth in interception avoidance (.0278), fifth in snaps, and tied for 10th in rushing touchdowns.
Boyd entered the season as a Heisman contender, but his stock took a hit following Clemson's 37-point loss to Florida State in October, and a poor showing in the Senior Bowl (7-for-16, 31 yards, interception) didn't help.
However, Boyd was impressive in a strong pro day in early March and Gruden said the ups-and-downs are reflective of Boyd's career.
"He had tremendous peaks at Clemson in this no-huddle spread offense, with some great individual performances," Gruden said. "He's also had valleys - the three South Carolina losses, the struggle against Florida State - I think people are studying those games against high-profile competition and wondering why he struggled a little bit in those outings. He's just got to become more consistent."
As a former NFL head coach, Gruden said he knows what the NFL teams will be looking for in a quarterback.
"What you're looking for, No. 1, is production," he said. "A productive college quarterback who has the ability to think quickly, that can make all the throws."
Gruden thinks Boyd can be that guy.
"I really like Tajh," Gruden said. "I think he's going to be a mid-round selection and he'll develop in somebody's system and have a chance to be a good player if they get some continuity around him."