| | |
| --- | --- |
| Georgia OL Anchrum details eye-opening visit to Clemson | |
---
| | |
| --- | --- |
| Wednesday, November 11, 2015 7:01 AM | |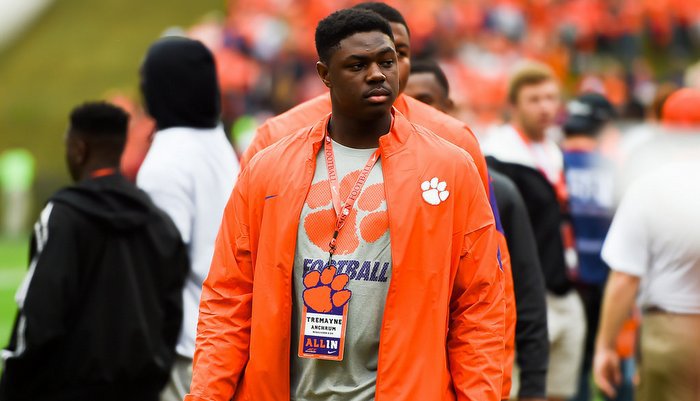 Offensive line prospect Tremayne Anchrum enjoyed his visit to Clemson in October so much he had to come back for the Tigers' game against Florida St., a visit he said was eye-opening.
The 3-star Powder Springs (GA) McEachern offensive lineman received a Clemson offer last June, but didn't become interested in the Tigers until after a visit for the Georgia Tech game, leading to the official visit this past weekend for the Florida State game.
Anchrum told TigerNet Tuesday evening that he decided to set up the official visit because he wanted he and his family to experience the Clemson atmosphere one more time.
"Talking to Coach Swinney and seeing the offensive line and the players, I was very attracted to it.," Anchrum told TigerNet. "I saw the way Coach Dabo is and when I talked to him in his office, he's very good at inspiring people and making people do things that they didn't believe they could do. Seeing him with his players, he's really created a great atmosphere to be around, and that's why I wanted to bring my family back around. It was just such a wonderful atmosphere. Everybody believes in what they're doing. You can see it from the lunch ladies to the staff to the coaches and the players, they all believe in it. I had to come back to make sure I was attracted."
The 6-3, 270-pound lineman said that everything about the visit was "eye-opening" – from the way Clemson overcame obstacle after obstacle on its way to a 23-13 victory over Florida State to head coach Dabo Swinney's postgame celebration and speech.
"The visit was great. Me and my family had a wonderful time," Anchrum told TigerNet. "It was definitely eye opening. It really stood out how the team handled adversity, how the coaches kept their poise, how even when they made little mistakes - the spike at the end of the first half - they still remained calm and collected. They went in and made adjustments and played like the number one team in the nation. It was very good. Coach Dabo, how he talked to the players afterwards, it was very inspiring."
Anchrum spent Saturday morning with the offensive players and came away impressed with first-year co-offensive coordinator Tony Elliott.
"I enjoyed being around the offensive line. They are a good bunch of guys who are very for each other," he said. "They do everything together. They think like-mindedly and that shows on the field with the preparation and detail. Coach Elliott is amazing. He's the best offensive coordinator I've seen in a while. With his preparation for the game, when he goes in he knows what he's doing. That's the type of offense I enjoy being around and want to be a part of."
He also spent a considerable amount of time with offensive line coach Robbie Caldwell, someone he said he could learn a lot from.
"I love the man. He's a great coach," he said. "He's a great person. He loves his offensive line like they're his own kids. He's a little older so he has a lot more wisdom and knowledge under his belt and it really shows. The players say you'll hate him at first, but you'll learn to love him because everything he says turns out to be right. I appreciate him. He thinks I have a lot of potential in where I can play and how I can progress and work. He thinks I can take my talent very far."
The most impressive thing Anchrum saw Saturday evening was the jump that former foe and Suwanee (GA) native Mitch Hyatt made in just the 11 months since high school.
"Definitely. I saw how his game has elevated and jumped at Clemson from where he was a year ago to where he is now," he said. "It was definitely amazing to see that. It was pretty cool to see a high school guy jump to starting tackle on the number one team in the nation. I knew he was good."
With his official visits to Colorado, Nebraska and Clemson now complete, Anchrum said he is nearing a decision and end to his recruitment.
"That was my last visit. I'll make my decision very, very soon. Clemson has a very good shot," he said.