| | |
| --- | --- |
| Gentle Giant: Grady Jarrett's success starts with family | |
---
| | |
| --- | --- |
| Tuesday, January 6, 2015 10:09 AM | |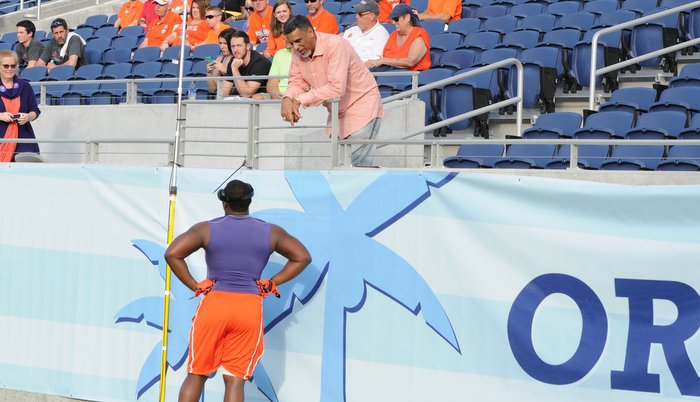 CLEMSON – Grady Jarrett

Grady Jarrett
Sr. Defensive Tackle
#50 6-1, 290
Conyers, GA
View Full Profile – the dominant football player that you see on the field and the selfless leader behind the scenes – has been a man in the making since he was three years old and it all starts with the two people he calls mom and dad.
Jarrett, now preparing for an NFL career, came to Clemson as a 3-star defensive tackle out of Conyers (GA) Rockdale County with just four offers: Clemson, Buffalo, Mississippi State and Western Kentucky and a huge chip on his shoulder to prove that he could play Division I football.
He not only proved that he could play at the FBS level, he proved that he could play with anyone in the country and dominate, all while maintaining the highest level of integrity and leadership.
Grady Jarrett's motivation? His family.
It's not difficult to see the close-knit bond that Jarrett and his family share. All you had to do was look in the corner of Memorial Stadium that connects the south stands with the west endzone to see him talking to a group – his mother Elisha Jarrett, father Grady Jarrett, Sr., sisters and aunts - all donning his No. 50 jersey before every Clemson home game, something that he said he looked forward to the most every game day.
"It's super important and she knows how important she (his mother) is to me," Grady Jarrett told TigerNet. "I'll be on the field and I'm looking for her and all of the other team 50s. We come deep to every home game and just having that support group is what keeps me going. I'm a family guy and I could care less about what anybody else outside of my family thinks of me. I do what I do for my family and my family supports me all the way and that's just special to have and it's something that I'm very happy to have."
Family had a major impact on what type of person Jarrett would become from the very beginning as he learned of his mother's struggles throughout life and of the hard work and dedication that it would take to be successful on and off the field at a very early age. His mother said that's something that he's carried with him every day and something that drives him to be the best athlete and best person that he can possibly be.
"That comes from him understanding how his mother came up. I wasn't afforded some of the things that he's afforded," Elisha Jarrett told TigerNet. "He - at a very young age was not only taught but learned and embraced not to take anything for granted. Grady has earned everything that he's gotten. He's made decisions in his life based on his own personal effort and his own personal will. From sports, not only did he play football, but baseball is really his true love. He was a great baseball player. He won wrestling state championships and track.
"Early on, he just really embraced any opportunity to expand and explode, not for him to be in the newspaper or for his family and friends to give him accolades but just because that's the type of person that he is. He knew my story and he knew my struggles and he knew that I worked very hard so that he didn't have to go through some of those same struggles. He makes my job easy. I give him boundaries and standards and things that he needs to do and he exceeds them every time."
Those early life lessons are why Jarrett became one of Clemson's most dominant defensive tackles and one of the top NFL prospects for the upcoming NFL Draft.
"Honestly, I just can't even tell you," Jarrett said. "It's being a competitor and nothing ever being given to me, working for everything I have and working to get to the point where I am now and not wanting to give it up. It's hard work paying off. It's one of those things that you can't explain."
Through all of the success and accolades, Jarrett never forgets how he got to this stage in his life or the people that have supported him through the good times and the bad – his mother, his father and his entire extended family have impacted his life in some way over the last 21 years.
"My mom, she's a one of a kind woman and there's no way in the world that I'd be where I am today without her," Jarrett said. "That's her constant support and energy and love that she pours into my life. She's a motivator, a lover. There's no one like her. I'm just extremely blessed and heavily favored to have a mother like her.
"It's unspeakable. Just like my mom, he's [Grady Jarrett, Sr.] been there since day one. I've got family all the way in Louisiana and they watch every game. I used to spend my summers in Louisiana with my grandmother and all of them growing up. I have a really, really outstanding support group. I'm just so thankful to have the parents that I have. It's really emotional because a lot of people don't really understand the things that my family has been through."
No matter how much football he plays or the level of success Grady reaches, to his mother he will always be her "gentle giant."
"He was extremely shy but very protective of me," Elisha said. "Today, where the shyness has gone away just a little, he's still extremely protective of me. He is truly the beat in my heart. It's very important to him that there's no stress. He's just such a calm child. He's just been like that. I call him my gentle giant because he is so big and when people look at him he looks mean. He's my gentle giant and we do have a very, very special bond. I'm an identical twin and so my twin sister and I have naturally a very special bond but there's not a feeling in this world like the feeling that I get calling him my son."