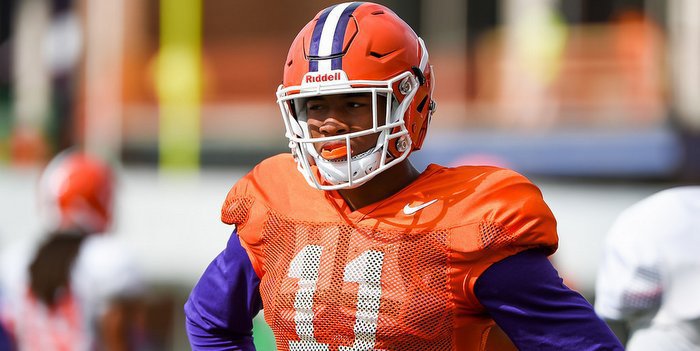 | | |
| --- | --- |
| Friday nuggets: Redshirts, kickoffs and depth chart decisions being made | |
---
| | | |
| --- | --- | --- |
| Friday, August 19, 2016, 7:22 PM | | |
CLEMSON – The season opener against Auburn is just two weeks away, and Clemson's coaching staff is still working on depth chart and redshirt decisions.
Head coach Dabo Swinney met with the media following Friday's soggy practice, and said he thinks his team is in a good spot with two weeks to go.
"I think we're in a good spot. I think when we set out at the beginning of camp you have so much to do and it's kind of hard to look three weeks down the line, but I think we really accomplished a lot," Swinney said. "It was a good scrimmage. We got the work that we needed to get done from an open-field, competitive standpoint but then we got a lot of situational things. We got some really good two-minute work and a lot of good coaching the two-minute work, too, things that just happened that was good for us as coaches, as well. It was a good day. A lot of special teams work.
"I think we're where we need to be. We've still got time to get ready to play. We're not physically where we need to be. It's been a long three weeks, so now it's about starting to get their legs back. They've got a lot on them this week - finishing camp, starting school and now you've got one more scrimmage and you're starting some scout team stuff. We haven't been scout teams because we've been repping three groups and now you're repping two groups. There's just a lot going on. Hopefully, come Monday these guys will have a little bit more bounce in their step and we'll start bringing them back a little bit. I think we are heading in the right direction."
The defense in Thursday's scrimmage
"They didn't give up a lot of big plays and the effort was better. It wasn't as hot, but I thought in the scrimmage last Saturday they just gave into it a little bit. They had good energy. I don't think our first group gave up a busted big play, but had a few with our second guys but that's good because it is a good teaching opportunity."
Huegel impressive on kickoffs
"He just showed up in camp last year and it wasn't something we asked him to do. He just worked on the field goal job, and he hadn't been in our offseason conditioning program. This kid has really worked in the offseason and I think about every kickoff he had was three or more yards deep into the endzone. He was even kicking into the wind - I had him kicking into the wind because we were working on return and I wanted to make sure we had a good return opportunity. And dadgum if he didn't kick it deep in the endzone anyway. I'm proud of him."
Redshirts
"We have two or three guys like Clelin (Farrell) last year that if we need them we will play them and if not we will at some point say yes we will hold them. For sure (Tavien Feaster and Cornell Powell) those two will definitely play. John Simpson will play.
I think he's (Trayvon) definitely a guy that is going to play. I thought he had a good practice today. If we played today Mark (Fields) would definitely start. Mark has done a good job. I love what I am seeing out of Trayvon, and hopefully Marcus Edmond will be back next week.
"K'von (Wallace) is definitely going to play and Isaiah (Simmons) is on the bubble. He's just one of those guys that you love how he runs and he's a contact player, but he's one of those guys that we've got some guys in front of him at safety and you don't want to waste a year unless you know he's really going to play. I'm really glad B.J. Goodson had a year last year. If B.J. Goodson had not redshirted, he probably wouldn't have been drafted. Because he had that fifth year, he got drafted in the fourth round. Had he not had that fifth year, I don't know if he would've gotten drafted. I'm always mindful that we've got to do what's best for the team and we've got the best guys playing, but I also want to do what's best for these guys. I can see the bigger picture.
"I know what it looks like to see a guy that has that extra year to develop. He's (Simmons) one of the guys on the bubble and we probably won't make a decision on him for a while. Right now, he's behind Jadar Johnson, Van Smith and Tanner Muse and Denzel Johnson. We would probably play Ryan Carter there right now just from a knowledge standpoint. He's not quite where he needs to be just going out and executing everything at safety but he could probably play dime for us. He definitely could play special teams. We've got a lot of good young talent and I don't know if we want to burn it. A lot can change in a few weeks, so he's on the bubble."
Jamie Skalski on kickoffs
"Right now the job is Huegel's. But he did demonstrate that he could do it. He kicked a few deep into the end zone and I think he has the potential. But after watching Greg it's clear he's our best guy. And Spence has done a good job with kickoffs as well."
Accident with Xavier Kelly
"I guess the guy was texting or something and just ran into him. He's lucky. He's really lucky. He's got a big stature or it probably could've been worse for a smaller person. He's lucky. He's got some stitches in his toe, but, hopefully, he'll be back rolling Monday and Tuesday. He's very, very fortunate."
"We hope to redshirt Zerrick but he's a guy that we'll probably keep with us every trip just to groom him and to get those game plans and to get the conversations and to hear things in the situations. That's a huge part in the development of the quarterback. He'll be with us probably every game."

Upgrade Your Account
Unlock premium boards and exclusive features (e.g. ad-free) by upgrading your account today.
Upgrade Now

Tags: Clemson Football
,
B.J. Goodson
,
Marcus Edmond
,
Jadar Johnson
,
Ryan Carter
,
Tanner Muse
,
Van Smith
,
Denzel Johnson
,
Zerrick Cooper
,
James Skalski
,
Cornell Powell
,
John Simpson
,
Xavier Kelly